The India Online Education Market was valued at $2.1 billion in 2021 and it is expected to reach $8.4 billion at a CAGR of 12.0% between 2022 and 2032. Online education is a way to teach and learns any subjects related to school, colleges, or any other individual courses by using a computer through internet connections. To get an online education one has not to attend traditional classrooms or college campuses. Instead, students can get classes from anywhere by using internet access and electricity.
In India, Karnataka is leading the online education market across the India.
In online education, students and teachers or professors can interact with each other by conducting video conferences, chat facilities, and audio-visual methods. They can also share any kinds of files with each other and can create online training programs. However, it is not easy to conduct online classes for students. First, schools and other teaching institutes have to set up a proper server by IT Company, which needs a better system requirement. Furthermore, many online institutions have partnered with universities on campus to enhance and deliver online programs for their students. At present days, due to advanced technologies, and the growing usage of high-speed internet connections, the young generation is becoming more eager to learn and complete any courses through online platforms. In the modern world, there are lots of institutions, which are offering and providing various online courses across the country. Furthermore, it has been seen that students do not have enough money to go and stay in another state if they want to complete a course. Therefore, they could stay at their own home and complete any desired courses of their choice through an online connection using the computer. Over the last few years, due to COVID-19 cases, and initial lockdowns, students, professors, and school teachers are interacting with themselves by voice chat, the audio-visual method by using third-party applications or video calls, and having classes from home. These rising factors have driven the growth of the Indian online education market and are expected to boost the market growth during the forecast period.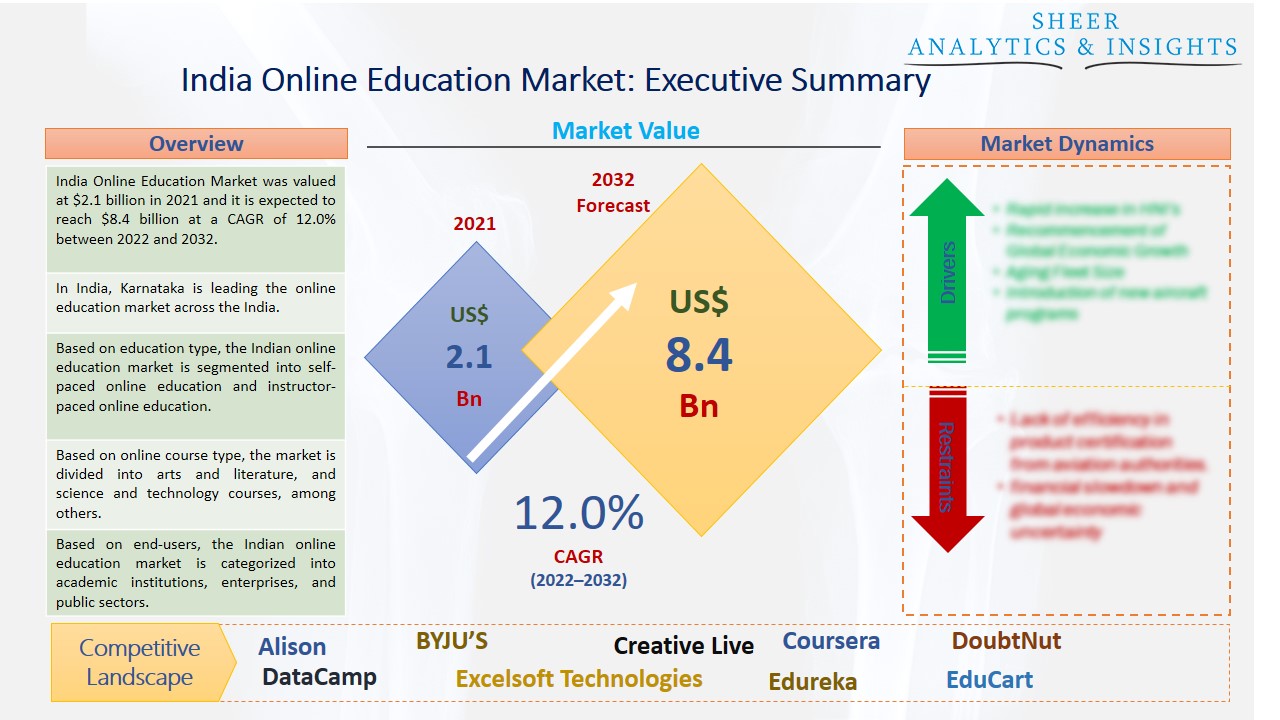 Source: SAI Research
Based on education type, the Indian online education market is segmented into self-paced online education and instructor-paced online education. The self-paced online education segment holds the largest market share among the education type. The demand for this segment is growing due to its increasing usage on different platforms such as computers, websites, and mobile applications.
Based on online course type, the market is divided into arts and literature, and science and technology courses, among others. The science and technology course segment is estimated to have significant growth during the forecast period due to the rising demand for technical skills and development. Furthermore, there are many advanced technological courses for learning programming languages such as Java, Python, and HTML, which are becoming more popular in the present scenario of the education market and helping the Indian online education market to gain further growth opportunities.
Based on end-users, the Indian online education market is categorized into academic institutions, enterprises, and public sectors. The academic institution category is expected to gain significant growth due to increasing number of courses in various subjects for students from schools and colleges.
Based on regions the Indian online education market is categorized into Karnataka, Uttar Pradesh, Maharashtra, Bihar, Madhya Pradesh, and others. Among these, Karnataka is expected to dominate the market due to the growing online education system which provides and offers many online courses across the country. At present days, distance education, the online education sector, and e-learning are becoming quite popular among a large number of students. Hence, the demand for this online education is rising in Karnataka as well as other states in India. Furthermore, the online education solution vendors need to rapidly innovate to fulfill the proper educational requirements of learners across the country.
A few months ago, DoubtNut has launched new online courses for school students from 1 to 12 standards. The company is focusing on strengthening one crore students across the country. They are offering classes in nine languages including English, Tamil, Hindi, Telugu, Kannada, Gujarati, and more so students can understand the subject in their languages. The platform also provides high-quality video solutions powered by made an India AI bot. EduCart has launched new online courses for students for CBSE from 10 and 12 standards. The company is also guiding a few books and notes for their students. Last year, they launched a new type of book which is called Final Revision of All Subjects which was popular among students and teachers of the CBSE board. Additionally, the company offers a question bank for their online students so they can get prepared for their upcoming exams. Unacademy has launched a store called Unacademy Store, and by launching this, the company is focusing on offering several learning courses for their students through online platforms. A couple of years ago, Edureka launched a machine learning program to fulfill the demand for ML Engineers. This program is a one-stop career path training program. The company has created this program to join the gap between industry requirements and technology talent. Therefore, these new launches of online courses for students are expected to drive the growth of the Indian online education market during the forecast period.
According to the study, key players such as 2U (U.S), Alison (Ireland), BYJU'S (India), Creative Live (U.S), Coursera (U.S), DoubtNut (India), DataCamp (U.S), Excelsoft Technologies (India), Edureka (India), EduCart (India), Federica Web learning (Italy), Haygot Education (India), Iversity (U.K), Intellipaat (India), Jigsaw Academy (India), Khan Academy (U.S), LinkedIn Learning (U.S), Linkstreet Learning (India), Sorting Hat Technologies (India), SkillShare (U.S), TreeHouse (U.S), Udemy (U.S), Udacity (U.S), Vedantu (India), among others are leading the Indian freelance job market.
Scope of the Report:
Report Coverage

Details

Market Size in 2021

US$ 2.1 billion

Market Volume Projection by 2032

US$ 8.4 billion

Forecast Period 2022 to 2032 CAGR

12.0%

Base Year:

2021

Historical Data

2019, 2020 and 2021

Forecast Period

2022 to 2032

Segments covered

By Education Type: Self-Paced Online Education, Instructor-Paced Online Education

By Online Course Type: Arts and Literature, Science and Technology Courses & Other Courses

By End-User: Academic Institutions, Enterprises and Public Sectors

Geographies covered

India: Karnataka, Uttar Pradesh, Maharashtra, Bihar, Madhya Pradesh & Others

Companies covered
2U (U.S), Alison (Ireland), BYJU'S (India), Creative Live (U.S), Coursera (U.S), DoubtNut (India), DataCamp (U.S), Excelsoft Technologies (India), Edureka (India), EduCart (India), Federica Web learning (Italy), Haygot Education (India), Iversity (U.K), Intellipaat (India), Jigsaw Academy (India), Khan Academy (U.S), LinkedIn Learning (U.S), Linkstreet Learning (India), Sorting Hat Technologies (India), SkillShare (U.S), TreeHouse (U.S), Udemy (U.S), Udacity (U.S), Vedantu (India), among others
Indian Online Education Market Has Been Segmented Into:
Indian Online Education Market – by Education Type:
Self-Paced Online Education
Instructor-Paced Online Education
Indian Online Education Market – by Online Course Type:
Arts and Literature
Science and Technology Courses
Other Courses
Indian Online Education Market – by End-User:
Academic Institutions
Enterprises and Public Sectors
Indian Online Education Market – by Regions:
India
Karnataka
Uttar Pradesh
Maharashtra
Bihar
Madhya Pradesh
Others
Note: This table of contents is a content of a published report. As per client requirement, cross-sectional analysis across all industries or specific geography or 'country-based' analysis can be provided as a part of paid customization. Please place your queries on sales@sheeranalyticsandinsights.com or query@sheeranalyticsandinsights.com