The India smart watch market was valued at $4.2 billion in 2021 and it is expected to reach $120.9 billion at a CAGR of 28.4% between 2022 and 2032. A rise in market adoption is projected due to consumers' increasing preference for fitness tracking and health monitoring capabilities. Smart watches with sophisticated health monitoring capabilities have been made available by manufacturers. These features include blood oxygen and SpO2 sensors, a stress monitor, electrocardiograms, calorie counters, and more. Several businesses are releasing smartwatches with health monitoring technologies, including SAMSUNG, Noise, Fitbit, Fossil Group, Inc., and others.
By region, Telangana holds the largest share of smart watch market across the India.
When compared to their non-smart counterparts, smart gadgets and services are things with embedded computer systems; they are typically connected to the internet and offer the user enhanced capabilities. What makes them clever is their enhanced capacity to gather, analyze, and respond to inputs from the outside world. Other smartwatches are stand-alone gadgets that provide a particular function. For instance, certain smartwatches monitor the wearer's heart rate while collecting data about the wearer's health.
Many smartwatches can also connect to Bluetooth. The watch also transforms into a wireless Bluetooth adaptor that allows the wearer to extend the functionality of their smartphone to their watch. The interface of the watch can be used by the wearer to make and take phone calls from their mobile device, read email and text messages, obtain weather information, listen to music, compose email and text messages, and communicate with a digital assistant. Additionally, Other GPS-enabled smart watches also offer data, giving the wearer walking or driving directions.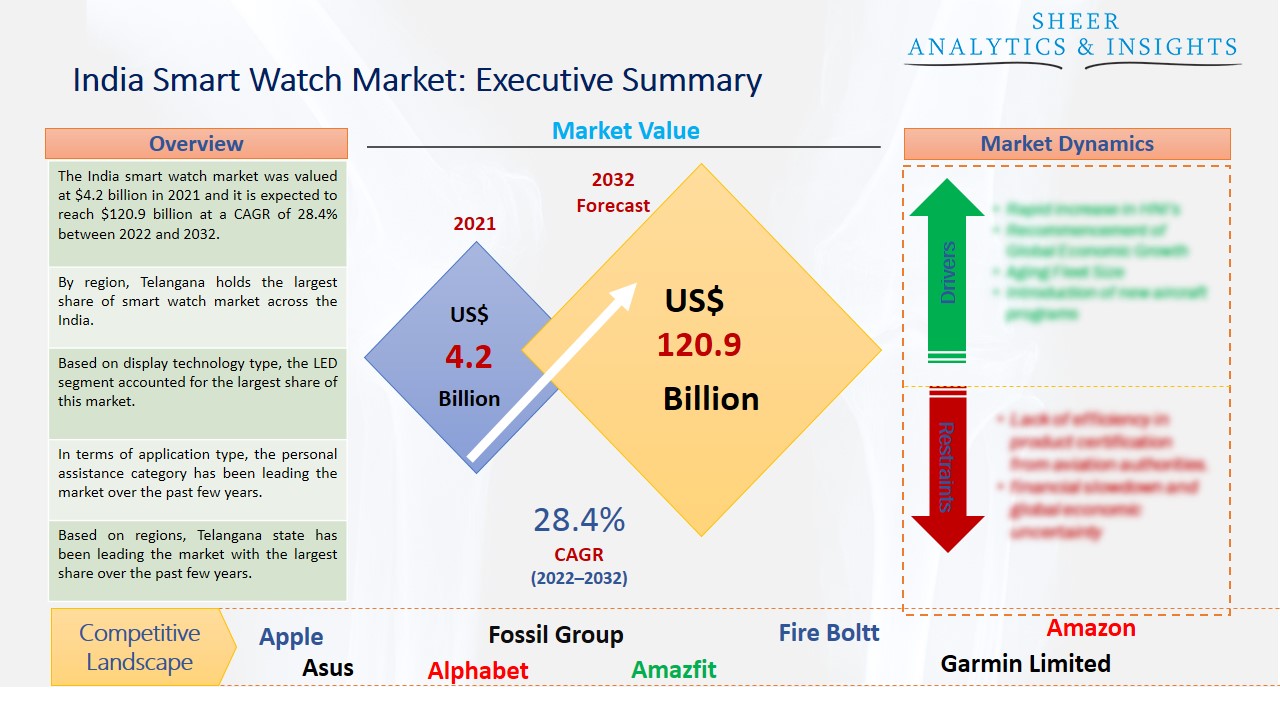 Source: SAI Research
With capabilities like calling/messaging, navigation, voice help, connecting with other connected devices, and more, smart watches, like other wearable technology, enable users to automate their daily tasks. The operating systems and user interfaces for smartwatches have seen major technological advancements. Smart gadgets make use of other smart devices customers may already own and offer features and designs that are strongly user-focused. Therefore, users can now turn on the lights using their watches. Hence, these benefits are expected to create more growth opportunities for the smartwatch market across the country.
The Internet of Things wearable enables users to connect with coworkers remotely for video conferencing and aids in making data-driven decisions. Smartwatches come with IoT-related technologies that enable the transmission of the gathered data to a distant server, enabling real-time behavioral tracking. Smartwatches built on the Internet of Things can also be connected to other IoT devices to track users' physical activity. Smart watches with IoT capabilities are employed in a wide range of industries, including sports, edge analytics, computational offloading, biometric readings, automatic device connection, and more. However, the high price of smartwatches serves as a significant barrier, which is anticipated to limit market expansion to some extent. Additionally, it is anticipated that increased investments in creating connected ecosystems would present a profitable potential for market expansion on a worldwide scale.
Based on display technology type, the LED segment accounted for the largest share of this market and is also anticipated to accelerate the market growth with more upcoming opportunities due to rising demand for various customers across the whole country. Despite having a high manufacturing cost, OLED technology has been adopted by manufacturers because of its benefits over LCDs in the desire for crisp and dynamic displays. Hence, all these benefits would drive the market throughout the forecast period from 2022 to 2032.
In terms of application type, the personal assistance category has been leading the market over the past few years due to growing demand among a large number of customers from several cities in India. A menstrual tracker is even included in some smartwatches, which is quite beneficial for women as it keeps track of periods and forecasts the next date. They now consider these women's smartwatches to be their closest pals. Additionally, people are aware that stress is unhealthy, and modern life is full of strain and stress. Therefore, smartwatches are useful for managing your stress levels in addition to keeping an eye on your physical health. On the other hand, the sports segment is also expected to rise with more opportunities due to the increasing demand among numerous sports persons and athletics that are related to several sports activities such as cricket, football, tennis, and more.
Based on regions, Telangana state has been leading the market with the largest share over the past few years. So many IT sectors and other technological offices are established in this state, which is another advantage for the market. Additionally, people who work at these offices are becoming interested in purchasing and using smartwatches for various kinds of benefits. Hence, these benefits are leading the market with more profit. Some key players and their subsidiaries are established in Telangana. These major companies are focusing on expanding their market growth by establishing mergers and acquisitions, which would also drive the market in the future.
According to the study, key players such as Apple (U.S), Fossil Group (U.S), Fire Boltt (India), Garmin (U.S), Amazon (U.S), Asus (South Korea), Alphabet (U.S), Amazfit (China), Garmin Limited (U.S), Huawei (China), LG Corp (South Korea), Lenovo (China), Noise (U.S), Pebble (Taiwan), Polar Electro (Finland), Sony (Japan), Samsung Group (South Korea), Withings (France), Xiaomi (China), Zepp Health (China), among others are leading the Indian smart watch market.
Scope of the Report:
Report Coverage
Details
Market Size in 2021

US$ 4.2

Billion

Market Volume Projection by 2032

US$ 120.9 Billion

Forecast Period 2022 to 2032 CAGR
28.4%
Base Year:

2021

Historical Data

2019, 2020 and 2021

Forecast Period

2022 to 2032

Segments covered

By Display Technology Types: LCD LED & Others

By Application Type: Personal Assistance Medical Sports & Other

Geographies covered

India: Andhra Pradesh, Telangana, West Bengal, Uttar Pradesh, New Delhi & Other

Companies covered
Apple (U.S), Fossil Group (U.S), Fire Boltt (India), Garmin (U.S), Amazon (U.S), Asus (South Korea), Alphabet (U.S), Amazfit (China), Garmin Limited (U.S), Huawei (China), LG Corp (South Korea), Lenovo (China), Noise (U.S), Pebble (Taiwan), Polar Electro (Finland), Sony (Japan), Samsung Group (South Korea), Withings (France), Xiaomi (China), Zepp Health (China), among others.
The India Smart Watch Market Has Been Segmented Into:
The India Smart Watch Market – by Display Technology Types:
The India Smart Watch Market – by Application Type:
Personal Assistance
Medical
Sports
Other
The India Smart Watch Market – by Regions:
India
Andhra Pradesh
Telangana
West Bengal
Uttar Pradesh
New Delhi
Other
Note: This table of contents is a content of a published report. As per client requirement, cross-sectional analysis across all industries or specific geography or 'country-based' analysis can be provided as a part of paid customization. Please place your queries on sales@sheeranalyticsandinsights.com or query@sheeranalyticsandinsights.com