The India Unified Payment Interface (UPI) Market was valued at $60.3 billion in 2021 and it is expected to reach $440.3 billion at a CAGR of 14.80% between 2022 and 2032. Unified Payment Interface or UPI is a money transaction platform that combines various banking services and features. The owner of the UPI is the National Payments Corporation of India (NPCI). In addition, a real-time bank-to-bank payment can be conducted by using a desired mobile number of a customer or a virtual payment address.
In India, Maharashtra holds the largest share in the Unified Payment Interface market.
In India, consumers are becoming more interested in using cashless payment at present days. Smartphone usage is increasing. Users are making transactions through various mobile applications to conduct payments. Besides this, retailers are also using cashless payment systems. Therefore, it is becoming easier for customers to purchase from offline and online shops and make digital payments. Additionally, digital transactions are processed at grocery stores, fuel stations, clothing and apparel, pharmacies, and restaurants. Hence, UPI remained the most preferred payment mode among consumers with a person-to-person, person-to-merchant. In online spaces, financial services, government institutions, and the education sector are witnessing significant market growth, which is benefiting the UPI market across the country. Among various digital platforms in India, PhonePe has led the UPI market over the last few years. Google Pay holds the second position in helping the market to grow. Therefore, these two digital platforms have been leading the industry across India on all key metrics including value and volume of transactions, registered uses, and merchant coverage. However, PhonePe and GooglePay currently own maximum percentages of the UPI market share respectively.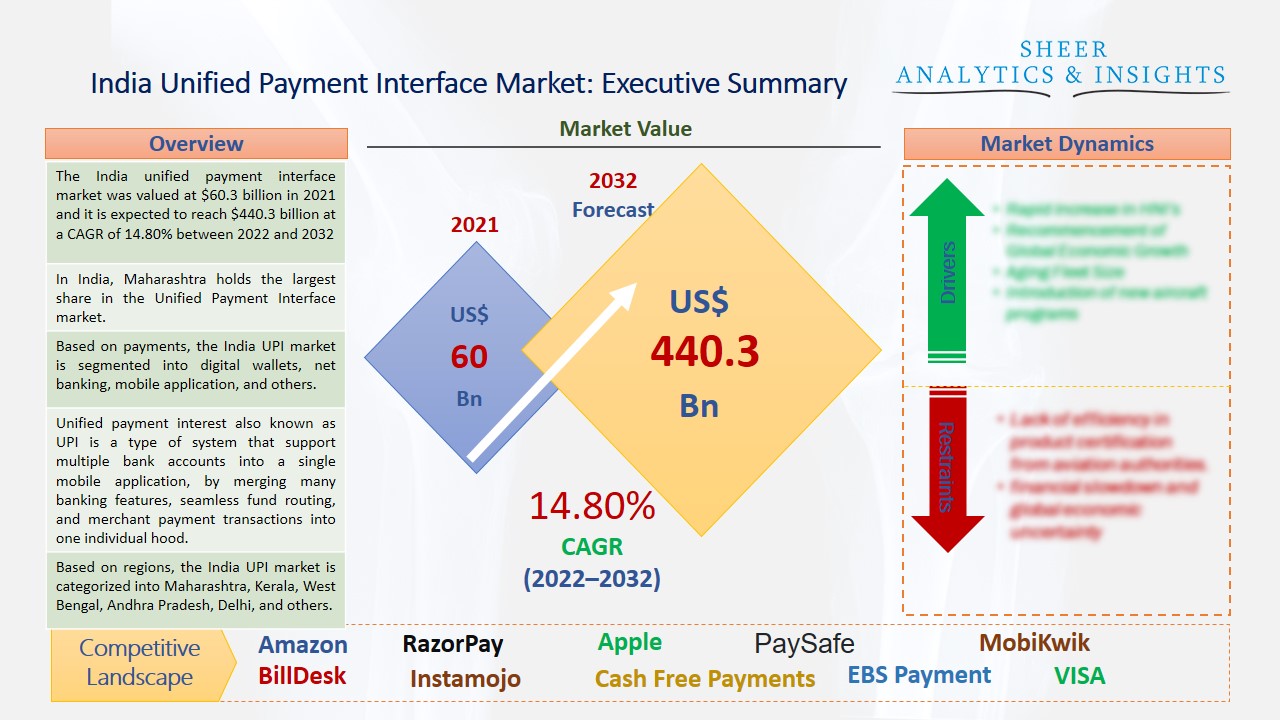 Source: SAI Research
Based on payments, the India UPI market is segmented into digital wallets, net banking, mobile application, and others. The digital wallets segment is accounted for the largest market share over the last few years, and it is estimated to drive the growth of the market during the forecast period. Based on enterprises, the market is segmented into small, medium, and large enterprises. The large enterprise category held the maximum market share over the few years. Based on end-user, the India UPI market is categorized into BFSI, healthcare, media and entertainment, retail and e-commerce, transportation, and others. The BFSI, retail, and e-commerce segments are expected to fuel the India UPI market due to the rising usage of mobile phones, digital payment applications, and banking facilities regarding UPI. Consumers and various retailers use cashless payment systems through many mobile applications and make secure transactions. Therefore, India's digital economy has developed over the past few years. There is no doubt that UPI's success story has been a key instrument in the Digital India initiative. Hence, it has gained more success even overseas.
Based on regions, the India UPI market is categorized into Maharashtra, Kerala, West Bengal, Andhra Pradesh, Delhi, and others. Among these, Maharashtra state is leading the UPI market due to the rising number of customers who are using mobile phones and cashless payment applications for conducting digital transactions while purchasing something. Thus, Maharashtra remains one of the top states in India where people preferred to use the UPI mode of payment instead of cash and coins. Besides this, Andhra Pradesh is also dominating the market by holding the maximum share across India related to the UPI mode of transactions. Furthermore, the Bank of Maharashtra has cooperated with BHIM UPI, the official UPI application by the NPCI to cater to the account holders who wish to use UPI to transfer funds. Hence, the BHIM Maha UPI application is available for consumers, especially for those who live in that state.
Last year, Paytm Money launched the first-of-its-kind F&O dashboard in India. This dashboard provides tools that were previously available only to institutional-level clients. Moreover, Ria Money Transfer and Paytm Payments Bank together have enabled real-time international remittances into Paytm mobile wallet. Additionally, One97 Communications Limited has launched India's biggest public offering. They have built this for a large number of consumers and merchants. BharatPe Company launched the Buy Now Pay Later (BNPL) category with the launch of PostPe. This new platform offers credit to customers to buy now but pays later from anywhere and anytime. The company has also launched Merchant Shareholding Program (MSH) for its merchant partner. India-based financial technology CRED launched its new product Mint in partnership with Liquiloans, which is an RBI-registered person-to-person Non-Banking-Financial-Company. CRED Mint will enable its members to earn more interest on idle money they have in their savings account by lending it to other members. However, these new launches regarding the UPI mode of payment are projected to boost the growth of the India Unified Payment Interface market during the forecast period from 2022 to 2032.
According to the study, key players such as One97 Communications (India), Amazon (U.S), Ant Group (China), Apple (U.S), Alphabet Inc (U.S), BharatPe (India), BillDesk (India), CCAvenue (India), CRED (India), Cashfree Payments (India), EBS Payment Gateway (India), Instamojo (India), MasterCard (U.S), Meta (U.S), Naspers (South Africa), MobiKwik (India), NPCI (India), PaySafe (U.K), PB Fintech (India), PayPal (U.S), RazorPay (India), Stripe (U.S), VISA (U.S), Walmart (U.S), ZETA (India), among others are leading the Indian Unified Payment Interface market.
Scope of the Report:
Report Coverage

Details

Market Size in 2021

US$ 60.3 billion

Market Volume Projection by 2032

US$ 440.3 billion

Forecast Period 2022 to 2032 CAGR
14.80%
Base Year:

2021

Historical Data

2019, 2020 and 2021

Forecast Period

2022 to 2032

Segments covered

By Payment Type: Digital Wallets, Net Banking, Mobile Application, Others

By Enterprise Type: Small and Medium Enterprises, Large Enterprises

By End-User Type: BFSI, Healthcare, Media and Entertainment, Retail and E-Commerce, Transportation & Others

Geographies covered

India: Maharashtra, Kerala, West Bengal, Andhra Pradesh, Delhi & Others

Companies covered
One97 Communications (India), Amazon (U.S), Ant Group (China), Apple (U.S), Alphabet Inc (U.S), BharatPe (India), BillDesk (India), CCAvenue (India), CRED (India), Cashfree Payments (India), EBS Payment Gateway (India), Instamojo (India), MasterCard (U.S), Meta (U.S), Naspers (South Africa), MobiKwik (India), NPCI (India), PaySafe (U.K), PB Fintech (India), PayPal (U.S), RazorPay (India), Stripe (U.S), VISA (U.S), Walmart (U.S), ZETA (India), among others
India Unified Payment Interface Market Has Been Segmented Into:
India Unified Payment Interface Market – by Payment Type:
Digital Wallets
Net Banking
Mobile Application
Others
India Unified Payment Interface Market – by Enterprise Type:
Small and Medium Enterprises
Large Enterprises
India Unified Payment Interface Market – by End-User Type:
BFSI
Healthcare
Media and Entertainment
Retail and E-Commerce
Transportation
Others
India Unified Payment Interface Market – by Regions:
India
Maharashtra
Kerala
West Bengal
Andhra Pradesh
Delhi
Others
Note: This table of contents is a content of a published report. As per client requirement, cross-sectional analysis across all industries or specific geography or 'country-based' analysis can be provided as a part of paid customization. Please place your queries on sales@sheeranalyticsandinsights.com or query@sheeranalyticsandinsights.com