The Indian organic fruits and vegetables market was valued at $0.86 billion in 2021 and it is expected to reach $6.8 billion at a CAGR of 19.1% between 2022 and 2032. Customers who purchase organic products have the assurance that no harmful pesticides, artificial fertilizers, genetically modified organisms, antibiotics, or growth hormones were utilized in the production of their food. Additionally, the growth of organic fruits and vegetables must abide by tight guidelines regarding their impact on the soil, water, and air. This helps to protect the environment.
By region, Madhya Pradesh has led the Indian organic fruits and vegetables market over the past few years.
Fruits and vegetables that are grown without the use of chemicals or chemical byproducts are considered organic. In the organic farming method, no pesticides, synthetic fertilizers, or growth regulators are used at all. As a result, consumers don't need to be concerned about food additives. The use of harmful pesticides, synthetic fertilizers, and genetically modified organisms has expanded along with technological advancements in farming practices. These elements have encouraged prospective buyers to adopt organic foods. The agriculture industry is moving in the direction of the market for organic fruits and vegetables due to favorable regulatory standards, laws, and assistance.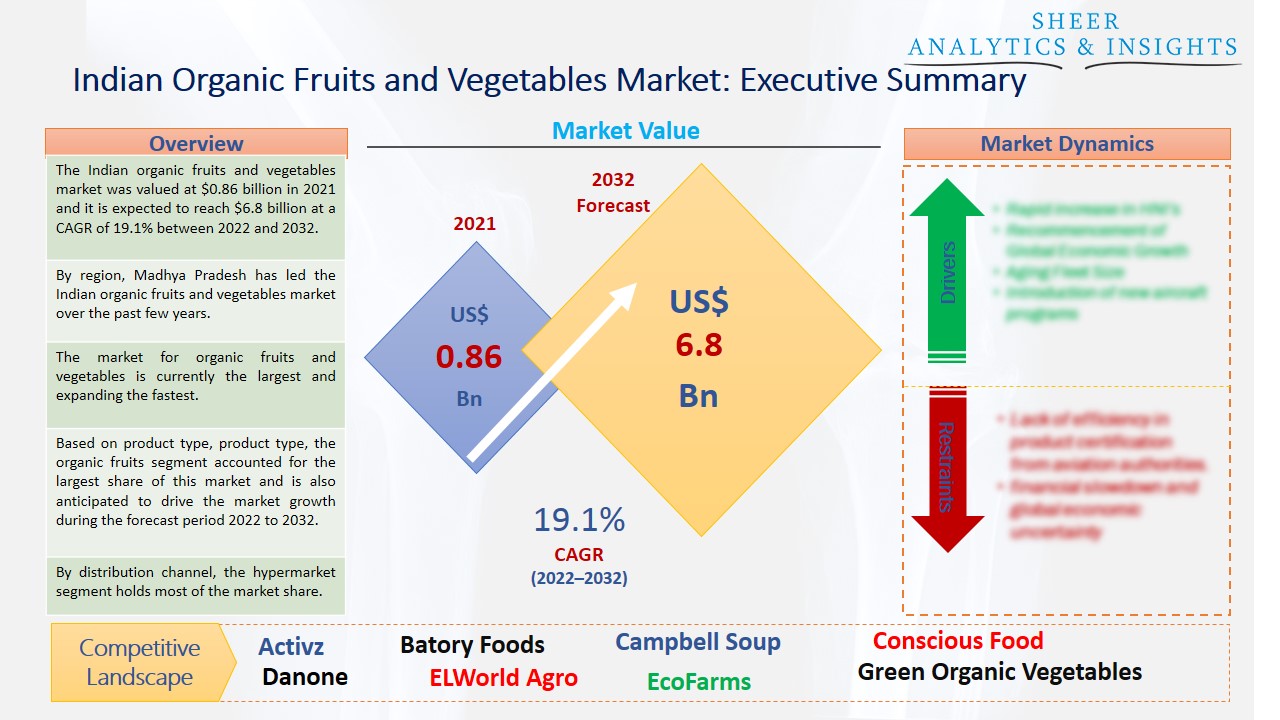 Source: SAI Research
The primary factor driving market expansion is thought to be the rising demand for goods with organic mark labels and meals that adhere to rules set forth by the government for properly gauging the use of chemical fertilizers and materials. In a similar vein, the recent nationwide rise of the organic fruit and vegetable market is being impacted by the rising trend toward a healthier lifestyle. Moreover, fruits and vegetables that are labeled as organic and have little to no chemical residue in them are referred to as organic fruits and vegetables. The expansion of the organic fruits and vegetable market is anticipated to be supported soon by rising consumer knowledge of the benefits of a healthy diet, as well as altered lifestyles and eating habits. Due to busy work schedules and evolving lifestyles, the working population worldwide struggles to meet daily nutrient requirements. As a result, they are becoming more dependent on organic fruits and vegetables, which are helpful sources of nutrients including Vitamin C, iron, magnesium, and phosphorus.
The market for organic fruits and vegetables is currently the largest and expanding the fastest. The increased production and rising global consumption of organic fruits and vegetables are the main causes of the soaring demand for them. However, due to their high production costs, the supply of organic fruits and vegetables is constrained in comparison to their demand. Global sales of organic foods are being driven by rising rates of lifestyle disorders including diabetes, high blood pressure, and obesity as well as heavy contamination of conventional foods. The potential to diversify and expand their organic food offers at more affordable costs are provided by the steadily increasing demand for these products by supermarkets and food store chains.
Fruits, vegetables, cereals, dairy goods, and meat are the most popular organic foods in India. There are other processed organic goods available, like sodas, cookies, and meat alternatives. A food item needs to be free of artificial food additives to be designated as organic. Additionally, organic farming tends to enhance soil quality and groundwater conservation. Additionally, it lessens pollution and could benefit the environment. Organic farming practices may result in microbial contamination, although research has shown that the risk of substantial microbiological contamination is not higher for organic produce than for conventional produce.
Based on product type, product type, the organic fruits segment accounted for the largest share of this market and is also anticipated to drive the market growth during the forecast period 2022 to 2032. Fruits grown organically are packed with vitamins, minerals, proteins, fiber, and other elements that are lost in processed food due to the chemicals and pesticides employed in its production. They are always grown on land that is handled carefully and sustainably, making them a healthy option. The forecasted expansion of the organic fruit market is being significantly influenced by the expanding food and beverage sector as well as dynamic shifts in consumer tastes and lifestyles. People have the propensity to consume prepared foods and beverages, which is probably what drives such companies. On the other side, the organic vegetable segment is also anticipated to drive the growth of the market in the future due to rising demand among a large number of consumers for residential as well as commercial purposes.
In terms of end-user type, the residential category has led the market growth with more opportunities in several states of India. Since customers are becoming more concerned about their health and are becoming more aware of the health advantages of eating organic food, organic fruits, vegetables, and associated processed goods are becoming more and more popular. Growing public knowledge of the advantages of food crops grown organically is another important aspect of promoting organic fruits and vegetables. However, the commercial segment is also increasing in growth as the demand for organic fruits and vegetables is rising across several commercial industries. Hence, this would also accelerate market growth in the future.
By distribution channel, the hypermarket segment holds most of the market share. The rise in urbanization is one of the primary factors which are driving this segment. Moreover, due to the growing population, this segment is also growing, which is projected to boost market growth. On the other side, the online market has been growing over the past couple of years, especially during the pandemic situation of COVID-19. This segment has helped numerous people across the whole country. Due to their ease of use and speedy customer access, e-commerce platforms are more frequently utilized to purchase organic fruits and vegetables.
Geographically, Madhya Pradesh state has led the Indian organic fruits and vegetable market over the last few years with a higher market share. This state produces the most organic fruits and veggies. The greatest category of commodities is oil seeds, which are followed in importance by sugar crops, cereals and millets, tea and coffee, fiber crops, fodder, pulses, and herbal products, as well as other significant fruits and vegetables. Furthermore, Uttar Pradesh and West Bengal are also expected to propel the market growth due to the rising demand for Indian organic fruits and vegetables in the future.
According to the study, key players such as Activz (India), Batory Foods (U.S), Campbell Soup Company (U.S), Conscious Food (India), Danone (Spain), ELWorld Agro (India), EcoFarms (India), Green Organic Vegetables (Canada), General Mills (U.S), Iceland (U.K), Kraftz Heinz (U.S), LT Foods (India), Morarka Organic Foods (India), Nourish Organic Foods (India), Nature Pearls (India), Organic India Pvt Ltd (India), Phalada Agro (India), Sresta Natural Bio Products (India), Suminter India Organic (India), Z Natural Foods (U.S), among others are leading the Indian organic fruits and vegetables market.
Scope of the Report:
Report Coverage
Details
Market Size in 2021

US$ 0.86 Billion

Market Volume Projection by 2032

US$ 6.8 Billion

Forecast Period 2022 to 2032 CAGR
19.1%
Base Year:

2021

Historical Data

2019, 2020 and 2021

Forecast Period

2022 to 2032

Segments covered

By Product Type: Organic Fruits & Organic Vegetables

By End-User Type: Residential & Commercial

By Distribution Channel Supermarkets, Hypermarkets, Online Market, Convenience Store & Others

Geographies covered

India: Assam, Uttar Pradesh, Madhya Pradesh, West Bengal, Tamil Nadu, Kerala, Karnataka & Others

Companies covered
Activz (India), Batory Foods (U.S), Campbell Soup Company (U.S), Conscious Food (India), Danone (Spain), ELWorld Agro (India), EcoFarms (India), Green Organic Vegetables (Canada), General Mills (U.S), Iceland (U.K), Kraftz Heinz (U.S), LT Foods (India), Morarka Organic Foods (India), Nourish Organic Foods (India), Nature Pearls (India), Organic India Pvt Ltd (India), Phalada Agro (India), Sresta Natural Bio Products (India), Suminter India Organic (India), Z Natural Foods (U.S), among others
The Indian Organic Fruits and Vegetables Market Has Been Segmented Into:
The Indian Organic Fruits and Vegetables Market – by Product Type:
Organic Fruits
Organic Vegetables
The Indian Organic Fruits and Vegetables Market – by End-User Type:
The Indian Organic Fruits and Vegetables Market – by Distribution Channel
Supermarkets
Hypermarkets
Online Market
Convenience Store
Others
The Indian Organic Fruits and Vegetables Market – by Regions:
Assam
Uttar Pradesh
Madhya Pradesh
West Bengal
Tamil Nadu
Kerala
Karnataka
Others
Note: This table of contents is a content of a published report. As per client requirement, cross-sectional analysis across all industries or specific geography or 'country-based' analysis can be provided as a part of paid customization. Please place your queries on sales@sheeranalyticsandinsights.com or query@sheeranalyticsandinsights.com