The global industrial hyper automation market was valued at $2.1 billion in 2021 and it is expected to reach $33.4 billion at a CAGR of 27.7% between 2022 and 2032. The ability to automate office tasks is using a variety of technologies, including artificial intelligence, robotic process automation, and machine learning, is a possible benefit of industrial hyper-automation. Additionally, hyper-automation aids businesses in finding and automating as many processes as they can quickly with the use of this cutting-edge technology.
By region, Asia-Pacific has led the global hyper automation market with significant growth over the past few years.
Instead of referring to a specific, off-the-shelf technology or application, hyper-automation emphasizes the addition of greater intelligence and the use of a more comprehensive systems-based approach to developing automation efforts. The approach also underlines how important it is to strike the right balance between automating manual jobs and streamlining complicated procedures to cut down on stages. To maximize automation potential, it builds on the foundation of robotic process automation (RPA) and then adds artificial intelligence (AI), process mining, analytics, and other cutting-edge tools. Frontline employees, for instance, are more likely to identify time-consuming tasks that can be automated. However, those who are knowledgeable about business processes are better able to identify opportunities for automation when many individuals are engaged.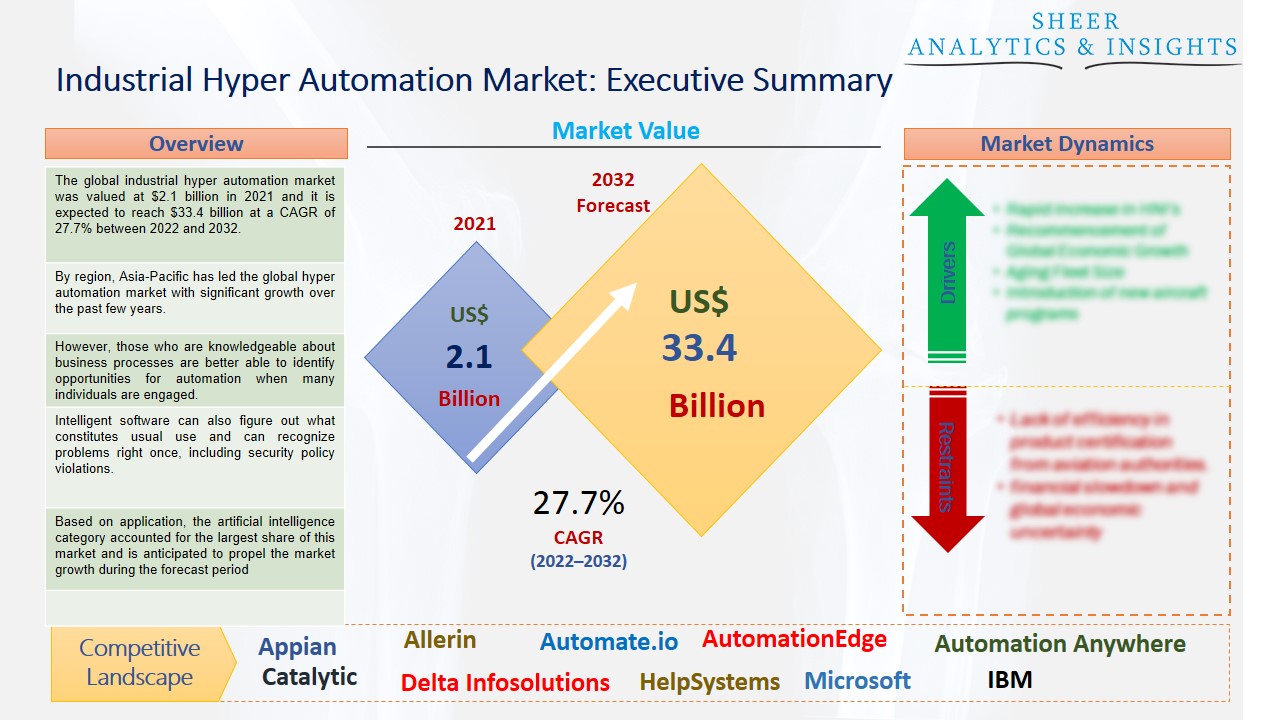 Source: SAI Research
Download Free PDF Sample Request
Intelligent software can also figure out what constitutes usual use and can recognize problems right once, including security policy violations. Automation may support security and compliance in several ways. The key factors driving the worldwide hyper-automation market are a larger need for automation in industrial innovations, enhanced efficiency, more digitalization, and lower operational costs. The market has expanded as more companies, especially those in the pharmaceutical industry, have adopted automated production methods. Some jobs that were previously undertaken by individuals in the manufacturing sector are now carried out by machines.
By incorporating technologies like Artificial Intelligence (AI) and Robotic Process Automation (RPA), which make it possible to complete any complex work with ease, hyper-automation goes one step beyond automation. A firm can use dynamically developed bots to automate its automated chores with the use of such cutting-edge technology processes, which automatically uncover business processes. The top 10 strategic technology-related trends, according to the US-based research and consulting company Gartner, include hyper-automation. Any procedure that was previously thought to be difficult to automate may now be done with the strength and flexibility of RPA and AI. Moreover, it is crucial to have a solid automation procedure that serves as the foundation before constructing a great hyper-automation method. Smaller automated instruments and algorithms are employed to carry out these duties. The next step is the orchestration process, which entails aligning all of the previously automated phases with one another.
Based on application, the artificial intelligence category accounted for the largest share of this market and is anticipated to propel the market growth during the forecast period due to its rising demand among numerous industries and IT sectors. For instance, the interaction between human judgment and scientific data has long existed in the healthcare industry. These two components are becoming more closely related than ever thanks to breakthroughs in artificial intelligence (AI), and the business is already reaping the rewards. On the other hand, the machine learning segment is also rising in demand. The scope of machine learning in India and other areas of the world are extensive in terms of job opportunities. Machine learning in manufacturing can, among other things, save costs, enhance quality assurance, and enhance supply chain management. Future test automation will make use of machine learning.
In terms of end-user type, the BFSI sector has been leading the market over the past few years. Banking and financial services are among the industries that stand to benefit the most from hyper-automation. These industries include regulatory reporting, marketing, sales and distribution, bank servicing, payment and lending operations, back-office operations, and enterprise support, among others. Moreover, the IT and Telecom segment is also projected to grow due to the rising demand for advanced technologies of industrial hyper-automation services and solutions.
Geographically, the Asia-Pacific region held most of the market share and is also anticipated to hold its dominant position in the future. Most of the key players are situated in several emerging nations of this region which is a plus point for the industrial hyper-automation market. As an illustration, China agreed to invest over USD 155 billion in the AI sector by 2030. Additionally, it is anticipated that during the forecast period, the region's rising expenditure on R&D activities will fuel market expansion. On the other side, the North American market is also growing and is anticipated to drive its market growth in upcoming years due to increasing demand for artificial intelligence, machine learning, biometrics, and automotive industries. Additionally, it is projected that during the forecast period, increasing investments in AI, robotic process automation, and intelligent process automation would accelerate market expansion.
According to the study, key players such as Appian (U.S), Allerin (India), Automate.io (U.S), AutomationEdge (India), Automation Anywhere (U.S), Catalytic (U.S), Delta Infosolutions Private Limited (India), HelpSystems (U.S), IBM (U.S), Microsoft (U.S), Mitsubishi (Japan), OneGlobe LLC (U.S), ProcessMaker (U.S), SS&C Technologies (U.S), SolveXia (Austria), Techforce.ai (India), TA Associates (U.S), Tata group (India), UiPath (U.S), Wipro Limited (India), among others are leading the global industrial hyper automation market.
Scope of the Report:
Report Coverage
Details
Market Size in 2021

US$ 2.1 Billion

Market Volume Projection by 2032

US$ 33.4 Billion

Forecast Period 2022 to 2032 CAGR
27.7%
Base Year:

2021

Historical Data

2019, 2020 and 2021

Forecast Period

2022 to 2032

Segments covered

By Application Type: Artificial Intelligence, Robotic Process Automation, Machine Learning, Biometrics, Natural Language Generation & Others

By End-User Type: Retail, Manufacturing, Medical Sector, Automotive, BFSI, IT and Telecom & Others

Geographies covered

North America, Europe, Asia-Pacific, LAMEA

Companies covered
Appian (U.S), Allerin (India), Automate.io (U.S), AutomationEdge (India), Automation Anywhere (U.S), Catalytic (U.S), Delta Infosolutions Private Limited (India), HelpSystems (U.S), IBM (U.S), Microsoft (U.S), Mitsubishi (Japan), OneGlobe LLC (U.S), ProcessMaker (U.S), SS&C Technologies (U.S), SolveXia (Austria), Techforce.ai (India), TA Associates (U.S), Tata group (India), UiPath (U.S), Wipro Limited (India), among others
The Global Industrial Hyper Automation Market Has Been Segmented Into:
The Global Industrial Hyper Automation Market – by Application Type:
Artificial Intelligence
Robotic Process Automation
Machine Learning
Biometrics
Natural Language Generation
Others
The Global Industrial Hyper Automation Market – by End-User Type:
Retail
Manufacturing
Medical Sector
Automotive
BFSI
IT and Telecom
Others
The Global Industrial Hyper Automation Market – by Regions:
North America
Europe

U.K.
France
Germany
Italy
Rest of Europe

Asia Pacific

India
China
Japan
Australia
Rest of Asia Pacific

LAMEA
Middle East
Latin America
Africa

South Africa
Egypt
Others
Note: This table of contents is a content of a published report. As per client requirement, cross-sectional analysis across all industries or specific geography or 'country-based' analysis can be provided as a part of paid customization. Please place your queries on sales@sheeranalyticsandinsights.com or query@sheeranalyticsandinsights.com