The global infrastructure as code market was valued at $0.48 billion in 2021 and it is expected to reach $8.1 billion at a CAGR of 28.3% between 2022 and 2032. The strategy ignores the programming language in favor of the goal and figuring out how to achieve it. The expansion of the segment will be influenced by the approach's capacity to produce efficient code that can then be executed using simple extensions, methods, high-level abstractions, etc.
By region, North America has led the infrastructure as code market with significant growth over the past few years.
In a containerized DevOps enterprise context, Infrastructure as Code (IaC) is essential and has a few draw backs. It does, however, present a few possible difficulties: Given the variety of Infrastructure as Code tools available, more training for IT teams may be required. Version control and testing are especially crucial in an IaC setting since infrastructure automation makes faults more likely to spread quickly. Similar to how IaC generally guards against configuration drift, it can cause it if IT administrators alter server configurations outside of the IaC template, hence it's crucial to operationalize IaC standards and to carefully document regulations. Since Infrastructure as Code (IaC) has been so widely used for many years, most software engineers don't even need to think about its advantages because it comes naturally to them. With IaC, source code controls every aspect of the configuration. It ensures a consistent and safe production environment and makes it much easier for the IT or development team to change, updates, and distributes settings because it gives you the flexibility and confidence that you can code.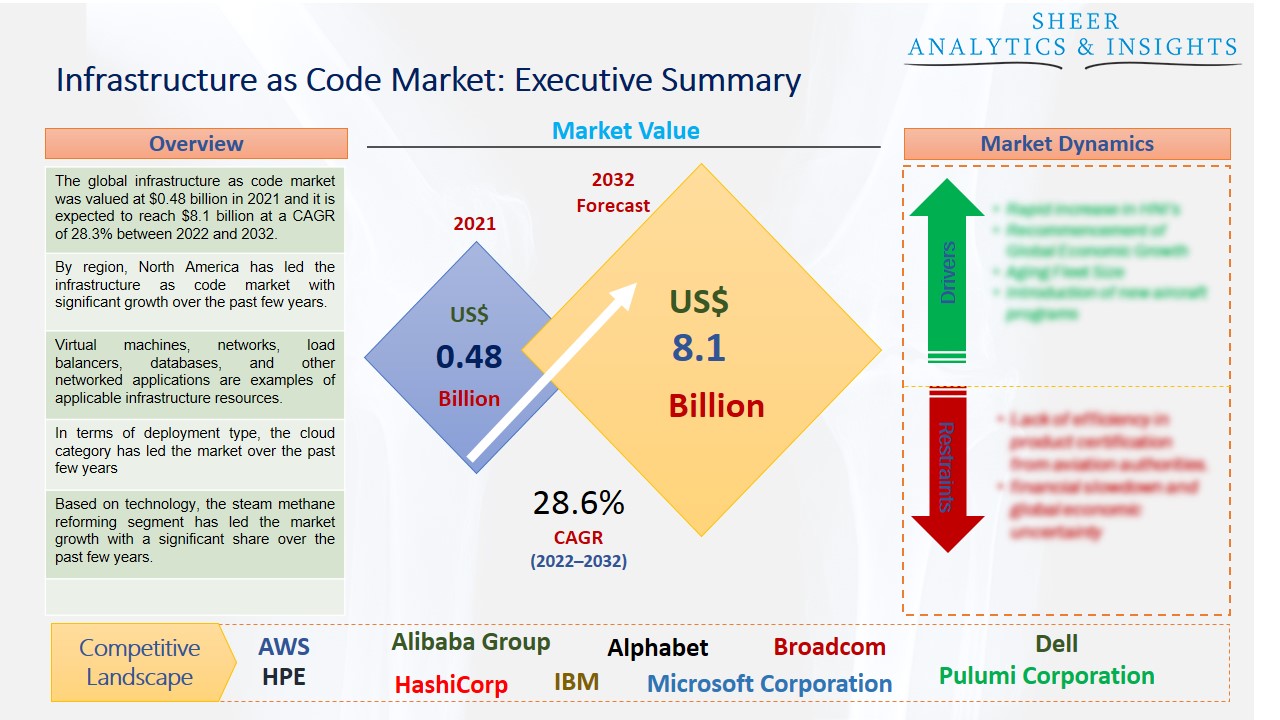 Source: SAI Research
Download Free PDF Sample Request
Virtual machines, networks, load balancers, databases, and other networked applications are examples of applicable infrastructure resources. IaC is a type of configuration management that converts the infrastructure resources of an organization into text files. With infrastructure as code, you can efficiently use your resources without wasting any of them. Your entire cost connected with human resources, difficult, and laborious duties becomes lowered as it automates the work for IT, operations, functional, and other teams, leading to a more cost-effective solution for everyone.
Furthermore, DevOps teams will have less work to do as a result of using infrastructure as code, freeing them up to produce market-leading software, goods, and services. Additionally, modifications to the infrastructure and code are stored and tracked, making it simple to evaluate or audit them. DevOps may quickly launch isolated instances in secure settings to enable quick testing without putting production at risk. These major factors are projected to boost market growth over the forecast period from 2022 to 2032.
Based on component type, the compute segment accounted for the largest share of this market and is also anticipated to drive market growth in the future due to an increase in demand for secure, physically segregated networks, on-demand APIs, and constant performance. When computing, storage, and networking services are all provisioned using code, they are also delivered consistently. This implies that enforcing security standards across organizations would be simple and consistent.
In terms of deployment type, the cloud category has led the market over the past few years and is also expected to accelerate the market growth with more opportunities. Managed service providers like Amazon Web Services, Inc., Microsoft Corporation, and IBM Corporation offer continuously accessible cloud services throughout the year as a part of their integrated cloud service offering. Cloud services are being quickly adopted by some industry sectors, including banking, financial services, insurance (BFSI), retail, healthcare, manufacturing, telecommunications, information technology, and media and entertainment.
Geographically, the North American region holds most of the market share. Due to the presence of a large number of key players in several emerging nations across North America, the region is also estimated to get more benefits from these companies throughout the upcoming years. The enormous increase in customer-related data has prompted businesses to spend a lot of money upgrading their IT infrastructure and supporting local growth. On the other hand, the Asia-Pacific region is also expected to become the second-largest market during the forecast period from 2022 to 2032 due to the rising adoption of infrastructure as code solutions across the various end-user industries. The low pricing, on-demand availability, and enhanced security of the public cloud are driving a significant increase in use. A few variables influencing the adoption of the IaC market include the availability of skilled labor and the focused emphasis on SMEs and major organizations entering and growing in this region.
According to the study, key players such as AWS (U.S), Alibaba Group (China), Alphabet (U.S), Broadcom (U.S), Dell (U.S), HPE (U.S), HashiCorp (U.S), IBM (U.S), Microsoft Corporation (U.S), NetApp (U.S), Oracle Corporation (U.S), Puppet (U.S), Pulumi Corporation (U.S), Progress Software (U.S), Rackspace Technology (U.S), ServiceNow (U.S), among others are leading the global infrastructure as Code market.
Scope of the Report:
Report Coverage
Details
Market Size in 2021

US$ 0.48 Billion

Market Volume Projection by 2032

US$ 8.1 Billion

Forecast Period 2022 to 2032 CAGR
28.3%
Base Year:

2021

Historical Data

2019, 2020 and 2021

Forecast Period

2022 to 2032

Segments covered

By Component Type: Storage, Network,Tools, Services, Compute & Others

By Deployment Type: Cloud, On-Premises & Others

Geographies covered

North America, Europe, Asia-Pacific, LAMEA

Companies covered
AWS (U.S), Alibaba Group (China), Alphabet (U.S), Broadcom (U.S), Dell (U.S), HPE (U.S), HashiCorp (U.S), IBM (U.S), Microsoft Corporation (U.S), NetApp (U.S), Oracle Corporation (U.S), Puppet (U.S), Pulumi Corporation (U.S), Progress Software (U.S), Rackspace Technology (U.S), ServiceNow (U.S), among others
The Global Infrastructure as Code Market Has Been Segmented Into:
The Global Infrastructure as Code Market – by Component Type:
Storage
Network
Tools
Services
Compute
Others
The Global Infrastructure as Code Market – by Deployment Type:
The Global Infrastructure as Code Market – by Regions:
North America
Europe

U.K.
France
Germany
Italy
Rest of Europe

Asia Pacific

India
China
Japan
Australia
Rest of Asia Pacific

LAMEA
Middle East
Latin America
Africa

South Africa
Egypt
Others
Note: This table of contents is a content of a published report. As per client requirement, cross-sectional analysis across all industries or specific geography or 'country-based' analysis can be provided as a part of paid customization. Please place your queries on sales@sheeranalyticsandinsights.com or query@sheeranalyticsandinsights.com