The global intellectual property management market was valued at $160.4 million in 2021 and it is expected to reach $350.4 million at a CAGR of 7.20% between 2022 and 2032. The demand for intellectual property solutions is growing in enterprises and organizations over the past few years. Therefore, this significant growth is expected to drive the overall market through the upcoming forecast period.
North America region is dominating the intellectual property management market across the globe.
Intellectual property management solutions are adopted by end-users and organizations to protect and develop a brand. It keeps the professional work confidential and protects their creations to gain an advantage in the global competitive market. Protection of intellectual property has become very essential for private organizations and applications such as art, culture, and technology industries. However, intellectual property management plays a vital role in the expansion of digital industries. Major factors such as security, privacy, customer protection, and intellectual property need to be addressed to boost the digital economy. Hence, the adoption of intellectual property in these sectors is projected to enhacne the growth of the market through the forecast period.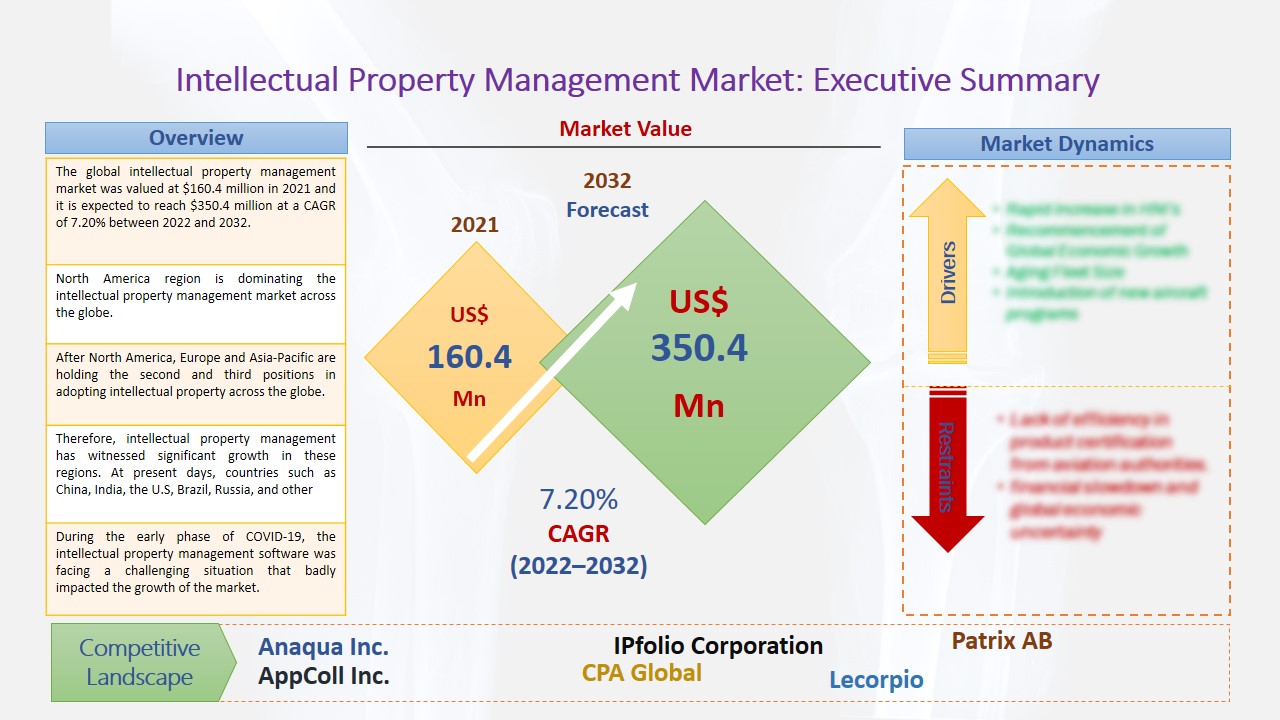 Source: SAI Research
After North America, Europe and Asia-Pacific are holding the second and third positions in adopting intellectual property across the globe. Therefore, intellectual property management has witnessed significant growth in these regions. At present days, countries such as China, India, the U.S, Brazil, Russia, and other countries are focusing on adopting more new IP technologies for their economic growth. These countries are accommodating their national systems of inventions with other regional-based intellectual property management. Cloud-based intellectual property management is witnessing significant growth due to the demand for IP software in several regions and this is further expected to support the IP assets across various industries. The intellectual property management system is getting offers such as excellent flexibility during work, witnessing a certain demand. Automated advancements are also provided by intellectual management solutions which require no hardware assurance.
During the early phase of COVID-19, the intellectual property management software was facing a challenging situation that badly impacted the growth of the market. Administrative offices, manufacturing industries, and various organizations were shut down temporarily due to lockdown restrictions. However, the demand for IP management solutions has driven the market again. Various industries and enterprises are investing more amounts of money to adopt intellectual property management solutions. It is segmented into two components such as software and services. Several industries such as BFSI, IT and Telecom, Technology, Automation, and healthcare sectors are adopting intellectual property management to keep track of their intellectual property rights.
Key players such as Anaqua Inc (U.S), IPfolio Corporation (U.S), Patrix AB (Sweden), AppColl Inc (U.S), FADEL (U.S), CPA Global (Jersey), Lecorpio (U.S), FilmTrack (U.S), Klopotek AG (Germany), Vistex Inc (U.S) Dependable Solutions (U.S), and others are leading the intellectual property management market across the globe. Several major players are implementing technological business strategies by integrating Darts-IP case law data with IP intelligence and analytics solutions to improve strategic decision-making across global intellectual property management.
Scope of the Report:
Report Coverage

Details

Base Year:

2021

Market Size in 2021:

USD 160.4 million

Historical Data for:

2019, 2020 and 2021

Forecast Period:

2022 to 2032

Forecast Period 2022 to 2032 CAGR:

7.20%

2032 Value Projection:

USD 350.4 million

Segments covered:

By Component - Services, Software.

By Deployment Type - Cloud-Based, On-Premises.

By End-User - Individual, Commercial.

By Business Application - Patent Management, Trade Management, Licensing.

Geographies covered:

North America - U.S, Canada, Mexico

Europe - Germany, France, Italy, U.K, Russia, Rest of Europe Countries

Asia-Pacific -India, China, Japan, South Korea, North Korea, Rest of Asian Countries

LAMEA - Brazil, Saudi Arabia, Rest of LAMEA

Companies covered:

Anaqua Inc (U.S), IPfolio Corporation (U.S), Patrix AB (Sweden), AppColl Inc (U.S), FADEL (U.S), CPA Global (Jersey), Lecorpio (U.S), FilmTrack (U.S), Klopotek AG (Germany), Vistex Inc (U.S) Dependable Solutions (U.S), and others
The Intellectual Property Management Market Has Been Segmented Into:
The Intellectual Property Management Market – by Component
The Intellectual Property Management Market – by Deployment Type
The Intellectual Property Management Market – by End-User
The Intellectual Property Management Market – by Business Application
Patent Management
Trade Management
Licensing
The Intellectual Property Management Market – by Region:
North America
Europe
Germany
France
Italy
U.K.
Russia
Rest of Europe Countries
Asia-Pacific
India
China
Japan
South Korea
North Korea
Rest of Asian Countries
LAMEA
Brazil
Saudi Arabia
Rest of LAMEA
Note: This table of contents is a content of a published report. As per client requirement, cross-sectional analysis across all industries or specific geography or 'country-based' analysis can be provided as a part of paid customization. Please place your queries on sales@sheeranalyticsandinsights.com or query@sheeranalyticsandinsights.com