The global internet of behaviors market was valued at $399.1 billion in 2021 and it is expected to reach $2520.4 billion at a CAGR of17.10% between 2022 and 2032. The rapid growth in the internet of things device usage and the global development of machine learning capabilities are both responsible for the market's progress. In the following years, it is projected that the Internet of Things industry will have more active connections and growth potential.
By region, North America is expected to dominate the internet of behaviors market across the globe.
The Internet of Behavior, also known as IoB, is a concept that combines the best aspects of technology, behavioral analysis, data analysis, and human psychology. With the help of this combination, the system can forecast human behavior, derive insights from accessible data, and even have an impact on human behavior based on information about people's interests and activities gleaned from their interactions. With the help of tailored material that has been chosen especially for a person based on their preferences and interactions, businesses aiming to sell goods or services can affect our behavior. In addition, IoB systems are made to collect, combine, and analyze data created from many different sources, such as wearable computers, home digital devices, and online activities of people.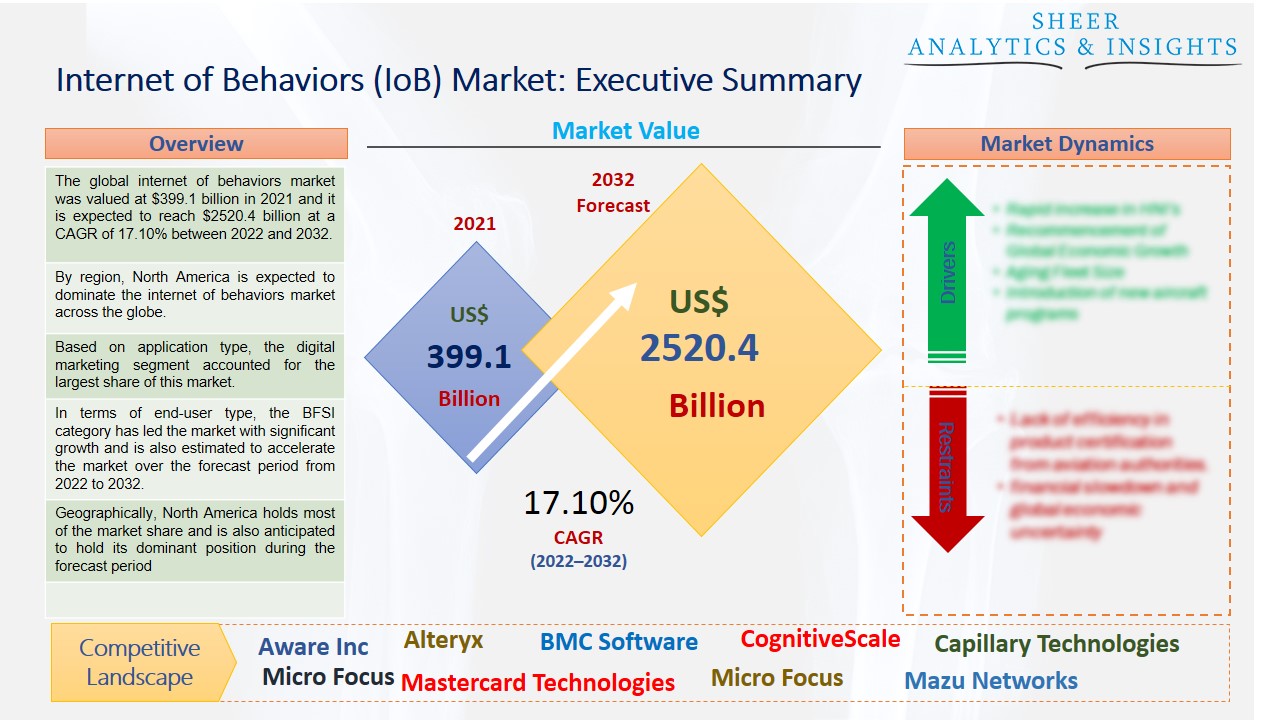 Source: SAI Research
Download Free PDF Sample Request
Internet of Behavior solutions may assist businesses and organizations that can get beyond the difficulties in setting up and maintaining an IoT system. The most difficult barrier to success will be gathering private data from customers and staff. People are accustomed to sharing certain personally identifiable information for convenience and other benefits. More private information is required by the IoB, such as bodily measurements of one's exterior look and interior functioning.
The market in the Asia Pacific region is anticipated to expand significantly over the coming years as a consequence of companies putting increasing emphasis on the creation of cutting-edge behavioral analytics techniques and rising cloud spending in the region. For instance, China is the country that spends the most on cloud computing infrastructure in the APAC region. The development of high-speed networking technologies, a surge in foreign companies' interest in the area, and increased demand for IoT and IoB from developing nations like Australia, Indonesia, and India are all anticipated to hasten market expansion. Furthermore, On the other hand, due to the rapid adoption of new technologies and the significant presence of key industry players in the area, the market in North America is anticipated to gain the biggest market share throughout the forecast period.
Based on application type, the digital marketing segment accounted for the largest share of this market. Digital marketing services will gain a lot from IoB technology because it requires an internet connection, as does the internet of behavior (IoB). Data is the primary resource used in digital marketing, which advertises goods and services to customers around the globe. Moreover, Businesses of all sizes benefit from digital marketing since it provides access to the mass market at a low cost. It enables completely tailored marketing, unlike TV or print advertising. There are a few difficulties with digital marketing that you should be aware of. The primary benefit of digital marketing is the cost-effective and measurable way in which a specific audience can be addressed. Furthermore, digital marketing uses data as its main resource to promote goods and services to people all over the world. If they have access to tools for behavioral analysis and interpretation, they will be better able to get in touch with clients after the sale.
In terms of end-user type, the BFSI category has led the market with significant growth and is also estimated to accelerate the market over the forecast period from 2022 to 2032. IoB is widely used in the BFSI industry for applications that generate statements and send out automatic notifications. By quickly identifying a customer's favorite channels and delivering targeted messaging just through those channels, brands can maintain an Omni channel presence. IoT data is challenging to get and analyze and many firms do not have easy access to this data. IoT, which has so far gained traction in the B2B sector, is anticipated to experience quick acceptance in the consumer segment as the number of IoT devices is likely to triple by 2025.
Geographically, North America holds most of the market share and is also anticipated to hold its dominant position during the forecast period from 2022 to 2032. It is predicted that the adoption of internet-based activities would increase dramatically in North America. The development of IoT in North America has been accelerated by this region's early embrace of developing technologies, significant R&D investments, growing usage of smart connected devices, and start-up culture. Cloud platforms are becoming increasingly popular due to the desire for IoT, which will accelerate the expansion of the internet of behaviors market throughout the projected period. On the other side, the Asia-Pacific region is also expected to become the second-growing market in the future due to the rising demand for internet behaviors products across several end-user industries. Additionally, expanding government attempts to create smart cities and cloud investments in the region are anticipated to fuel market growth soon. Additionally, the advent of high-speed networking technology is anticipated to accelerate market growth, as is an increase in foreign companies' interest in the region and rising demand from developing nations like Australia, Indonesia, and India.
According to the study, key players such as Aware Inc (U.S), Alteryx (U.S), BMC Software (U.S), CognitiveScale (U.S), Capillary Technologies (India), Micro Focus (U.K), Mastercard Technologies (U.S), Micro Focus (U.K), Mazu Networks (U.S), NuData Security (Canada), NICE Systems Ltd (Israel), Qubit Digital Ltd (U.K), Tekki Web Solutions (India), TerraLogic Software (India), Traceable Inc (U.S), among others are leading the global internet of behaviors market.
Scope of the Report:
Report Coverage
Details
Market Size in 2021

US$ 399.1 Billion

Market Volume Projection by 2032

US$ 2520.4 Billion

Forecast Period 2022 to 2032 CAGR
17.1%
Base Year:

2021

Historical Data

2019, 2020 and 2021

Forecast Period

2022 to 2032

Segments covered

By Application Type: Advertising Campaign, Digital Marketing, Brand Promotion, Content Deliver & Others

By Ebd-User Type: BFSI, IT and Telecom, Tourism and Travel, Healthcare, Manufacturing, Media and Entertainment, Retail and E-commerce & Others

Geographies covered

North America, Europe, Asia-Pacific, LAMEA

Companies covered
Aware Inc (U.S), Alteryx (U.S), BMC Software (U.S), CognitiveScale (U.S), Capillary Technologies (India), Micro Focus (U.K), Mastercard Technologies (U.S), Micro Focus (U.K), Mazu Networks (U.S), NuData Security (Canada), NICE Systems Ltd (Israel), Qubit Digital Ltd (U.K), Tekki Web Solutions (India), TerraLogic Software (India), Traceable Inc (U.S), among others
The Global Internet of Behaviors Market Has Been Segmented Into:
The Global Internet of Behaviors Market – by Application Type:
Advertising Campaign
Digital Marketing
Brand Promotion
Content Deliver
Others
The Global Internet of Behaviors Market – by End-User Type:
BFSI
IT and Telecom
Tourism and Travel
Healthcare
Manufacturing
Media and Entertainment
Retail and E-commerce
Others
The Global Internet of Behaviors Market – by Regions:
North America
Europe

U.K.
France
Germany
Italy
Rest of Europe

Asia Pacific

India
China
Japan
Australia
Rest of Asia Pacific

LAMEA
Middle East
Latin America
Africa

South Africa
Egypt
Others
Note: This table of contents is a content of a published report. As per client requirement, cross-sectional analysis across all industries or specific geography or 'country-based' analysis can be provided as a part of paid customization. Please place your queries on sales@sheeranalyticsandinsights.com or query@sheeranalyticsandinsights.com