The global internet of things (IoT) market was valued at $340.2 billion in 2021 and it is expected to reach $1200.2 billion at a CAGR of 11.6% between 2022 and 2032. The ability of IoT to increase efficiency and enable new services is expected to cause the industry to grow at a rapid rate. IoT connects gadgets, including consumer electronics and industrial equipment, over a network that enables people to gather data and manage gadgets using the software. The expansion of connectivity and internet access, the need for data processing, and the falling price of internet-enabled sensors are some of the major reasons that are anticipated to drive future growth.
By region, North America accounted for the largest share of the global internet of things (IoT) market.
One of the most significant trends in high-tech during the past few years has been the Internet of Things, coupled with artificial intelligence, machine learning, and cloud computing. Since its birth, it has grown at incredible rates, frequently altering course quickly and manifesting in novel and completely unexpected ways. This blog post's main objective is to look at the advantages of IoT technology for businesses, especially in terms of productivity and business operations. Before we go any further, it must be emphasized that Internet of Things technology has important advantages for end consumers that should not be overlooked. The Internet of Things, or IoT, is the name given to the rapidly expanding network of interconnected items that can exchange data in real-time thanks to integrated sensors. Appliances like refrigerators, vehicles, lights, and thermostats can all be connected to the Internet of Things.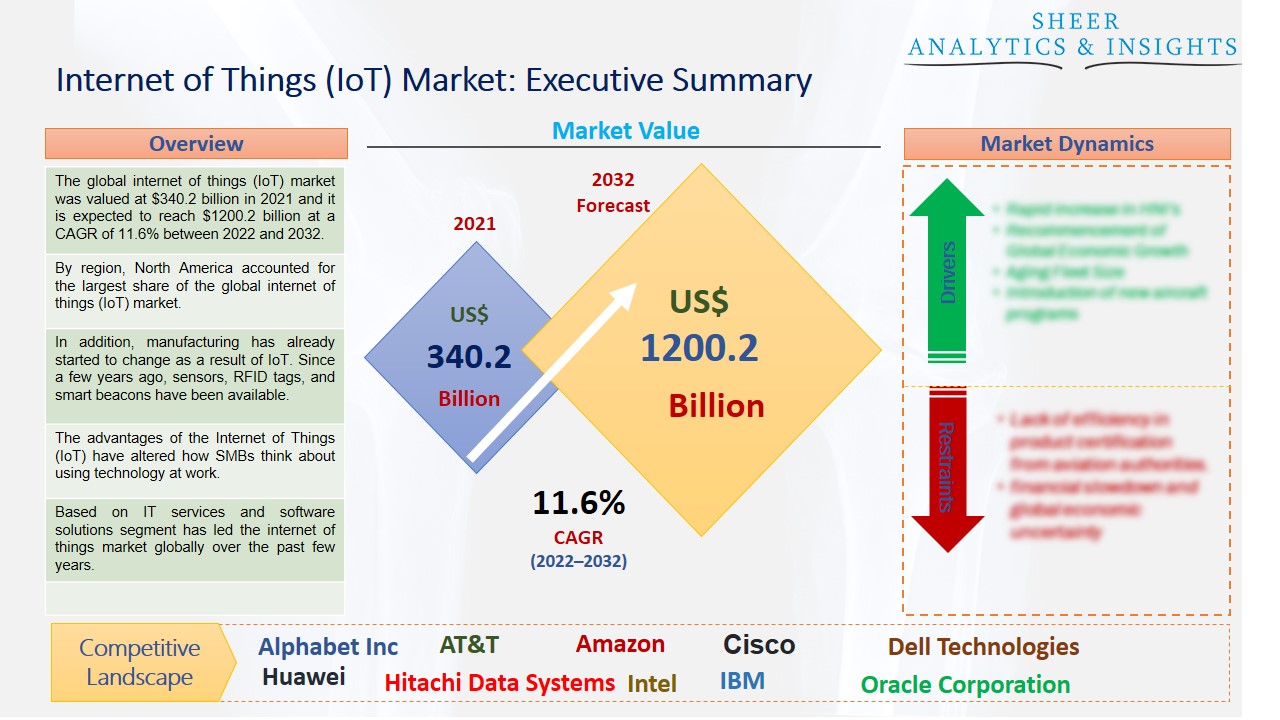 Source: SAI Research
In addition, manufacturing has already started to change as a result of IoT. Since a few years ago, sensors, RFID tags, and smart beacons have been available. Every step of the industrial process, from product creation to supply chain management, is being disrupted by advancements in these devices. Owners of factories are increasingly able to avoid delays, boost output, lower equipment downtime, and of course, manage inventories. In the healthcare industry, IoT technology has already been implemented by more than half of businesses. Smart medications, intelligent home healthcare, electronic health records, and personal healthcare management are just a few of the nearly limitless possibilities in this field. All for improved patient care results at higher levels.
The advantages of the Internet of Things (IoT) have altered how SMBs think about using technology at work. Objects of all sizes can automatically send data across a network in the modern digital world, essentially "talking" to one another in real-time. The top five benefits of the Internet of Things include cost savings, increased productivity and efficiency, business opportunities, improved customer experiences, mobility, and agility. Additionally, although the potential that the Internet of Things holds for all of us in terms of making our lives easier, it also carries the double-edged sword of increasing our susceptibility to attack. Malware infection is used to only result in lost or compromised data. The development of the IoT makes it simple for a virus or ransomware infestation to shut down essential features and services.
Based on IT services and software solutions segment has led the internet of things market globally over the past few years. Solution providers are placing a strong emphasis on the introduction of cutting-edge information systems for various industries and industrial verticals as part of their efforts to increase their market share. IoT devices that are internet-connected interact with other IoT devices, applications, and things in a convenient way to exchange data and provide the user with reliable data decisions. Software solutions provide a variety of technologies that assist businesses in achieving their goals and preserving a key competitive edge. For the established infrastructure systems to automate various operations in vital infrastructure, manufacturing, and other areas, software solutions are gaining traction.
In terms of application type, the transportation category accounted for the largest share of the market and is anticipated to drive market growth during the forecast period. IoT devices are used in a variety of applications within the transportation industry, including tools and ticketing, telematics systems in vehicles, traffic congestion systems, and security and surveillance, to mention a few. The Internet of Things (IoT) for transportation refers to the networking of items using embedded sensors, actuators, and other devices that collect and communicate data on actual activities. The transportation industry is evolving as a result of the adoption of IoT-enabled technology. We want to focus on some of the transportation-related sectors where IoT is being used to revolutionize data collection and utilization in transportation systems. The usage of IoT technology in the transportation industry has broader advantages as well, including bettering the environment, safety, and customer experience, among others.
Geographically, the North American region holds most of the largest share of the market and is also expected to hold its dominant position during the forecast period from 2022 to 2032. Due to its technical advancement, this area is one of the major contributors to the global Internet of Things market. Both the US and Canada have developed economies, enabling them to make significant investments in R&D projects. The North American IoT market has grown as a result of rapid digitization across industry focus areas, rising usage of smart connected devices, and technological breakthroughs. The increased use of connected devices and associated network infrastructure, as well as the increased cooperation of hardware, network, and software providers, are the main factors contributing to the growth of the IoT market in the North American area. On the other hand, the Asia-Pacific region is also estimated to accelerate the global internet of things market over the forecast period. Numerous developed and rising economies, including Australia, India, China, Japan, and Singapore, are found in this region. This region has become a valuable market for the IT industry thanks to the high rate of adoption of new technology. The IoT market in the Asia Pacific region is anticipated to grow at the fastest rate as a result. The region is home to the vast majority of emerging nations that are going through fast urbanization, making it the most active region in the world for urbanization. While offering tremendous corporate potential, this movement also poses significant obstacles to sustainable development. In contrast to other nations in the region, Japan has already declared the majority of its "smart city" initiatives to be finished.
According to the study, key players such as Alphabet Inc (U.S), AT&T (U.S), Amazon (U.S), Cisco (U.S), Dell Technologies (U.S), Huawei (China), Hitachi Data Systems (India), Intel (U.S), IBM (U.S), Microsoft (U.S), Oracle Corporation (U.S), PTC (U.S), Robert Bosch (Germany), SAP SE (Germany), Siemens (Germany), among others are leading the global internet of things market.
Scope of the Report:
Report Coverage
Details
Market Size in 2021

US$ 340.2 Billion

Market Volume Projection by 2032

US$ 1200.2 Billion

Forecast Period 2022 to 2032 CAGR
11.6%
Base Year:

2021

Historical Data

2019, 2020 and 2021

Forecast Period

2022 to 2032

Segments covered

By Component Type: Devices, Connectivity, IT Services and Software Solutions, Platforms & Others

By Application Type: Retail, Consumer Electronics, Transportation, Healthcare, Manufacturing & Others

Geographies covered

North America, Europe, Asia-Pacific, LAMEA

Companies covered
Alphabet Inc (U.S), AT&T (U.S), Amazon (U.S), Cisco (U.S), Dell Technologies (U.S), Huawei (China), Hitachi Data Systems (India), Intel (U.S), IBM (U.S), Microsoft (U.S), Oracle Corporation (U.S), PTC (U.S), Robert Bosch (Germany), SAP SE (Germany), Siemens (Germany), among others
The Global Internet of Things (IoT) Market Has Been Segmented Into:
The Global Internet of Things (IoT) Market – by Component Type:
Devices
Connectivity
IT Services and Software Solutions
Platforms
Others
The Global Internet of Things (IoT) Market – by Application Type:
Retail
Consumer Electronics
Transportation
Healthcare
Manufacturing
Others
The Global Internet of Things (IoT) Market – by Regions:
North America
Europe

The U.K.
France
Germany
Italy
Rest of Europe

Asia Pacific

India
China
Japan
Australia
Rest of Asia Pacific

LAMEA
Middle East
Latin America
Africa

South Africa
Egypt
Others
Note: This table of contents is a content of a published report. As per client requirement, cross-sectional analysis across all industries or specific geography or 'country-based' analysis can be provided as a part of paid customization. Please place your queries on sales@sheeranalyticsandinsights.com or query@sheeranalyticsandinsights.com