The Japan fuel cell market was valued at $120 million in 2021 and it is expected to reach $3995 billion at a CAGR of 37.9% between 2022 and 2032. A fuel cell uses the chemical energy of hydrogen or other fuels to produce electricity cleanly and effectively. When hydrogen is used as a fuel, the only byproducts are water, power, and heat. There are numerous uses for fuel cells, including in commercial, residential, and transportation infrastructure.
By region, Tokyo has led the fuel cell market across the Japan country over the past few years.
Fuel cells can be utilized for a variety of purposes, including long-term energy storage for the grid in reversible systems, long-distance transportation, and industrial, commercial, and residential buildings. Moreover, compared to traditional combustion-based technologies, which are now employed in many power plants and automobiles, fuel cells provide several advantages. Compared to combustion engines, fuel cells run more efficiently and are capable of directly converting the chemical energy in fuel into electrical energy at efficiencies of more than 60%. When compared to combustion engines, fuel cells emit either no emissions or very little. Since hydrogen fuel cells emit only water and no carbon dioxide, they can effectively address serious climate change issues. Additionally, there are no air contaminants at the point of operation that lead to pollution and health issues. Due to their lack of moving parts, fuel cells are rather silent when operating.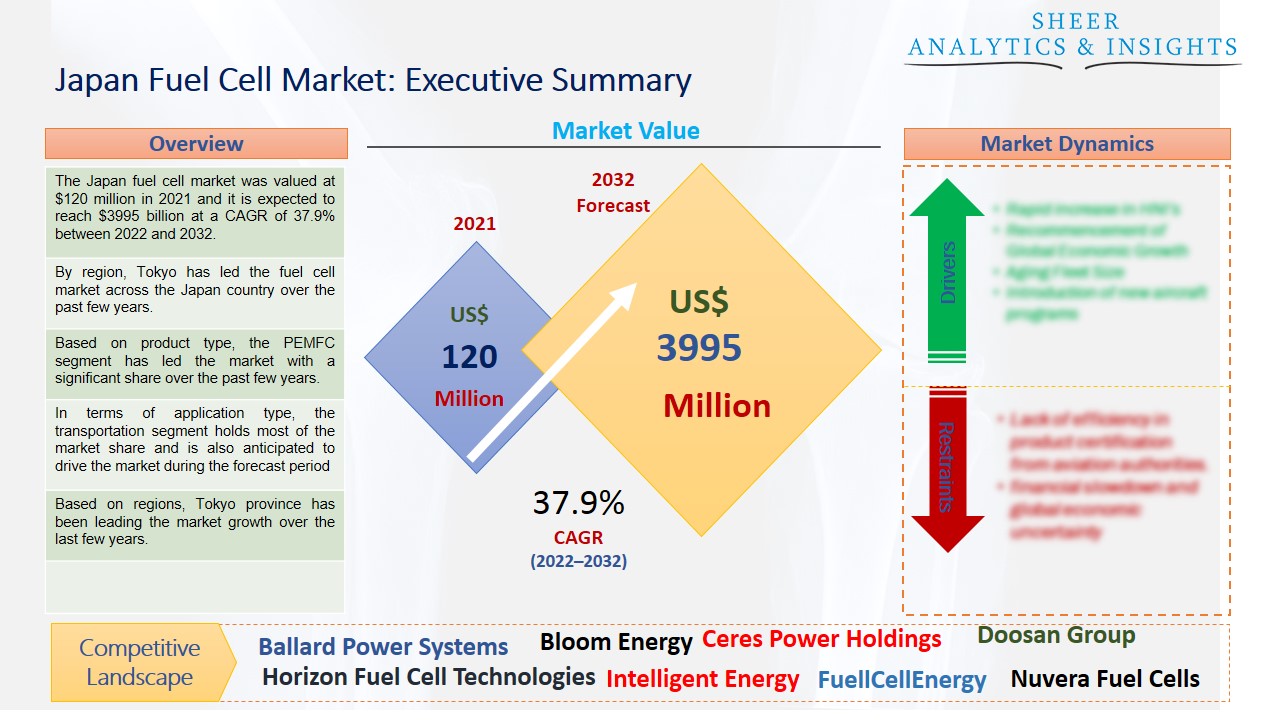 Source: SAI Research
Download Free PDF Sample Request
Additionally, fuel cells are versatile. They can power devices as large as utility power plants and as little as laptops. The type of electrolyte separating the fuel from the oxygen distinguishes the many types of fuel cells. The type of electrochemical processes that occur in the cell, the necessary catalysts, the operating temperature, the necessary fuel, and other parameters are all determined by this classification. These four categories of fuel cells—proton exchange membrane (PEM) fuel cells, alkaline fuel cells, solid oxide fuel cells, and phosphoric acid fuel cells—are therefore the most prevalent types.
Additionally, Japan has been importing liquefied natural gas for more than 50 years and has a wealth of knowledge regarding gas production, liquefaction facilities, and transport. The development of the hydrogen supply network can take advantage of the country's status as the largest LNG importer in the world, claims S&P Global Platts. By 2050, the Japanese government hopes to be carbon neutral thanks to hydrogen-powered automobiles. Moreover, with full service anticipated for 2030, Japan displayed its first hydrogen fuel cell test train. The exterior of the blue test car has a water splash pattern that alludes to the water produced during the chemical reaction. Tests will be carried out without passengers, once or twice a week, at night to verify the system's functionality and energy efficiency.
Based on product type, the PEMFC segment has led the market with a significant share over the past few years. The significant use of PEMFC in stationary, transit, and portable applications is principally responsible for the segment's high market share. PEMFC has a longer lifespan than other product categories. Additionally, compared to other fuel cell types that are now accessible, it offers benefits like low weight and volume.
In terms of application type, the transportation segment holds most of the market share and is also anticipated to drive the market during the forecast period due to the rising demand for fuel cell products. Additionally, the industry is projected to rise as a result of increased research and development efforts in Europe to create hybrid vehicles driven by hydrogen. On the other side, the stationary segment is also projected to create more growth opportunities for the market across Japan.
Based on regions, Tokyo province has been leading the market growth over the last few years. Most of the manufacturing companies related to fuel cells are situated in this province, which is a plus point for the market. The expansion of the fuel cell market in the area has also been aided by supportive policies and plans for fuel cell systems for transportation applications in neighboring Japanese provinces.
According to the study, key players such as Ballard Power Systems (Canada), Bloom Energy (U.S), Ceres Power Holdings (U.K), Doosan Group (U.S), Intelligent Energy (U.S), FuellCellEnergy Inc (U.S), Nedstack Fuel Cell Technology (Netherlands), Nuvera Fuel Cells (U.K), Plug Power (U.S), SFC (U.S), among others are leading the Japan fuel cell market.
Scope of the Report:
Report Coverage
Details
Market Size in 2021

US$ 120 Million

Market Volume Projection by 2032

US$ 3995 Million

Forecast Period 2022 to 2032 CAGR
37.9%
Base Year:

2021

Historical Data

2019, 2020 and 2021

Forecast Period

2022 to 2032

Segments covered

By Material Type: PEMFC, PAFC, SOFC, MCFC & Others

By Application Type: Stationary, Transportation, Portable & Others

Geographies covered

Japan

Companies covered
Ballard Power Systems (Canada), Bloom Energy (U.S), Ceres Power Holdings (U.K), Doosan Group (U.S), Horizon Fuel Cell Technologies (Singapore), Intelligent Energy (U.S), FuellCellEnergy Inc (U.S), Nedstack Fuel Cell Technology (Netherlands), Nuvera Fuel Cells (U.K), Plug Power (U.S), SFC (U.S), Toshiba Fuel Cell Power Systems (Japan), among others
The Japan Fuel Cell Market Has Been Segmented Into:
The Japan Fuel Cell Market – by Material Type:
PEMFC
PAFC
SOFC
MCFC
Others
The Japan Fuel Cell Market – by Application Type:
Stationary
Transportation
Portable
Others
The Japan Fuel Cell Market – by Regions:
Tokyo
Hokkaido
Chubu
Kanto
Shikoku
Note: This table of contents is a content of a published report. As per client requirement, cross-sectional analysis across all industries or specific geography or 'country-based' analysis can be provided as a part of paid customization. Please place your queries on sales@sheeranalyticsandinsights.com or query@sheeranalyticsandinsights.com