The Global Kiosk Market was $16.3 Bn in 2020, and it is expected to reach $41.7 Bn by 2031. It is eventually growing at a commendable high compound annual growth rate CAGR of 8.2% between 2021-2031. But due to the current pandemic there might be a slight difference in the growth rate in the present year. This is mainly because of the increased need for self-services in many applications to provide better customer satisfaction, customer's privacy, self-control and these factors will help to accelerate the growth of this market during the forecasted period.
Market Insight
Smart initiatives by most of the governments towards betterment of society and easy accessing towards information are the main reasons for the development of kiosk models across most of the public places. This is majorly driving the growth of the overall kiosks market
Global Kiosk Market Is Estimated To Witness Remarkable Growth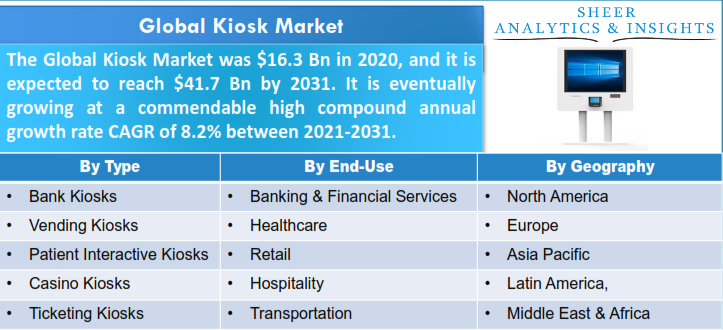 Source: SAI Research
The Global Kiosk Market has been segmented into type, end-user. By Type – Bank Kiosks, Vending Kiosks, Ticketing Kiosks, Patient Interactive Kiosks, Casino Kiosks, Information Kiosks, Other Types. By End-User – Banking & Financial Services, Healthcare, Retail, Hospitality, Transportation, Others. By Geography – North America, Europe, Asia Pacific, Middle East and Africa, Latin America.
By Region, North America Is Holding the Major Market Share
The Global Kiosk Market has been geographically segmented into North America, Asia Pacific, Latin America, Middle East, and Africa region. in addition to this North America Global Kiosk Market is holding the major market share at present and is estimated to witness high compound annual growth rate in the upcoming forecasted period. Besides this Asia Pacific is also going to show significant growth during the forecasted period.
Major Players In Global Kiosk Market
Some of the major players in Global Kiosk Market include ZIVELO, Meridian Kiosks, Olea Kiosks Inc. SITA, NCR Corporation, Advantech Co., Ltd., iQmetrix, Glory Global Solutions, Embross.
The Global Kiosk Market Has Been Segmented Into:
Global Kiosk Market, By Type
Bank Kiosks
Vending Kiosks
Ticketing Kiosks
Patient Interactive Kiosks
Casino Kiosks
Information Kiosks
Others
Global Kiosk Market, By End-Use
Banking & Financial Services
Healthcare
Retail
Hospitality
Transportation
Others
Global Kiosk Market, By Region
North America

USA
Canada
Mexico
Rest of North America

Europe

UK
Germany
France
Spain
Italy
Russia
Rest of Europe

Asia Pacific

India
China
Japan
South Korea
Rest of Asia Pacific

Latin America, Middle East & Africa

Brazil
South Africa
UAE
Rest of LAMEA
Note: This table of contents is a content of a published report. As per client requirement, cross-sectional analysis across all industries or specific geography or 'country-based' analysis can be provided as a part of paid customization. Please place your queries on sales@sheeranalyticsandinsights.com or query@sheeranalyticsandinsights.com