The global lactose-free products market was valued at $13.2 billion in 2021 and it is expected to reach $36.2 billion at a CAGR of 9.4% between 2022 and 2032. COVID-19 had negatively impacted the market across the globe at the early stage of the pandemic. However, main factors such as growing demand for no added sugar or reduced added sugar and rising awareness of lactose intolerance among a large number of consumers are expected to drive the growth of the lactose-free product market through the forecast period.
Europe is expected to have maximum growth in the lactose-free products market across the globe.
Lactose is a type of sugar in milk. Lactose-free products provide food that eliminates or restricts lactose which is harmful to people especially consumers having diseases such as diabetes and obesity. Most of the worldwide population has become conscious about their family's health. Therefore, the demand for lactose-free milk and other dairy and non-dairy products is rising which is expected to drive the market growth over the forecast period. Population from Asia-Pacific region countries such as China is very much lactose-intolerant. Lactose-intolerant is also common in countries such as Africa, Arab, Greece, Italy, and other countries respectively.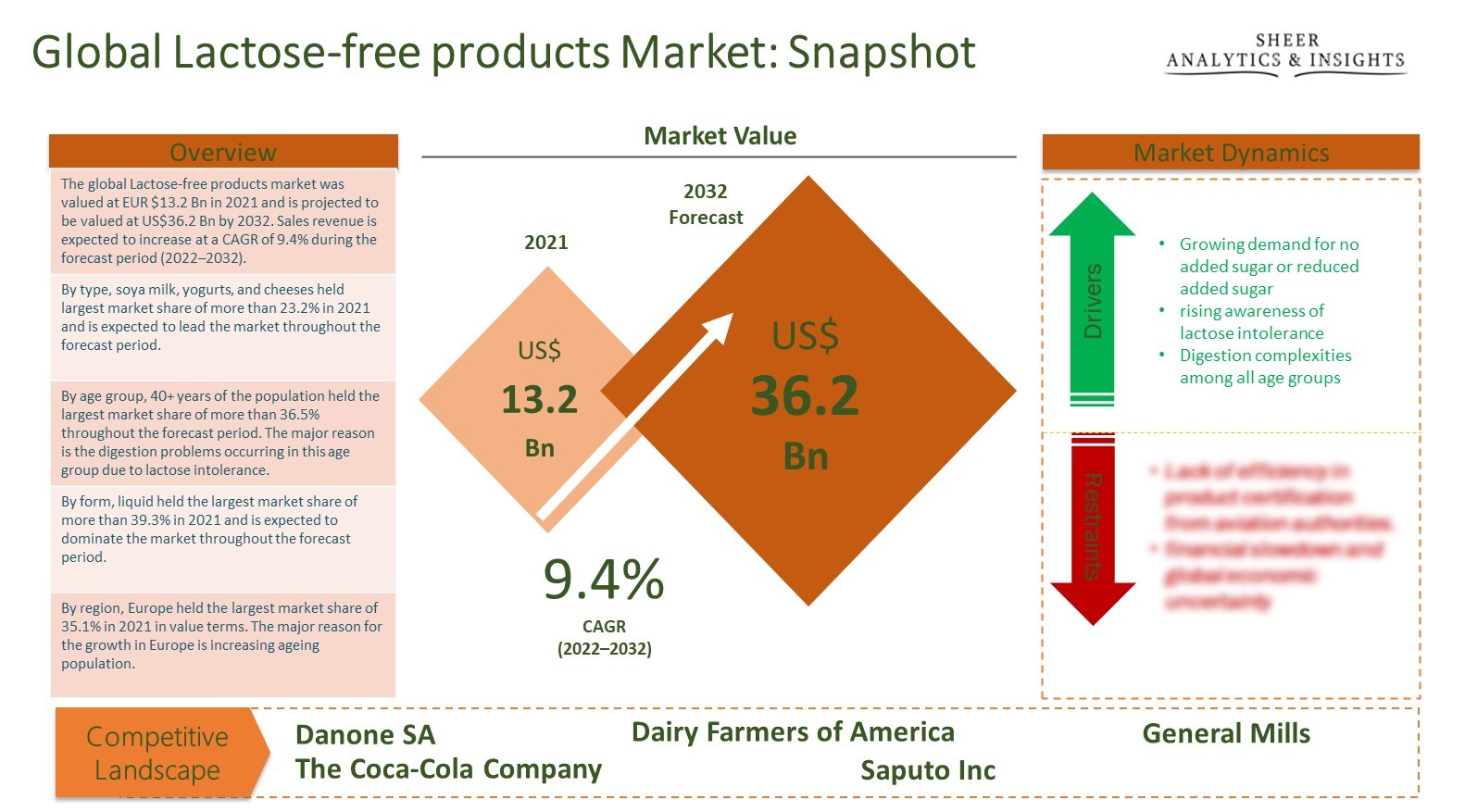 Source: SAI Research
Many foods such as eggs, meat, vegetables, whole grains, nuts, lactose-free yogurts, beverages, and others are lactose-free and healthy food for consumers. Alternative lactose-free milk such as rice milk, soy milk, almond milk, oat milk, coconut milk, cashew milk, hemp milk, and other foods are growing in demand among the worldwide population. However, the overall sales of lactose-free products have increased in regions such as Europe and Asia-Pacific due to the rising cases of lactose-intolerant among various consumers. However, in the Asian-Pacific region, people are becoming more concerned about their health and consumers are investing to purchase lactose-free and organic food products. Therefore, these circumstances are expected to support the growth of the lactose-free product market through the forecast period. The ultra-high-temperature (UHT) method is very essential in producing lactose-free milk. The milk needs to be treated with lactase enzymes for breaking the complex lactose into two sugars called glucose and galactose. Thus, this process turns normal milk into lactose-free milk.
At present days, processes such as batch and aseptic are also used in producing lactose-free milk. These methods use soluble lactase enzymes. Dairy powders are made from milk or whey that is made lactose-free through a batch process. However, lactose-free products are becoming essential among consumers at present days. These products provide food that can benefit lactose-intolerant people. Therefore, consumer awareness of lactose-free dairy products and increasing demand for organic lactose-free food are expected to drive the market across the globe. Individual dairy makers can make and provide new innovative products that can flourish in the market. Hence, these lactose-free products might attract consumers who were not well-served by the traditional dairy products and these might offer the possibility to enhance and expand the overall market growth.
Key players such as Agri-Mark Inc., Dairy Farmers of America, Danone SA, Dean Foods, Drums Foods International Private Limited, General Mills, Lifeway Foods, Nestle, Organic Valley, The Coca-Cola Company, Saputo Inc, Gujarat Cooperative Milk Marketing Federation among others are leading the global lactose-free products market. These companies are trying to invest more money to produce new innovative products. Major companies are implementing new business strategies by doing partnerships with other companies and together they are launching new products that are expected to drive the market.
Scope of the Report:
Report Coverage

Details

Base Year:

2021

Market Size in 2021:

USD 13.2 Billion

Historical Data for:

2019, 2020 and 2021

Forecast Period:

2022 to 2032

Forecast Period 2022 to 2032 CAGR:

9.4%

2032 Value Projection:

USD 36.2 Billion

Segments covered:

By Type: Soya milk, yogurts and cheeses, Coconut-based yogurts and cheeses, Almond milk, yogurts, and cheeses, Rice milk, Oat milk, Hazelnut milk, Carob bars, Others

By Age Group: 0-18, 18-24, 24-40, 40+

By Form: Liquid, Powder, Semi Liquid, Solid

Geographies covered:

North America - U.S, Canada, Mexico

Europe - Germany, France, Italy, U.K, Russia, Rest of Europe Countries

Asia-Pacific -India, China, Japan, South Korea, North Korea, Rest of Asian Countries

LAMEA - Brazil, Saudi Arabia, Rest of LAMEA

Companies covered:

Agri-Mark Inc., Dairy Farmers of America, Danone SA, Dean Foods, Drums Foods International Private Limited, General Mills, Lifeway Foods, Nestle, Organic Valley, The Coca-Cola Company, Saputo Inc, Gujarat Cooperative Milk Marketing Federation among others
The Global Lactose-Free Products Market Has Been Segmented Into:
The Global Lactose-Free Products Market – By Type
Soya milk, yogurts and cheeses
Coconut-based yogurts and cheeses
Almond milk, yogurts, and cheeses
Rice milk
Oat milk
Hazelnut milk
Carob bars
Others
The Global Lactose-Free Products Market – By Age Group
The Global Lactose-Free Products Market – By Form
Liquid
Powder
Semi Liquid
Solid
The Global Lactose-Free Products Market – by Region
North America
Europe
Germany
France
Italy
U.K.
Russia
Rest of Europe Countries
Asia-Pacific
India
China
Japan
South Korea
North Korea
Rest of Asian Countries
LAMEA
Brazil
Saudi Arabia
Rest of LAMEA
Note: This table of contents is a content of a published report. As per client requirement, cross-sectional analysis across all industries or specific geography or 'country-based' analysis can be provided as a part of paid customization. Please place your queries on sales@sheeranalyticsandinsights.com or query@sheeranalyticsandinsights.com