The Global Leather Chemical Market was $6.50 Bn in 2020, and it is expected to reach $17.80 Bn by 2030. It is eventually growing at a commendable high compound of annual growth rate CAGR of 10.5% between 2020-2030. The leather chemical market is growing at a faster pace owing to the increasing demand of the leather material from apparel, footwear, furniture, aerospace, automotive, and other fashion accessories. However, the chemical is used in different stages of leather production and categorized as the finishing chemicals, tanning, and pre-tanning. Several aspects are boosting the market growth of the leather chemical market. Moreover, the current pandemic of COVID-19 might make a slight difference in the growth rate in the current year. Now, moving forward, the robust demand for the Global Leather Chemical Market in the Leather Chemical department is further estimated to create new necessities and augment the market of growth over the forecast period of 2020-2030.
Global Leather Chemical Segment Is Estimated to Witness Remarkable Growth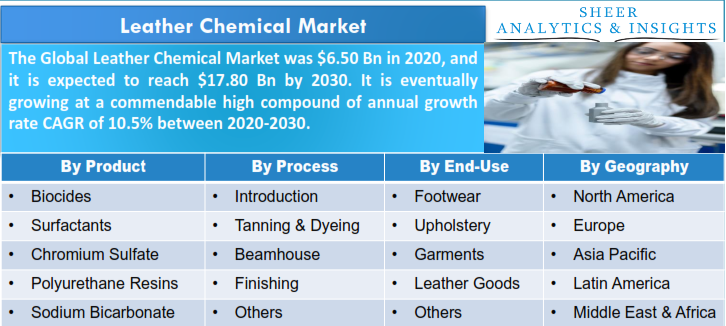 Source: SAI Research
The global Leather Chemical market is segmented as a product, process, and end-use. By product, the global leather chemical market is divided as Biocides, Surfactants, Chromium Sulfate, Polyurethane Resins, Sodium Bicarbonate, and Others. By process, the leather chemical market is bifurcated into Tanning & Dyeing, Beamhouse, Biocides, Surfactant, Sodium Sulfide, Formic Acid, Others, and Finishing. By end-use, the global leather chemical market has been segmented as Footwear, Upholstery, Garments, and Leather Goods.
By Region, Asia Pacific is Holding the Major Market Share
The global Leather Chemical Market has been geographically segmented into North America, Asia Pacific, Latin America, Middle East, and Africa region. In addition to this, Asia Pacific has a significant share among those regions. Uninterrupted supply or the raw material, advanced technology, low-cost labor are the major factors for the growth of the global leather chemical market. The rising disposable income of the consumers in developing countries such as India, China, etc. boosts the market growth. Apart from the Asia Pacific, other regions such as North America are expected to increase the growth of the market in the forecast period of 2020-2030.
Major Players in Global Leather Chemical Market
The report covers a detailed outlook of the company, and it includes the market share and company or industry profiles of key players operating in the global market. Key players in the report include TFL Ledertechnik Gmbh& Co KG, Bayer AG, Lanxess AG, Elements Plc, Stahl International B.V., Texapel, Chemtan Company, Inc., Lawrence Industries Limited, Zschimmer & Schwarz GmbH & Co KG Chemische Fabriken, TC Chemicals, Balmer Lawrie & Co. Ltd., Indofil Industries Ltd., Pidilite Industries Ltd., Schill& Seilacher Gmbh& Co., and Stahl Holdings B.V. among others.
The Global Leather Chemical Market Has Been Segmented into:
Global Leather Chemical Market: By Product
Biocides
Surfactants
Chromium Sulfate
Polyurethane Resins
Sodium Bicarbonate
Others
Global Leather Chemical Market: By Process
Tanning & Dyeing
Beamhouse

Biocides
Surfactant
Sodium Sulfide
Formic Acid
Others

Finishing
Global Leather Chemical Market: By End-Use
Footwear
Upholstery
Garments
Leather Goods
Global Leather Chemical Market: By Region
North America

USA
Canada
Mexico
Rest of North America

Europe

UK
Germany
France
Spain
Italy
Russia
Rest of Europe

Asia Pacific

India
China
Japan
South Korea
Rest of Asia Pacific

Latin America, Middle East & Africa

Brazil
South Africa
UAE
Rest of LAMEA
Note: This table of contents is a content of a published report. As per client requirement, cross-sectional analysis across all industries or specific geography or 'country-based' analysis can be provided as a part of paid customization. Please place your queries on sales@sheeranalyticsandinsights.com or query@sheeranalyticsandinsights.com