The global LiDAR Market was valued at $2.3 billion in 2022 and it is expected to reach $40.1 billion at a CAGR of 28.8% between 2023 and 2033. Sales of LiDAR are expected to experience strong demand across several industry sectors as the technology becomes more well-known globally. To make the best possible use of the land, LiDAR mapping has been utilized in several agricultural applications to survey land and map territories.
By region, Asia-Pacific is projected to lead the LiDAR market with significant share globally over the forecast period.
The term "LiDAR" stands for "light detection and ranging." In LiDAR, laser light is emitted from a transmitter and reflected by the scene's objects. The system receiver picks up the reflected light, and the time of flight (TOF) is utilized to create a distance map of the scene's objects. In addition, contrarily, LiDAR provides accurate 3D measurement data over short to long distances, even in difficult weather and lighting circumstances. This technology can be used in conjunction with data from other senses to produce a more accurate representation of both stationary and moving things around the vehicle. In other words, LiDAR is a distant detection and ranging technique that functions similarly to radar by sending out pulses of infrared light rather than radio waves and timing how long it takes for those pulses to return after striking adjacent objects. The LiDAR sensor can precisely determine the distance to each object based on the time interval between the outgoing laser pulse and the reflected pulse. Moreover, LiDAR is a technology that helps various kinds of vehicles figure out which obstacles are around and how far away they are. LiDAR components' 3D maps can be used to not only locate and detect items but also to categorize them. The computer system of a vehicle uses information gathered by LiDAR to predict how objects will react and modify the car's driving style.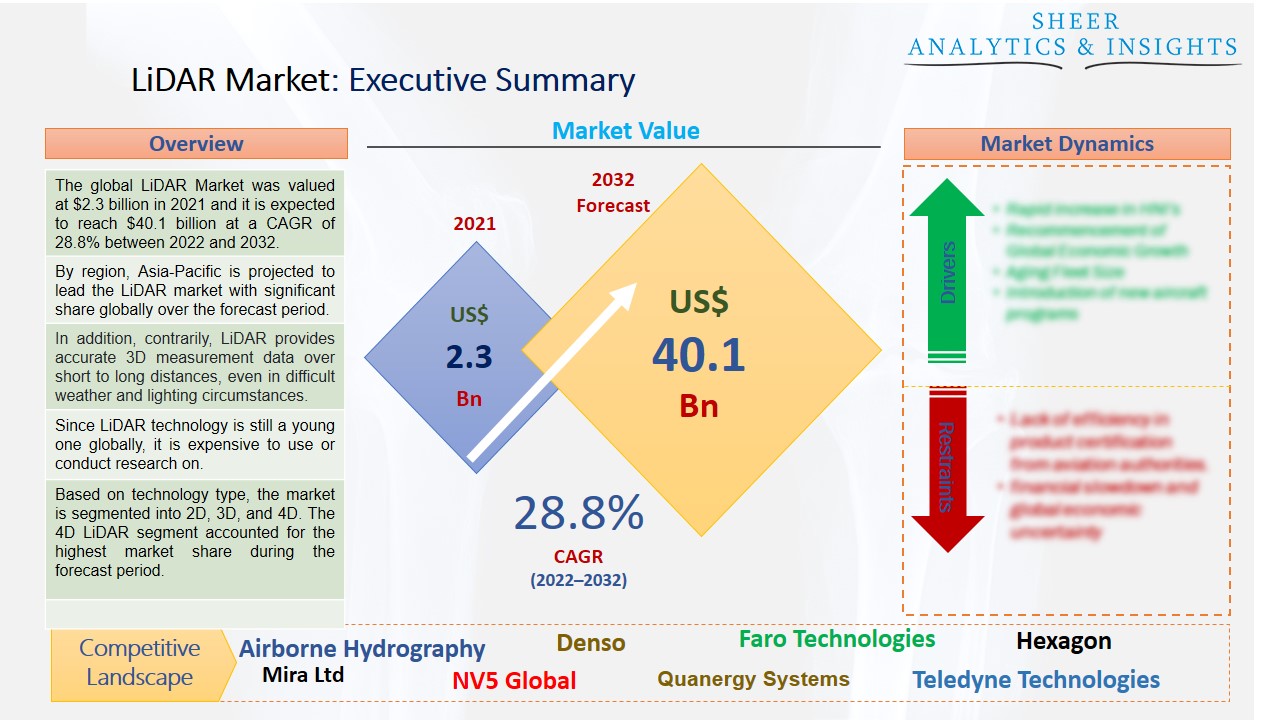 Source: SAI Research
To provide obstacle identification, avoidance, and safe navigation in varied environments in a variety of vehicles, LiDAR technology has evolved into a highly accessible option. Today, LiDARs are utilized in numerous important automotive and mobility applications, such as autonomous driving and advanced driver assistance systems. In the upcoming years, LiDAR drones are anticipated to be widely used in applications for distribution and agriculture. There will be a significant demand for LiDAR services due to the expanding scope of applications. Through 2032, the market for LiDAR devices is expected to be significantly driven by the rising popularity of autonomous vehicles.
LiDAR sensors have seen significant growth in implementation in the automobile sector as a result of their remarkable accuracy in autonomous driving technology. In the upcoming years, it is anticipated that growing investments in the development of autonomous driving technologies would accelerate the deployment of LiDAR scanners and sensors across a variety of automotive applications. Numerous fresh and inventive items are the results of the growing investment in research and development. The market's expansion in recent years has been most significantly impacted by the rising number of product advancements.
Since LiDAR technology is still a young one globally, it is expensive to use or conduct research on. This issue has a significant negative impact on global LiDAR demand. Though it may eventually overcome the challenge of high costs and become a mainstay in a variety of applications as technology evolves and advances.
Based on technology type, the market is segmented into 2D, 3D, and 4D. The 4D LiDAR segment accounted for the highest market share during the forecast period. This rise is related to the widespread use of 4D LiDAR in systems like autonomous vehicles, robotics, and other systems. In addition to automotive applications, 4D LiDAR also has uses in the entertainment, AR/VR, and AEC industries. Aeva (US) and TetraVue, Inc. (US) are two of the leading businesses that provide 4D LiDAR, among others. Additionally, Aeva 4D LiDAR sensors detect instant velocity in addition to 3D position, which enables autonomous systems like cars and robots to make judgments that are safer and more intelligent.
In terms of product type, the airborne category is projected to drive market growth during the forecast period due to its rising demand across several emerging nations in North America and Asia-Pacific region. Since data may be gathered while the gadget or plane is in operation, it is simple to scan wide areas without time restrictions. Since you can cover a larger region in less time than with terrestrial LiDAR, it saves you time and money. On the other hand, the UAV LiDAR segment is also expected to propel market growth in the future. A UAV LiDAR system typically consists of several sensors, such as a LiDAR sensor, GNSS (Global Navigation Satellite System) receivers to locate the pulse, and an IMU (Inertial Measurement Unit) to ascertain the orientation and speed of the LiDAR payload.
Geographically, the Asia-Pacific region holds most of the market share and is anticipated to propel the market during the forecast period. Most of the LiDAR manufacturing companies are located in several countries in Asia-Pacific which is a plus point for the market. The increased emphasis on LiDAR upgrading efforts in the area can be credited with the market growth in this area. As developed nations increasingly outsource their LiDAR mapping and surveying services to these nations shortly, China, India, and Japan are anticipated to be the region's three largest markets. On the other hand, North America is also expected to become the second-largest market during the forecast period. The market in North America will expand as a result of recent developments in LiDAR technology and its use in fundamental 3-D and 4-D imaging. However, aside from North America, the European market will experience significant development, led by the expansion initiatives conducted by large corporations in important nations like Germany and the UK.
According to the study, key players such as Airborne Hydrography AB (Sweden), Denso (Japan), Faro Technologies (U.S), Hexagon AB (Sweden), Mira Ltd (U.K), NV5 Global (U.S), Quanergy Systems (U.S), Sick Holding GmbH (Germany), Teledyne Technologies (U.S), Trimble (U.S), Velodyne LiDAR (U.S), YellowScan (France), among others are leading the global LiDAR market.
Scope of the Report:
Report Coverage
Details
Market Size in 2021

US$ 2.3 Billion

Market Volume Projection by 2032

US$ 40.1 Billion

Forecast Period 2022 to 2032 CAGR
28.8%
Base Year:

2021

Historical Data

2019, 2020 and 2021

Forecast Period

2022 to 2032

Segments covered

By Technology Type: 2D, 3D & 4D

By Product Type: Airborne, UAV & Terrestrial

Geographies covered

North America, Europe, Asia-Pacific, LAMEA

Companies covered
Airborne Hydrography AB (Sweden), Denso (Japan), Faro Technologies (U.S), Hexagon AB (Sweden), Mira Ltd (U.K), NV5 Global (U.S), Quanergy Systems (U.S), Sick Holding GmbH (Germany), Teledyne Technologies (U.S), Trimble (U.S), Velodyne LiDAR (U.S), YellowScan (France & Others
The Global LiDAR Market Has Been Segmented Into:
The Global LiDAR Market – by Technology Type:
The Global LiDAR Market – by Product Type:
The Global LiDAR Market – by Regions:
North America
Europe

U.K.
France
Germany
Italy
Rest of Europe

Asia Pacific

India
China
Japan
Australia
Rest of Asia Pacific

LAMEA
Middle East
Latin America
Africa

South Africa
Egypt
Others
Note: This table of contents is a content of a published report. As per client requirement, cross-sectional analysis across all industries or specific geography or 'country-based' analysis can be provided as a part of paid customization. Please place your queries on sales@sheeranalyticsandinsights.com or query@sheeranalyticsandinsights.com