The global managed network services market was valued at $58.9 billion in 2021 and it is expected to reach $170.8 billion at a CAGR of 9.8% between 2022 and 2032. Industry development is anticipated to be fueled by organizations' rising desire for digital transformation. Businesses are quickly adopting advanced network technology to support their business ambitions and gain a competitive advantage. An essential part of a solid IT infrastructure nowadays is managed network services. Businesses are putting more emphasis on creating a digital workplace with few network outages, which is driving the market demand.
By region, Asia-Pacific is expected to grow with significant market share during the forecast period.
Managed network services (MNSs) are the provision of largely operational support by a vendor for a new environment where the hardware resources, financial commitments, and staff are still on the customer's books. An outsourcer known as a managed service provider (MSP) is hired to remotely manage or deliver IT services to a client company, such as network, application, infrastructure, or security management. The MSP takes full responsibility for these services and anticipates the technologies and services required to meet the client's needs. In addition, Employees of an MSP may be based elsewhere or at the client's locations to provide the services. MSPs can also include cloud computing, software, and hardware in their packages.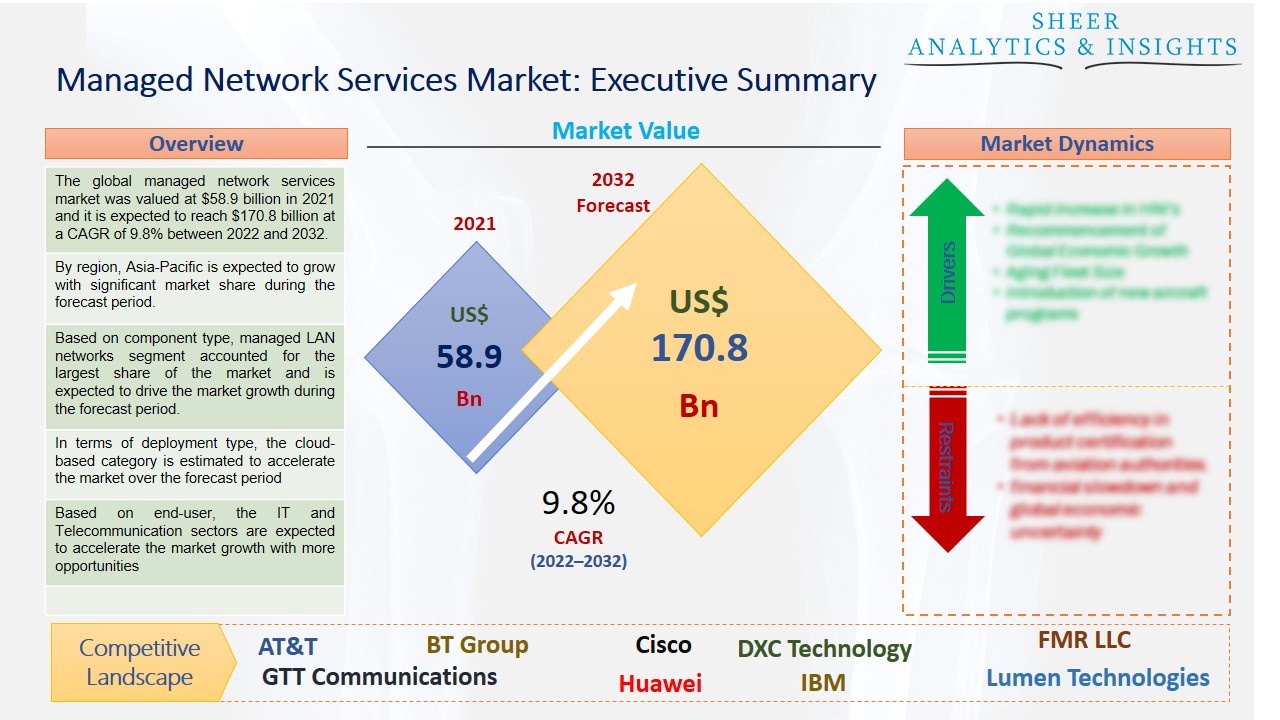 Source: SAI Research
Managed service providers are set up to deliver technology services at a lower cost than it would take an organization to handle them on its own, while also providing greater flexibility and scalability. Automation, artificial intelligence, and machine learning—technologies that client companies would not have the skills to apply themselves—are used to do this. An MSP can recruit specialists that smaller businesses, in particular, may not be able to justify. Managed services also differ from conventional IT consulting arrangements in that managed services are continuing subscriptions as opposed to consulting, which is often project-based.
Improved security, increased flexibility and scalability, access to top technical and industry experience, and cost savings are some of the main advantages of employing a managed services provider. Additionally, an MSP can provide variable billing models depending on various metrics. While delivering a lot of flexibility and scalability to a customer, variable charging might increase income potential for the MSP. For instance, a business that has made significant hardware and software investments are unable to simply cut back on those expenditures when times are tough. Similar to layoffs, firing people who have since found other employment can be exceedingly expensive and have long-term effects if the organization recovers. Similarly, expanding capacity during brief business peaks might be challenging.
Based on component type, managed LAN networks segment accounted for the largest share of the market and is expected to drive the market growth during the forecast period. Without your resources being committed, managed LAN is a service that supports operations, manages expenses, and upholds network dependability. The main duty of a managed LAN provider is to optimize your network infrastructure. Network and device maintenance may be included in a basic subscription, whereas strategic services may be included in a more comprehensive service. Think about configuration, change management, performance optimization, and planning. You can save costs across your network by using a dedicated supplier. By negotiating contracts and making sure you only pay for the services you require, as well as secondarily by lowering operational downtime.
In terms of deployment type, the cloud-based category is estimated to accelerate the market over the forecast period due to its rising demand among several end-user industries including IT services and Government sectors. With a new generation of software-based network technologies enabling new services & new business models that are less dependent on large-scale infrastructure, the worldwide market is undergoing a significant transition. Service providers are emphasizing the need for better agility more and more as a way to get their clients to adopt cloud and IoT services. The service focuses on the changing needs of businesses and the managed WAN services market. This launch aided the business in expanding its clientele and offering comprehensive WAN services to them on a global scale.
Based on end-user, the IT and Telecommunication sectors are expected to accelerate the market growth with more opportunities. The current telecom network is under tremendous strain as a result of rising smartphone use and an increase in the number of devices online. As a result, network operators must contend with issues including inadequate bandwidth, clogged networks that cause call dropouts, and unstable network functionality. Furthermore, the widespread adoption of cloud computing services as a result of the better benefits of SaaS, IaaS, and PaaS has necessitated that service providers continue to distribute their products through their networks to an expanding customer base. All of these elements have influenced the widespread use of MPLS technologies.
Geographically, the Asia-Pacific region holds most of the market share due to the presence of major key players in the region. Hence, this is a plus point for the market of Asia-Pacific countries. In this region, major nations such as China, India, Australia, and Japan will experience rapid economic expansion. The area shows a convergence of a rapidly growing population, emerging economies, and rising internet and mobile penetration. The vast population in the area has given businesses access to a sizable subscriber base. The market for managed network services is driven by the broad and diversified geographies, widespread adoption of smart devices, and demand for dependable and secure internet access. However, due to the existence of developed economies like the United States and Canada and the expanding trend of business outsourcing in these nations, the North American area is also anticipated to experience considerable growth throughout the forecast. Another crucial element influencing this region's success is the prevalence of cutting-edge IT infrastructure.
According to the study, key players such as AT&T (U.S), BT Group (U.K), Cisco (U.S), DXC Technology (U.S), FMR LLC (U.S), GTT Communications (U.S), Huawei (China), IBM (U.S), Lumen Technologies (U.S), Orange (France), Oracle Corp (U.S), Pacific Century Group (China), Reliance Group (India), SASAC (China), Telstra (Australia), TaTa Communications (India), among others are leading the global managed network services market.
Scope of the Report:
Report Coverage
Details
Market Size in 2021

US$ 58.9 Billion

Market Volume Projection by 2032

US$ 170.8 Billion

Forecast Period 2022 to 2032 CAGR
9.8%
Base Year:

2021

Historical Data

2019, 2020 and 2021

Forecast Period

2022 to 2032

Segments covered

By Component Types: Managed LAN Networks, Managed IP Telephony, Managed VPN, Managed Ethernet Links, Managed Video Conference & Others

By Deployment Type: Cloud-Based & On-Premises

By End-User Type: BFSI, Health Insurance, Entertainment, Publishing and Advertising, Broadcasting and Cable, Telecommunication, IT Services and Software, Government Sector, Education & Others

Geographies covered

North America, Europe, Asia-Pacific, LAMEA

Companies covered
AT&T (U.S), BT Group (U.K), Cisco (U.S), DXC Technology (U.S), FMR LLC (U.S), GTT Communications (U.S), Huawei (China), IBM (U.S), Lumen Technologies (U.S), Orange (France), Oracle Corp (U.S), Pacific Century Group (China), Reliance Group (India), SASAC (China), Telstra (Australia), TaTa Communications (India), among others are leading the global managed network services market.
The Global Managed Network Services Market Has Been Segmented Into:
The Global Managed Network Services Market – by Component Types:
Managed LAN Networks
Managed IP Telephony
Managed VPN
Managed Ethernet Links
Managed Video Conference
Others
The Global Managed Network Services Market – by Deployment Type:
The Global Managed Network Services Market – by End-User Type:
BFSI
Health Insurance
Entertainment
Publishing and Advertising
Broadcasting and Cable
Telecommunication
IT Services and Software
Government Sector
Education
Others
The Global Managed Network Services Market – by Regions:
North America
Europe

U.K.
France
Germany
Italy
Rest of Europe

Asia Pacific

India
China
Japan
Australia
Rest of Asia Pacific

LAMEA
Middle East
Latin America
Africa

South Africa
Egypt
Others
Note: This table of contents is a content of a published report. As per client requirement, cross-sectional analysis across all industries or specific geography or 'country-based' analysis can be provided as a part of paid customization. Please place your queries on sales@sheeranalyticsandinsights.com or query@sheeranalyticsandinsights.com