The Global Mud Pumps Market was $2.5 Bn in 2020, and it is expected to reach $4.8 Bn by 2030. It is eventually growing at a commendable high compound annual growth rate CAGR of 6.7% between 2020-2030. However, in the current pandemic of COVID-19 might make a slight difference in the growth rate in the present year. The Mud Pumps are some kind of special pump that particularly used for the circulating, and moving drilling fluid, and other types of liquids in some several application like offshore and onshore gas and oil. The robust demand for oil and gas increases the growth of the global mud pumps market. Now, Moving forward, robust demand for Global Mud Pumps Market in the construction department is further estimated to create new necessities and augment the market of growth over the forecast period of 2020-2030.
Market Insights
Government initiatives towards extraction of oil and gas locally is expected to increase demand of these mud pumps. In developed regions, triplex pumps are replacing duplex unit pumps due to its advantages over duplex pumps. While in developing regions, private or government companies are using duplex unit mud pumps, but these type of pumps are expected to be replaced by triplex mud pumps for mineral resources extraction.
Global Mud Pumps Segment Is Estimated to Witness Remarkable Growth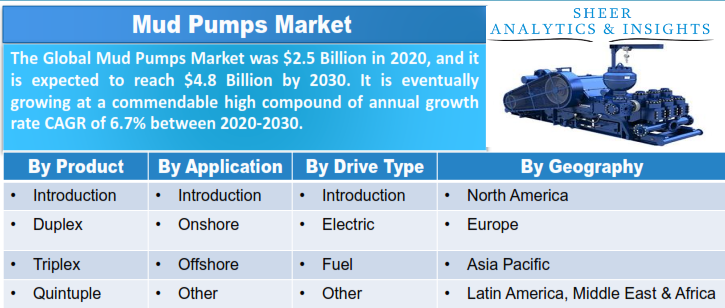 Source: SAI Research
The global Mud Pumps market is segmented as Product Type, Application, and drive type. By Product type, the mud pumps market is divided into Introduction, Duplex, Triplex, and Quintuple. By application, the global mud pumps market is bifurcated as Introduction, Onshore, and Offshore. By drive type, the mud pumps market is segmented as Introduction, Electric, and Fuel. However, the triplex segment dominant the pump market in terms of the volume and value during the entire forecast period. These pumps can be used in the circulating and drilling fluid that has a high pressure to extract the oil from deep. Thus, it is expected that the mud pump market estimated to witness remarkable growth in the forecast period.
By Region, North America is Holding the Major Market Share
The global Mud Pumps Market has been geographically segmented into North America, Asia Pacific, Latin America, Middle East, and Africa region. In addition to this, North America has a significant share among those regions. However, it is estimated to show that in the next forecast period, it has the highest compound annual growth rate due to some significant mud pumps providers. As per the report, North America holds the share between 53% to 58%. Apart from that, the rest of regions like Europe, Asia Pacific, and others, also have a possibility to increase the growth rate in the next forecast periods.
Major Players in Global Mud Pumps Market
The report covers a detailed outlook of the company, and it includes the market share and company or industry profiles of key players operating in the global market. Key players in the report include National Oil Varco Inc., Schlumberger Limited, China National Petroleum Corporation, Gardner Denver Inc., Weatherford International Plc., Trevi-Finanziaria Industriale S.p.A., MhWirth, BenTech GmbH Drilling Oilfield systems, Honghua Group Limited, American Block Inc., White Star Pump Company LLC, Mud King Products, Inc. Flowserve Corporation, Ohara Corporation, and Herrenknecht Vertical GmbH, among others.
The Global Mud Pumps Market Has Been Segmented into:
Global Mud Pumps Market: By Product Type
Introduction
Duplex
Triplex
Quintuple
Global Mud Pumps Market: By Application
Introduction
Onshore
Offshore
Global Mud Pumps Market: By Drive Type
Introduction
Electric
Fuel
Global Mud Pumps Market: By Region
North America

USA
Canada
Mexico
Rest of North America

Europe

UK
Germany
France
Spain
Italy
Russia
Rest of Europe

Asia Pacific

India
China
Japan
South Korea
Rest of Asia Pacific

Latin America, Middle East & Africa

Brazil
South Africa
UAE
Rest of LAMEA
Note: This table of contents is a content of a published report. As per client requirement, cross-sectional analysis across all industries or specific geography or 'country-based' analysis can be provided as a part of paid customization. Please place your queries on sales@sheeranalyticsandinsights.com or query@sheeranalyticsandinsights.com