The global Nanosatellite and microsatellite market was valued at $1.3 billion in 2021 and it is expected to reach $8.9 billion at a CAGR of 17.60% between 2022 and 2032. Nano-satellite and microsatellites are of low mass and size and can be referred to as small satellites, which are used to categorize based on mass. These kinds of satellites can be produced to reduce the large economic costs associated with construction. Nano-satellites and microsatellites are usually applied to the name of artificial satellites. Many commercial and military-contractor companies are currently developing these satellites according to their needs.
By region, Europe is estimated to have strong growth in the Nanosatellite and microsatellite market in near future.
The space industries are focusing on the future with wide constellations of Nano-satellites and Microsatellites, which is capable of providing all types of services in large regional area or locations around the whole world. Hence, these satellites can find major applications in communication, agriculture, biological experiments, navigation and mapping, education, scientific research, exploration, and earth observation. Thus, the increasing investments of major companies along with governmental support are expected to propel the growth of the Nano-satellite and microsatellite market during the forecast period across the globe. As result, governments are investing billions of dollars in producing a new generation satellites that would orbit the entire earth at a low altitude. Some major factors such as increasing demand for LEO-based services, availability of large funding, high-speed broadband, governmental support and growth across industrialized countries, and rising demand for low-cost broadband are expected to drive the market growth across the developing regions in near future. Companies of Nano-satellites and microsatellites incorporated current software and hardware improvements, which are derived from the IT and electronics industries. Therefore, satellite companies are getting benefits in such a way, which is estimated to help them in upcoming years.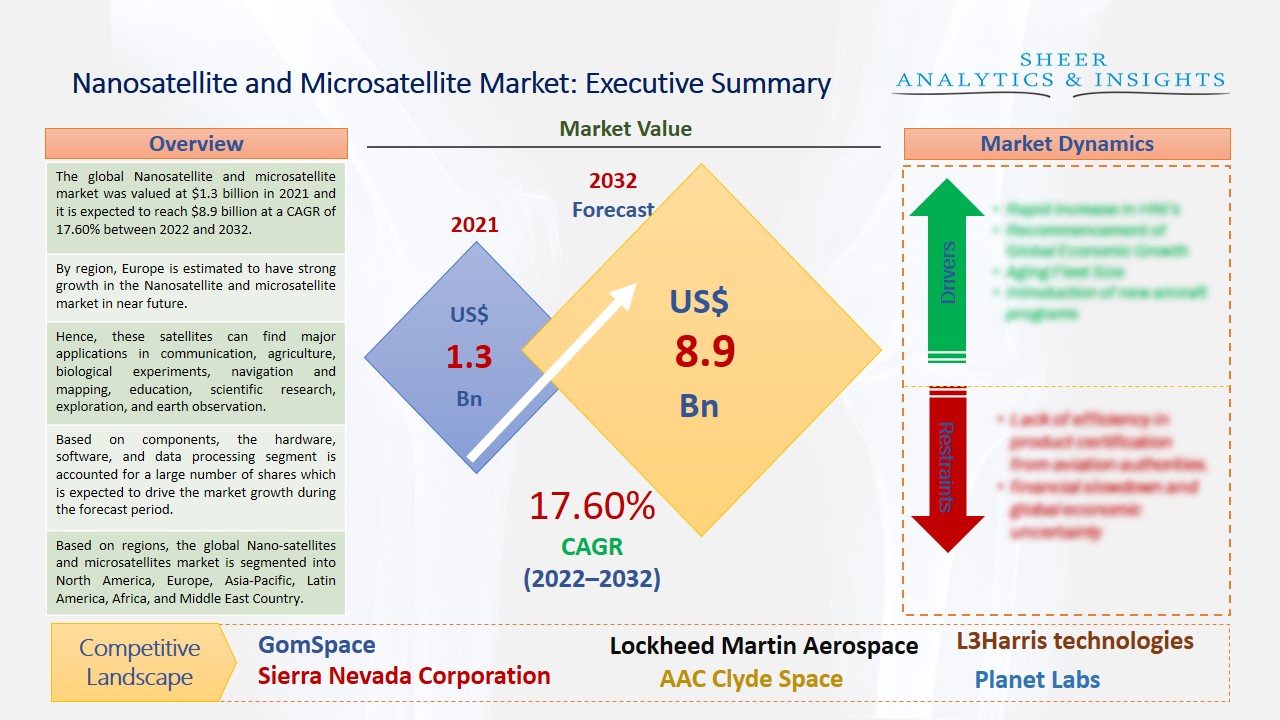 Source: SAI Research
Based on components, the hardware, software, and data processing segment is accounted for a large number of shares which is expected to drive the market growth during the forecast period. Due to the demand for various software and hardware packages that are required for accepting and extracting information from new and raw satellite data at the ground station, the market is estimated to gain significant growth. Based on applications, the Nano-satellites and microsatellites market is segmented into communication, earth monitoring, scientific research, biological research, mapping and navigation, and academic training. Among these, the communication segment is estimated to drive the market during the forecast period. Based on end-users, the global Nano-satellites and microsatellites are categorized into government, defense and military, commercial, civil, and broadcasting. The commercial category is expected to hold the largest share of the market during the upcoming years due to the rising investment of private companies in small satellites as they are inexpensive and quick to build, and can be launched for commercial purposes.
Based on regions, the global Nano-satellites and microsatellites market is segmented into North America, Europe, Asia-Pacific, Latin America, Africa, and Middle East Country. The Europe region is dominating the market over the last few years and the region is expected to hold its leading position during the forecast period due to the increasing adoption of advanced technologies and software. Along with this, North America is also expected to be the fastest-growing market during the forecast period due to the rising demand for Earth Observation Satellites which provide high-resolution Earth images and videos, and this have been driven the global Nano-satellites and microsatellites market over the last few years. However, to meet the growing business demand, more satellites are being undertaken through NASA and other private space agencies, which are estimated to propel the growth of the market during the forecast period.
The company named Alen Space has been developing Nano and microsatellites over the last decade under CubeSat Standards, the result of a joint development project between California and State Polytechnic University. Hence, the major aim of the CubeSat project is to ensure affordable access to space for the researchers from the university. This has opened up the possibility of using commercial electronic parts and the choice of various technology suppliers. EAS and GomSpace Commercial Company have signed contracts to design and develop a large deployable reflectarray antenna for advanced Nano-satellites and microsatellites for a global air traffic management system. A Nano-satellite built by Lockheed Martin and the University of Southern California was successfully launched into orbit in January 2022. Thus, it has begun the mission of taking high-quality pictures of the earth and refining the images from space. Moreover, Sierra Nevada Corporation and the National Security Company together added two new satellite platforms to its spacecraft offerings, and the SN-200M satellite bus designed for medium-Earth orbit. Hence, these products have driven the market growth of the Nano-satellites and microsatellites market over the last few years.
SpaceX has designed another satellite named NanoAvionics GIoT and project. They created this to provide constellation-as-a-service in a business-to-business setup to existing and emerging IoT/M2M operators. The company Astro Digital currently designs, builds, and operates micro-satellites systems supporting space-based turnkey missions for business applications, such as Earth observations, communications, and In-orbit demonstrations. Hence, this would help the scientific and research companies, which is expected to drive the overall market growth of the Nano-satellites and microsatellites market during the upcoming years.
According to the study, key players such as GomSpace Commercial (Denmark), Lockheed Martin Aerospace (U.S), L3Harris technologies (U.S), Sierra Nevada Corporation (U.S), AAC Clyde Space (Sweden), Planet Labs Company (U.S), Airbus Aerospace and Defense Company (Netherlands), OHB SE Technology Company (Germany), Tyvak Nano-Satellite Systems Inc (U.S), AST Space Mobile Inc. (U.S) Northrob Grumman Aerospace and Defense (U.S), Spire Global (U.S), RUAG Space Company (Switzerland), Millennium Space System (U.S), SpaceX Aerospace (U.S), Raytheon Technologies Aerospace and Defense (U.S), University of Vigo (Spain), Axelspace Corporation (Japan), EnduroSat (Bulgaria), Exolaunch (Germany), Astro Digital Inc (U.S), AST&Science LLC (Spain), Innovative Solutions in Space (Netherlands), Berlin Space Technologies (Germany), Leidos Engineering (U.S), D-Orbit (Italy), among others.
Scope of the Report:
Report Coverage

Details

Market Size in 2021

US$ 1.3 Billion

Market Volume Projection by 2032

US$ 8.9 Billion

Forecast Period 2022 to 2032 CAGR
17.60%
Base Year:

2021

Historical Data

2019, 2020 and 2021

Forecast Period

2022 to 2032

Segments covered

By Component Type: Hardware, Software and Data Processing, Space Services, Launch Services

By Application Type: Communication, Earth Monitoring, Scientific Research, Biological Research, Mapping and Navigation, Academic Training

By End-Users: Government, Defense and Military, Commercial, Civil, Broadcasting

Geographies covered

North America, Europe , Asia-Pacific , LAMEA

Companies covered

AAC Clyde Space AB
Astro Digital
GOMSPACE
L3HARRIS TECHNOLOGIES, INC.
LOCKHEED MARTIN CORPORATION
PLANET LABS INC
SIERRA NEVADA CORPORATION
Surrey Satellite Technology Ltd.
Swarm Technologies, Inc.
Tyvak Nano-Satellite Systems, Inc.
The Global NanoSatellite and Microsatellite Market Has Been Segmented Into:
The Global NanoSatellite and Microsatellite Market – By Component Type:
Hardware
Software and Data Processing
Space Services
Launch Services
The Global NanoSatellite and Microsatellite Market –By Application Type:
Communication
Earth Monitoring
Scientific Research
Biological Research
Mapping and Navigation
Academic Training
The Global NanoSatellite and Microsatellite Market – By End-Users:
Government
Defense and Military
Commercial
Civil
Broadcasting
The Global NanoSatellite and Microsatellite Market – By Regions:
North America
Europe
Germany
France
Italy
U.K.
Russia
Rest of Europe Countries
Asia-Pacific
India
China
Japan
South Korea
North Korea
Rest of Asian Countries
LAMEA
Brazil
Saudi Arabia
Rest of LAMEA
Note: This table of contents is a content of a published report. As per client requirement, cross-sectional analysis across all industries or specific geography or 'country-based' analysis can be provided as a part of paid customization. Please place your queries on sales@sheeranalyticsandinsights.com or query@sheeranalyticsandinsights.com