The Global Natural Haircare Product Market was $7.30 Bn in 2020, and it is expected to reach $19.30 Bn by 2030. It is growing at a commendable high compound of annual growth rate CAGR of 10.20% between 2020-2030. Natural hair care product helps women and men in maintaining the good health of their hair and protect form the hair damage. The products such as oil, serum, shampoo, and conditioner are used in hair for nourishment. Increasing demand for natural products in hair care or skincare drive the growth of the natural haircare market.
Moreover, in the current pandemic of COVID-19 might make a slight difference in the growth rate in the current year. Now, Moving forward, the robust demand for Global Natural Haircare Product Market in the haircare and cosmetics department is further estimated to create new necessities and augment the market of growth over the forecast period of 2020-2030.
Global Natural Haircare Product Segment Is Estimated to Witness Remarkable Growth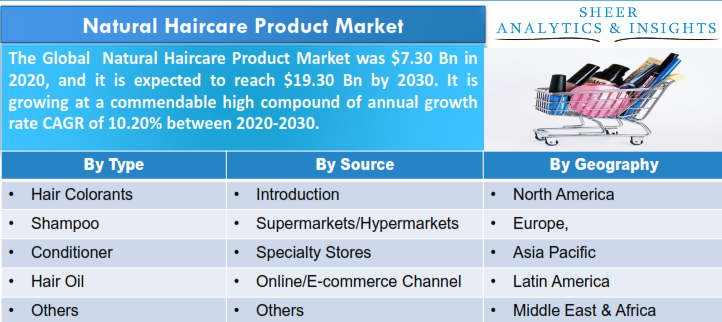 Source: SAI Research
The Natural Haircare Product market is segmented as the product and distribution channel. By product, the global natural haircare product market is divided into Hair Colorants, Shampoo, Conditioner, Hair Oil, and Others. By distribution channel, the global natural haircare product market has been bifurcated into Supermarkets/Hypermarkets, Specialty Stores, Online/E-commerce channels, and Others.
By Region, Asia Pacific is Holding the Major Market Share
The Natural Haircare Product Market has been geographically segmented into North America, Asia Pacific, Latin America, Middle East, and Africa region. In addition to this, Asia Pacific has a significant share among those regions. The robust demand for natural hair care and cosmetics is boosting the growth of the natural hair care product market in this region. Increasing investment in men and women's fashion is expected to drive the growth of the market. Apart from this, Europe is another dominating region for the haircare market. As per the report, Europe accounted for the 38.% share of the global revenue in 2019. However, it is expected that the rest of the regions are expected to increase the growth rate over the upcoming forecast period of 2020 to 2030.
Major Players in Global Natural Haircare Product Market
The report covers a detailed outlook of the company, and it includes the market share and company or industry profiles of key players operating in the global market. Key players in the report include L'Oréal Professional, Procter & Gamble, NatureLab Tokyo, Estee Lauder, Mama Earth, St. Botanica, Bollati, John Master Organics, Phyto Botanical Power, Amazon Beauty Inc., Organic Harvest, Unilever, Coty Inc., Kao Corporation, and Revlon Inc. among others.
The Global Natural Haircare Product Market Has Been Segmented into:
Global Natural Haircare Product Market: By Product
Introduction
Hair Colorants
Shampoo
Conditioner
Hair Oil
Others
Global Natural Haircare Product Market: By Distribution Channel
Introduction
Supermarkets/Hypermarkets
Specialty Stores
Online/E-commerce Channel
Others
Global Natural Haircare Product Market: By Region
North America

USA
Canada
Mexico
Rest of North America

Europe

UK
Germany
France
Spain
Italy
Russia
Rest of Europe

Asia Pacific

India
China
Japan
South Korea
Rest of Asia Pacific

Latin America, Middle East & Africa

Brazil
South Africa
UAE
Rest of LAMEA
Note: This table of contents is a content of a published report. As per client requirement, cross-sectional analysis across all industries or specific geography or 'country-based' analysis can be provided as a part of paid customization. Please place your queries on sales@sheeranalyticsandinsights.com or query@sheeranalyticsandinsights.com