The Global Neuromorphic Computing Market was $29.9 Mn in 2020, and it is expected to reach $780.0 Mn by 2028. It is eventually growing at a commendable high compound of annual growth rate CAGR of 50.3% between 2020-2028. However, the current pandemic of COVID-19 might make a slight difference in the growth rate in the present year. The Neuromorphic Computing Market is majorly driven by increasing demand for artificial intelligence and brain chips used in cognitive and brain robots. These robots have the capability to respond like a human brain. Numerous advanced embedded system providers are developing these brain chips with the help of the advancement of artificial intelligence (AI) and machine learning (ML) that acts as thinks and responds as the human brain. This increased demand for Neuromorphic chips and software for signal, data, and image processing in automotive, electronics, and the robotics verticals is projected to further fuel the market. The need for better performing ICs and rising demand for neuromorphic computing in video monitoring, machine vision, and voice identification is also projected to further accelerate the market growth over the forecast period.
Global Signal Processing Segment Is Estimated to Witness Remarkable Growth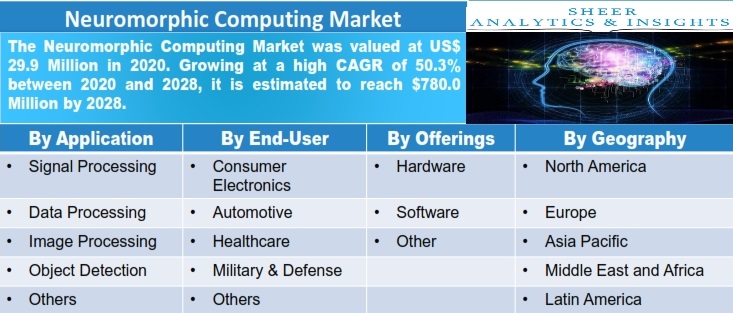 Source: SAI Research
The global Neuromorphic Computing Market has been segmented into By Offerings, By Applications, and By End User. By Offerings, global Neuromorphic Computing Market is divided into Hardware, and Software. By Application, the global Neuromorphic Computing Market is divided into Signal Processing, Data Processing, Image Processing, Object Detection, and Others. By End-User, global Neuromorphic Computing Market is divided into Consumer Electronics, Automotive, Healthcare, Military & Defense, and Others. Signal Processing Segment is estimated to witness remarkable growth over the forecast period due to increasing demand for processing acoustic and audio signals.
By Region, North America is Holding the Major Market Share
The global Neuromorphic Computing Market has been geographically segmented into North America, Europe, Asia-Pacific, Latin America, Middle East, and Africa region. In addition to this, North America Neuromorphic Computing Market is holding the largest market share currently and is estimated to show the fastest compound annual growth rate in the upcoming forecast period due to presence of major players and positive initiatives taken by these giants such as IBM Corporation (U.S.), Intel (U.S.), and General Vision (U.S.) to develop the Neuromorphic chip and integrate on large scale applications such as servers, data centers, and big data analytics. Moreover, rising awareness about the benefit of neuromorphic computing in multiple end-use industries Automotive, military & defense, and healthcare is projected to drive the regional market growth at a higher growth rate compared to other regions. The European and LAMEA market is gaining momentum due to the rise of opportunities for neuromorphic projects. The Asia Pacific region is also projected to register a considerable growth rate over the forecast period due to the rising demand for process automation in major countries such as China, India, and Japan. The above factors accelerate market growth over the forecast period from 2020 to 2028.
Major Players in Neuromorphic Computing Market
Some of the prominent players in the global Neuromorphic Computing Market include Hewlett-Packard, Samsung Electronics Co. Ltd., Intel Corporation, HRL Laboratories, Vicarious FPC, Inc., Numenta, Inc., CEA-Leti, IBM Corporation, Qualcomm Technologies Inc., BrainChip Holdings Ltd, General Vision Inc., Knowm Inc., and Applied Brain Research Inc.
The Global Neuromorphic Computing Market Has Been Segmented Into:
Global Neuromorphic Computing Market: By Offerings
Global Neuromorphic Computing Market: By Application
Signal Processing
Data Processing
Image Processing
Object Detection
Others
Global Neuromorphic Computing Market: By End-User
Consumer Electronics
Automotive
Healthcare
Military & Defense
Others
Global Neuromorphic Computing Market: By Region
North America

USA
Canada
Mexico
Rest of North America

Europe

UK
Germany
France
Spain
Italy
Russia
Rest of Europe

Asia Pacific

India
China
Japan
Australia
Rest of Asia Pacific

Latin America, Middle East & Africa

Brazil
South Africa
UAE
Rest of LAMEA
Note: This table of contents is a content of a published report. As per client requirement, cross-sectional analysis across all industries or specific geography or 'country-based' analysis can be provided as a part of paid customization. Please place your queries on sales@sheeranalyticsandinsights.com or query@sheeranalyticsandinsights.com