The Nigeria clinical laboratory services market was valued at $550.2 million in 2021 and it is expected to reach $889.2 million at a CAGR of 4.2% between 2022 and 2032. Nigeria launches a document outlining policy to promote diagnostic testing. In Abuja, the policy document was released. The World Health Organization (WHO) and Global Fund helped develop this. The first nation in Africa to create an Essential Diagnostics List (EDL) is Nigeria.
By region, Abuja and Lapai has led the clinical laboratory market across the country with significant growth.
Clinical laboratories are healthcare institutions that offer a variety of laboratory techniques to help doctors with patient diagnosis, care, and management. Medical technologists (clinical laboratory scientists) who have received training to conduct various tests on biological specimen samples taken from patients staff these labs. To make them accessible to both doctors and their patients, most clinical laboratories are located inside or close to hospital buildings. Clinical laboratories can deliver high-quality laboratory tests that are important for addressing medical and public health concerns, according to the classifications of these facilities that are shown below. Since there are constantly new fields emerging in the field of laboratory medicine, the list below should not be used as a rigid guide for classifying clinical laboratories.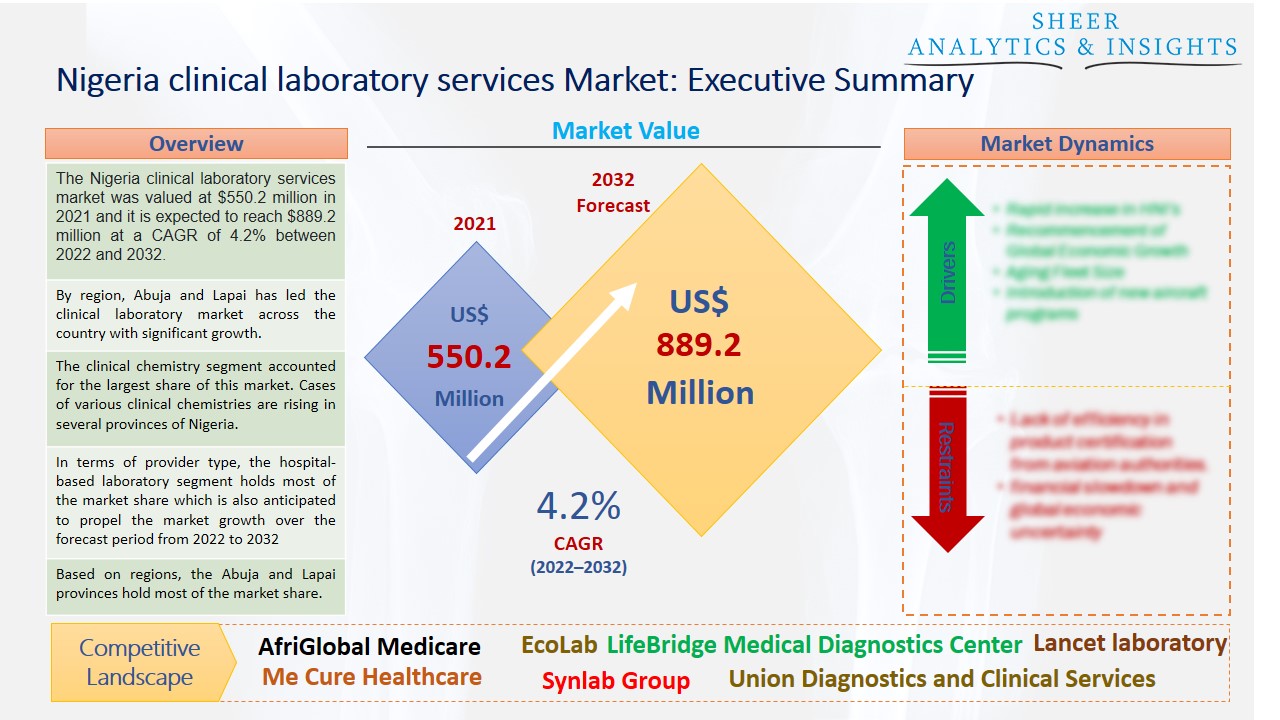 Source: SAI Research
To promote proper coordination and collaboration among clinical laboratories within the designated geographic areas, laboratory networks were built across nations and states. Recent developments have seen a rise in the importance of quality management systems inside these laboratories, including the standardization of laboratory services, the bolstering of laboratory systems, and the creation of novel, quick diagnostic tools. Technical specialists and local and international health authorities regularly address these problems within the framework of a patient-centered approach. Testing is done in clinical laboratories methodically and exactly. Each facility should adhere to the following three phases of the laboratory testing process. Moreover, pre-analytical, analytical, and post-analytical phases are each carried out under standard operating procedure manuals and job aids. Clinical laboratories, particularly in the modern era, are frequently renowned for their cutting-edge laboratory machines and instruments that perform the majority of actual sample testing. Despite this, these facilities still heavily rely on laboratory professionals to ensure that results are accurate and dependable.
The government's emphasis on public-private partnerships, the rising prevalence of chronic diseases, and the rising demand for precise disease diagnosis are the main drivers of the Nigerian clinical laboratory market. Malaria, lower respiratory infections, HIV/AIDS, diarrheal illnesses, cancer, meningitis, stroke, and tuberculosis are the leading killers in Nigeria. As a result, there is a growing incidence of infectious diseases in the nation, which is increasing the demand for diagnostic services for improved disease management.
The clinical chemistry segment accounted for the largest share of this market. Cases of various clinical chemistries are rising in several provinces of Nigeria. Advanced technologies with the presence of sampling procedures and other test methods are also expected to drive market growth over the forecast period. Moreover, new key players are focusing on establishing some clinical chemistry institutes which would be beneficial for the overall market. On the other side, human and tumor genetics categories are also estimated to grow during the forecast period. It is anticipated that the rising demand for early cancer screening as a result of the rising incidence of cancer would serve as a significant growth driver for both human and tumor genetics.
In terms of provider type, the hospital-based laboratory segment holds most of the market share which is also anticipated to propel the market growth over the forecast period from 2022 to 2032. Collaborations between hospitals and healthcare sectors would develop disease diagnostics centers in several regions of Nigeria. However, the medical microbiology segment is also expected to drive the growth of the market during the forecast period due to rising cases of tests for various kinds of illnesses. Additionally, testing for microorganisms, including bacteria and viruses, is used to diagnose infectious disorders.
Based on regions, the Abuja and Lapai provinces hold most of the market share. In addition, these provinces are also projected to hold their dominant position during the forecast period with significant growth, which would create more opportunities for the clinical laboratory market. Testing for microorganisms, including bacteria and viruses, is used to diagnose infectious disorders. The Nigerian government, donor organizations, and NGOs are also working together to spread awareness among people. Together, Memfys Hospital and GE Healthcare have improved disease diagnostics in southeast Nigeria.
According to the study, key players such as AfriGlobal Medicare (Nigeria), EcoLab (U.S), LifeBridge Medical Diagnostics Center (Nigeria), Lancet laboratory (South Africa), Me Cure Healthcare (Nigeria), Synlab Group (Germany), Union Diagnostics and Clinical Services (Nigeria), among others are leading the Nigeria clinical laboratory services market.
Scope of the Report:
Report Coverage

Details

Market Size in 2021

US$ 550.2 million

Market Volume Projection by 2032

US$ 889.2 million

Forecast Period 2022 to 2032 CAGR

4.2%

Base Year:

2021

Historical Data

2019, 2020 and 2021

Forecast Period

2022 to 2032

Segments covered

By Test Types: Clinical Chemistry, Human and Tumor Genetics, Medical Microbiology, Cytology & Others

By Provider Type: Hospital-Based Laboratories, Clinic-Based laboratories, Stand-Alone Laboratories & Others

Geographies covered

Nigeria

Companies covered

AfriGlobal Medicare (Nigeria), EcoLab (U.S), LifeBridge Medical Diagnostics Center (Nigeria), Lancet laboratory (South Africa), Me Cure Healthcare (Nigeria), Synlab Group (Germany), Union Diagnostics and Clinical Services (Nigeria), among others
The Nigeria clinical laboratory services Market Has Been Segmented Into:
The Nigeria clinical laboratory services Market – by Test Types:
Clinical Chemistry
Human and Tumor Genetics
Medical Microbiology
Cytology
Others
The Nigeria clinical laboratory services Market – by Provider Type:
Hospital-Based Laboratories
Clinic-Based laboratories
Stand-Alone Laboratories
Others
The Nigeria clinical laboratory services Market – by Regions:
Abuja
Lapai
Agaie
Kontagora
Gwari
Other Provinces
Note: This table of contents is a content of a published report. As per client requirement, cross-sectional analysis across all industries or specific geography or 'country-based' analysis can be provided as a part of paid customization. Please place your queries on sales@sheeranalyticsandinsights.com or query@sheeranalyticsandinsights.com