The global OLED display market was valued at $36.9 billion in 2021 and it is expected to reach $121.3 billion at a CAGR of 11% between 2022 and 2032. An OLED display works without any backlight because it emits visible lights. Therefore, it is different from LEDs. OLED is also known as an organic light-emitting diode, which can produce the best picture quality of any display technology. However, OLEDs are mainly used in producing smart mobile phones, watches, television, and other similar devices. The progress of OLED is still very fast at present days due to its technological advancements.
By region, Asia-Pacific dominates the OLED display market with largest revenue share across the globe.
At present days, all OLED displays are produced using evaporation-based methods, in which the materials of OLED are deposited in a vacuum chamber. This has been the best way to produce OLEDs. However, the process is very expensive and needs proper investment in manufacturing companies to execute such innovative products. The thickness of OLEDs can be decreased significantly and made more power-efficient without a backlight, which is better than LED and LCDs.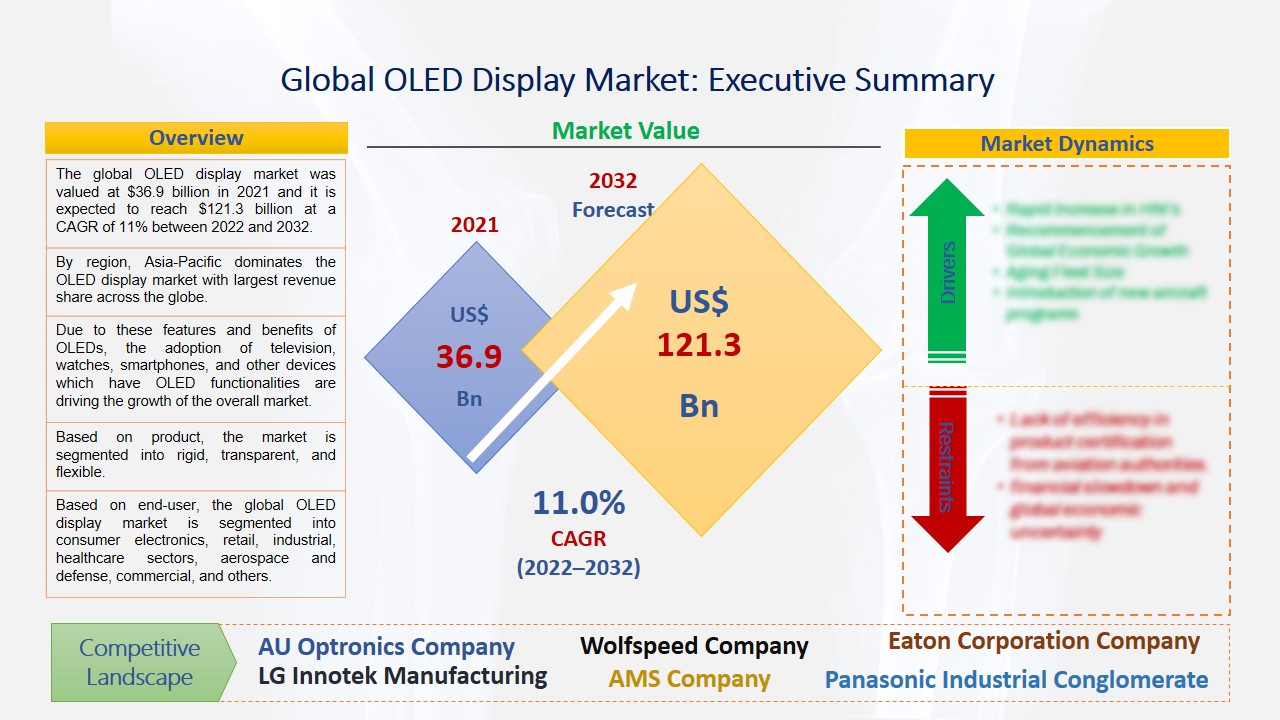 Source: SAI Research
Due to these features and benefits of OLEDs, the adoption of television, watches, smartphones, and other devices which have OLED functionalities are driving the growth of the overall market. The largest display makers from South Korea named Samsung Display Co. Ltd., and DS Neolux Company have developed low-power consumption OLED panels for smartphones, which have driven the OLED display market in the last couple of years. Manufacturers of the OLED display market are finding applications from various sectors to enter the global market. They are mainly focusing on passive and active matrix solutions.
Based on product, the market is segmented into rigid, transparent, and flexible. The flexible segment is expected to propel the market of OLED display during the forecast period due to its enhanced portability have been developed to provide bendable, lightweight, and unbreakable devices. Based on technology, the market is categorized into passive-matrix OLED, active-matrix OLED, transparent OLED, top-emitting OLED, and foldable OLED. Active-matrix OLEDs are expected to gain significant growth opportunities in upcoming years. This is a next-generation display technology, which is slimmer, more power-efficient displays and lights. Passive-matrix OLED and foldable OLED displays are also anticipated to gain significant growth during the forecast period due to their flexible and foldable features, and more energy-efficiency ability.
Based on end-user, the global OLED display market is segmented into consumer electronics, retail, industrial, healthcare sectors, aerospace and defense, commercial, and others. Among these, the consumer electronic and commercial segments accounted for the highest market growth throughout the forecast period due to the rising demand for smart television, smart watches, wearable devices, digital cameras, MP-disc players, radio decks, and many more. Geographically, the global OLED display market is divided into North America, Europe, Asia-Pacific, Latin America, Africa, and the Middle East Countries. Among these, the Asia-Pacific region is expected to witness the largest market share in upcoming years. Some major manufacturing companies and suppliers of OLED displays are mainly established in this region, which has been propelling sales in other regions and countries by exporting OLED products from their locations.
According to the study, key players such as AU Optronics Company (Taiwan), Wolfspeed Company (U.S), Eaton Corporation Company (U.S), General Electric Multinational Conglomerate Company (U.S), LG Innotek Manufacturing Company (South Korea), AMS Company (Austria), Panasonic Industrial Conglomerate Company (Japan), Samsung Group multinational Conglomerate Company (South Korea), Universal Display Corporation (U.S), BOE Technology and Electronic Company (China), Tianma Micro-Electronics Company (China), Acuity Brands Company (U.S), OLEDWorks LLC Company (Germany), Konika Minolta Optical Products Company (Japan), Lumiotec Company (Japan), Royole Corporation Company (U.S), Kopin Corporation (U.S), Pixelligent Technologies LLC (U.S), Luminescence Technology Corporation (Taiwan), Sharp Corporation (Japan), Sony Group Corporation (Japan), Corning Incorporated Technology Company (U.S), YFY Incorporated Company (Taiwan), Visionox Company (China), Innolux Corporation Company (Taiwan), Ritek Storage Corporation (Taiwan), Pioneer Corporation (Japan), Tatung Company Corporation (Taiwan), HannStar Display Corporation (Taiwan), among others are leading the global OLED display market.
Scope of the Report:
Report Coverage
Details
Market Size in 2021
US$

36.9

Billion
Market Volume Projection by 2032
US$

121.3

Billion
Forecast Period 2022 to 2032 CAGR
11%
Base Year:
2021
Historical Data
2019, 2020 and 2021
Forecast Period
2022 to 2032
Segments covered

By Product Type: Rigid, Transparent, Flexible

By Technology: Passive-Matrix OLED, Active-Matrix OLED, Transparent OLED, TOP-Emitting OLED, Foldable OLED

By End-Users: Consumer Electronic, Retail, Industrial, Healthcare, Aerospace and Defense, Commercial & Others

Geographies covered

North America, Europe , Asia-Pacific , LAMEA

Companies covered
AU Optronics Company (Taiwan), Wolfspeed Company (U.S), Eaton Corporation Company (U.S), General Electric Multinational Conglomerate Company (U.S), LG Innotek Manufacturing Company (South Korea), AMS Company (Austria), Panasonic Industrial Conglomerate Company (Japan), Samsung Group multinational Conglomerate Company (South Korea), Universal Display Corporation (U.S), BOE Technology and Electronic Company (China), Tianma Micro-Electronics Company (China), Acuity Brands Company (U.S), OLEDWorks LLC Company (Germany), Konika Minolta Optical Products Company (Japan), Lumiotec Company (Japan), Royole Corporation Company (U.S), Kopin Corporation (U.S), Pixelligent Technologies LLC (U.S), Luminescence Technology Corporation (Taiwan), Sharp Corporation (Japan), Sony Group Corporation (Japan), Corning Incorporated Technology Company (U.S), YFY Incorporated Company (Taiwan), Visionox Company (China), Innolux Corporation Company (Taiwan), Ritek Storage Corporation (Taiwan), Pioneer Corporation (Japan), Tatung Company Corporation (Taiwan), HannStar Display Corporation (Taiwan), among others
The Global OLED Display Market Has Been Segmented Into:
The Global OLED Display Market – By Product Type:
Rigid
Transparent
Flexible
The Global OLED Display Market – By Technology:
Passive-Matrix OLED
Active-Matrix OLED
Transparent OLED
TOP-Emitting OLED
Foldable OLED
The Global OLED Display Market – By End-Users:
Consumer Electronic
Retail
Industrial
Healthcare
Aerospace and Defense
Commercial
And Others
The Global OLED Display Market – By Regions:
North America
Europe
Germany
France
Italy
U.K.
Russia
Rest of Europe Countries
Asia-Pacific
India
China
Japan
South Korea
North Korea
Rest of Asian Countries
LAMEA
Note: This table of contents is a content of a published report. As per client requirement, cross-sectional analysis across all industries or specific geography or 'country-based' analysis can be provided as a part of paid customization. Please place your queries on sales@sheeranalyticsandinsights.com or query@sheeranalyticsandinsights.com