The global online CSR initiatives market was valued at $4.1 billion in 2021 and it is expected to reach $38.1 billion at a CAGR of 21.1% between 2022 and 2032. Online CSR also known as virtual corporate social responsibility is a general course of business. Through this business, a company operates in various ways to enhance society and the environment by contributing some positive works to it. Furthermore, this is a business model where several companies create an intense effort to operate in ways to enhance society and its environment.
By region, North America holds the maximum share in the global online CSR initiatives market.
In various developing countries, so many students from economically disadvantaged backgrounds are not getting enough online education from schools and colleges. This is because due to a lack of monetary support. Hence, these students can neither afford the laptops and smartphones for their online classes. They also do not get internet facilities and mobile connectivity in the remote areas where they live in. Therefore, some NGOs are trying to give online education free of cost. In this case, corporate social responsibility focuses on filling this gap between students and educators by conducting free online classes with online learning CSR initiatives specially created for such students. Students can learn various subjects through online platforms without any cost. Moreover, the free-to-use portal offers over 40 courses in various international languages so students can learn and understand any subject in their dialect. However, various companies can find their voices to speak out against social injustice and policy changes through these online CSR initiatives. Furthermore, organizations can bring some changes by giving jobs to various types of laborers. Therefore, these major factors are expected to drive the growth of the online CSR initiatives market during the upcoming years from 2022 to 2032.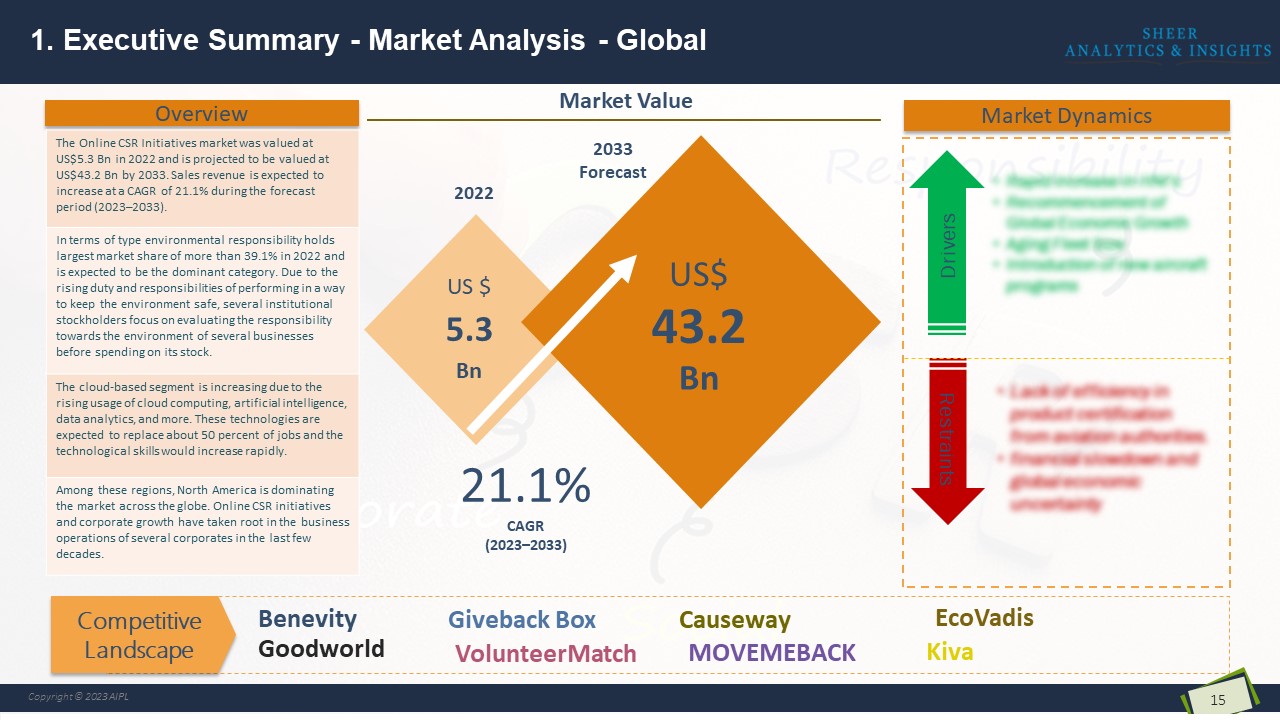 Source: SAI Research
Download Free PDF Sample Request
Based on type, the online CSR initiatives market is segmented into environmental responsibility, ethical responsibility, philanthropic responsibility, and others. The environmental responsibility segment is accounted for the largest share across the global market. Due to the rising duty and responsibilities of performing in a way to keep the environment safe, several institutional stockholders focus on evaluating the responsibility towards the environment of several businesses before spending on its stock. Hence, this segment is expected to propel the growth of the market in near future.
Based on the deployment model, the market is segmented into cloud-based and on-premises. The cloud-based segment is increasing due to the rising usage of cloud computing, artificial intelligence, data analytics, and more. These technologies are expected to replace about 50 percent of jobs and the technological skills would increase rapidly. Various key players have been joined together to enable underemployed and employed individuals to start a career in cloud-computing technologies, which are estimated to boost the online CSR initiative market.
Based on the organization, the online CSR initiatives market is categorized into small, medium, and large enterprises. Among these, small and medium enterprises are dominating the global online CSR initiatives market. This segment is accountable significantly for the economic development of various developing countries. Due to increasing online CSR initiatives that have been created to carry out social development such as investing in education institutes, medical sectors, and other industries, the market is estimated to gain more growth opportunities in upcoming years.
Based on regions, the online CSR initiatives market is categorized into North America, Europe, Asia-Pacific, Latin America, Africa, and Middle East Country. Among these regions, North America is dominating the market across the globe. Online CSR initiatives and corporate growth have taken root in the business operations of several corporates in the last few decades. Furthermore, most of the key players are situated in this region; therefore, the online CSR initiatives market is projected to have significant growth during the forecast period from 2022 to 2032. However, Europe holds the second position in the global online CSR initiatives market over the last few years.
General Electric Ecomagination, is a renewable business strategy with a mission to double down on clean technology and generate a large amount of revenue share from green products. The company launched this development several innovations such as an inflatable wind turbine, an intelligent water meter, cyber-secure network infrastructure, and short-circuiting and outage technology. A few years ago, in Greece, the Enterprise 2020 Manifesto was launched by CSR HELLAS to achieve European reform for a sustainable society. In India, Johnson and Johnson Company has announced to launch of youth-focused, digital initiatives as part of its corporate pledge against tuberculosis. This company aims to create Youth Changemakers to act as catalysts of change and eliminate the tuberculosis disease. Spain-based Company Foretica has launched Vision 2050 to accelerate business action to ESG challenges. Therefore, these new launches are expected to drive the growth of the online CSR initiatives market during the forecast period from 2022 to 2032.
According to the study, key players such as Air Canada (Canada), Alphabet Inc (U.S), Coca-Cola Company (U.S), CSR HELLAS (Greece), Foretica (Spain), Ford Motor Company (U.S), General Electric (U.S), ITC Limited (India), Infosys Limited (India), Johnson & Johnson (U.S), Kirkbi (Denmark), Levi Strauss (U.S), New Belgium Brewing Company (U.S), Pfizer (U.S), Rober Bosch Stiftung GmbH (Germany), SalesForce (U.S), Starbucks (U.S), Telus Corporation (Canada), Tata Sons (India), The Walt Disney Company (U.S), The Washington Post (U.S), Unilever Plc (U.K), Vancity (Canada), Wipro Limited (India), Wells Fargo (U.S), among others are leading the global online CSR initiatives market.
Scope of the Report:
Report Coverage

Details

Market Size in 2021

US$ 4.1 Billion

Market Volume Projection by 2032

US$ 38.1 Billion

Forecast Period 2022 to 2032 CAGR

21.1%

Base Year:

2021

Historical Data

2019, 2020 and 2021

Forecast Period

2022 to 2032

Segments covered

By Type: Environmental Responsibility, Ethical Responsibility, Philanthropic Responsibility & Others

By Deployment Type: Cloud, On-Premises

By Organizations: Small and Medium Enterprises, Large Enterprises

Geographies covered

North America, Europe, Asia-Pacific, LAMEA

Companies covered
Air Canada (Canada), Alphabet Inc (U.S), Coca-Cola Company (U.S), CSR HELLAS (Greece), Foretica (Spain), Ford Motor Company (U.S), General Electric (U.S), ITC Limited (India), Infosys Limited (India), Johnson & Johnson (U.S), Kirkbi (Denmark), Levi Strauss (U.S), New Belgium Brewing Company (U.S), Pfizer (U.S), Rober Bosch Stiftung GmbH (Germany), SalesForce (U.S), Starbucks (U.S), Telus Corporation (Canada), Tata Sons (India), The Walt Disney Company (U.S), The Washington Post (U.S), Unilever Plc (U.K), Vancity (Canada), Wipro Limited (India), Wells Fargo (U.S), among others
Global Online CSR Initiatives Market Has Been Segmented Into:
Global Online CSR Initiatives Market – By Type:
Environmental Responsibility
Ethical Responsibility
Philanthropic Responsibility
And Others
Global Online CSR Initiatives Market – By Deployment Type:
Global Online CSR Initiatives Market – By Organizations:
Small and Medium Enterprises
Large Enterprises
Global Online CSR Initiatives Market – By Regions:
North America
Europe
Germany
France
Italy
U.K.
Russia
Rest of Europe Countries
Asia-Pacific
India
China
Japan
South Korea
North Korea
Rest of Asian Countries
LAMEA
Brazil
Saudi Arabia
Rest of LAMEA
Note: This table of contents is a content of a published report. As per client requirement, cross-sectional analysis across all industries or specific geography or 'country-based' analysis can be provided as a part of paid customization. Please place your queries on sales@sheeranalyticsandinsights.com or query@sheeranalyticsandinsights.com