The 'Global Osteoarthritis Market' was valued at $250 bn in 2020 and is expected to reach $930 bn at the CAGR of 12.9% between 2021 and 2031. Covid has impacted the treatment market primarily as most of the hospitals were focused on Corona treatment, and in addition to that, medical tourism was also highly impacted. During this time in 2020 and 2021, most of the patients were treated either through medications or physiotherapy treatments. In 2020, the market of medications related to osteoarthritis had increased from 19% to around 40% from 2019 to 2020. This shift is expected to normalize by 2022, and even though the surgical market decreased in 2020 due to a loss of a whole quarter and after impacts of the corona, it is expected to gain its share again by 2022 end.
By Region, North America holds a significant market share of more than 49.4% in 2021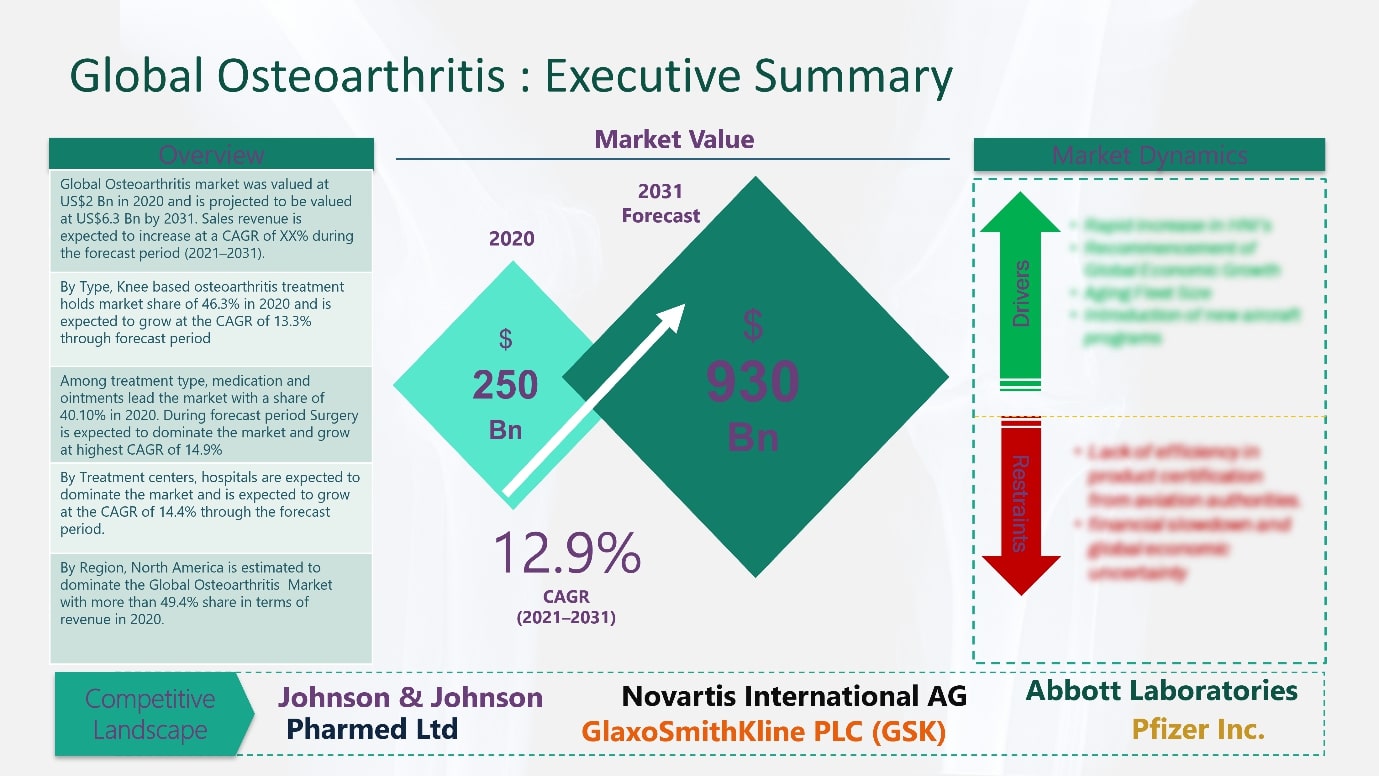 Source: SAI Research
The Global Osteoarthritis market has been geographically segmented into North America, Europe, Asia Pacific and LAMEA. The North American Osteoarthritis market was $123.5 billion in 2020 and is expected to reach above $408 billion by 2031, growing a CAGR of 11.7% during the forecast period. As per some of our key opinion leaders, Asia Pacific is expected to gain the highest incremental rate during the forecast period. India is expected to be the most preferred destination for osteoarthritis surgical treatments due to its lower cost of operation and hospitalization.
In terms of type, knee-based osteoarthritis holds the largest market share of 46.3% in 2021 and is expected to grow at the highest CAGR of 13.3% through the forecast period. The significant reasons attributing to the growth of knee-based arthritis are obesity, the increasing growth rate of the geriatric population, and low physical activities. Increased automation technologies such as smart lighting, wearables, online shopping, and smart industrial and service robots had one side helped many individuals or industries. Still, on the other side, it made people lazy towards pushing them for physical activities. Another primary reason for the growth is the injuries due to accidents on roads or sports fields. Post-traumatic arthritis, if not treated well, can become osteoarthritis too. According to Sheer Analytics research, this trend is mostly in developing countries due to ignorance or lack of medical facilities.
As per the study done by Sheer Analytics in 2021, 60 out of 100 people have quoted themselves as obese or overweight. This study includes a survey done through 10,000 individuals across the globe. Out of these 10,000 individuals, 35% belongs from North America, 45% from the Asia Pacific and 20% from other parts of the world. Key findings of the study are:
Women are more exposed to osteoarthritis in the Asia Pacific
Technology has helped 41% of the individuals for taking physiotherapy sessions.
India is the most preferred destination for surgical treatment.
1 out of every four individuals suffered from osteoarthritis in 2021
3% of the population suffering from osteoarthritis are above 50 years of age
One out of every three individuals suffering from severe osteoarthritis in North America is seeking treatment in India or China.
Research Methodology:
Sheer Analytics as an organization has developed a model know as square point approach. This approach has four methods of gathering information.
Secondary Research: Information gathered from trustable resources such as medical association, Medical based whitepapers, WHO database, Tourism websites and company annual reports.
Demand and Supply approach: Interviews from business experts: Paid interviews were conducted with doctors, administrators of medical facilities, medical officers belonging to reputed hospitals, and the companies who manufacture the medicines or plates for osteoarthritis treatments and surgeries.
Survey Approach: This approach was done to cater customers and their view over osteoarthritis treatments
Integration and Validation: All approaches are integrated, and a concise modeling was done to estimate final numbers accordingly
Major Players in Global Osteoarthritis
According to the study, key players operating in this market are Abbott Laboratories, Anika Therapeutics, Inc., Bayer AG, Bioventus LLC, Eli Lilly and Company, Ferring Pharmaceuticals, Fidia Farmaceutici SPA, Flexion Therapeutics, GlaxoSmithKline PLC (GSK), Horizon Therapeutics Plc., Johnson & Johnson, Novartis International AG, Novo Nordisk A/S, Pfizer Inc., Sanofi S.A., and Zimmer Biomet Holding Inc.
Major reasons of buying this report:
Covered analysis from business as well as customer end
All data are UpToDate
Predictive analytics tools are used for estimating data
More than 50 interviews were conducted from business end
The Global Osteoarthritis Market Has Been Segmented into:
Global Osteoarthritis Market: By Type
Hip
Spinal
Knee
Wrist
Others
Global Osteoarthritis Market: By Treatment
Medication and ointments (Allopathic)
Physiotherapy
Surgery
Others (Homeopathic and Ayurvedic)
Global Osteoarthritis Market: By Diagnosis
Imaging
Joint Fluid Analysis
Global Osteoarthritis Market: By Treatment centers
Global Osteoarthritis Market: By Region
North America
Europe

U.K.
Russia
France
Italy
Germany
RoE

Asia Pacific

South Korea
Japan
China
India
Australia
RoAPAC

Latin America, Middle East and Africa (LAMEA)
Note: This table of contents is a content of a published report. As per client requirement, cross-sectional analysis across all industries or specific geography or 'country-based' analysis can be provided as a part of paid customization. Please place your queries on sales@sheeranalyticsandinsights.com or query@sheeranalyticsandinsights.com