The global patients portal market was valued at $2.4 billion in 2021 and it is expected to reach $19.8 billion at a CAGR of 20.4% between 2022 and 2032. Patient portal adoption by healthcare facilities is on the rise, which is helping the market expand. The expanding use of patient portals is also a result of rising demand for Electronic Health Records (EHR) and obligatory federal regulations. Users can utilize portals in the form of mobile or web-based applications to save or retrieve important information.
By region, North America is expected dominate the patient portal market globally in the future.
An online gateway for patients provides quick, round-the-clock access to their personal health information from any location with an Internet connection. Patients can access their health information, including recent doctor visits, discharge summaries, and medication information, by entering a secure login and password. In addition, Patient portals' functionality can vary, but generally speaking, you can safely read and print elements of your medical data, including recent doctor visits, discharge summaries, prescriptions, vaccines, allergies, and the majority of lab results, whenever and wherever you have Web access. Moreover, long phone discussions are avoided thanks to this effective method of communication, which also allows patients to ask questions in between appointments. Your clinical team will be more effective thanks to the ability of patients to schedule appointments and seek medication refills directly from the portal. This will allow them to continue assisting you with the patients who have the most urgent requirements and issues. The patient can use the patient portal to request a medication refill or a prescription renewal from any location. Through portals, patients have more opportunities to communicate with their physicians, bringing the patient-physician bond closer than before. Hence, patients' engagement and satisfaction may rise as a result of this kind of two-way communication between them and their doctors. Patients who are engaged in regular communication with their physicians are more inclined to take charge of their health.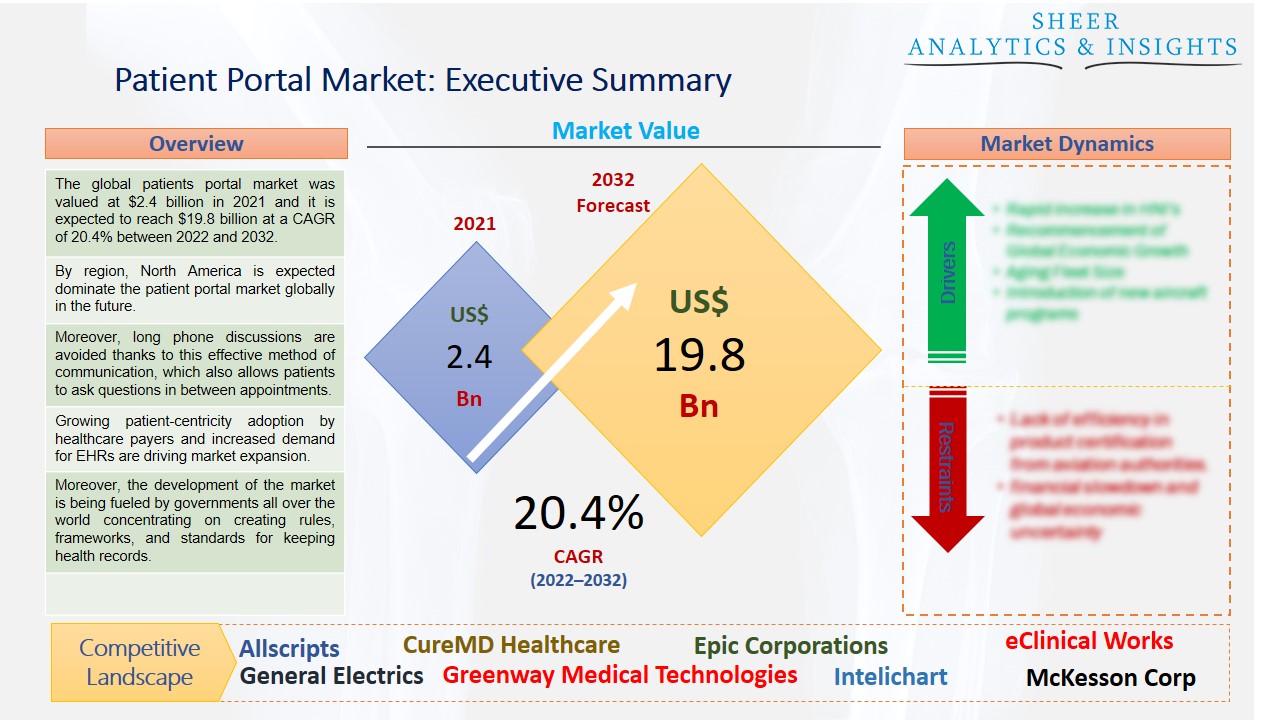 Source: SAI Research
Growing patient-centricity adoption by healthcare payers and increased demand for EHRs are driving market expansion. As the digitalization of the healthcare sector quickens, EHRs are growing in popularity. The World Health Organization (WHO) reports that national EHR systems have been deployed in more than half of upper-middle- and high-income nations. The need for patient portals is growing as the government works on numerous initiatives to digitize the healthcare sector and harmonies the laws and infrastructure for maintaining medical records.
Moreover, the development of the market is being fueled by governments all over the world concentrating on creating rules, frameworks, and standards for keeping health records. Australia's national digital health record platform, My Health Record, aims to have a health record for most residents by 2022. For the benefit of all national healthcare providers, this would make it easier to get healthcare data that has been saved on the platform. Therefore, these rising factors are estimated to drive the market with a more significant share during the forecast period from 2022 to 2032.
Based on type, the integrated portal segment has led the market with a significant share and is also anticipated to accelerate the market with more growth opportunities. An integrated patient portal works with a healthcare provider's current infrastructure, enhancing the effectiveness of healthcare organizations and facilities. A remote communication and information sharing channel for patients and healthcare professionals is an integrated patient portal. Additionally, integrated portals do away with the necessity to create a different, specially designed system to fill the gap between physician requirements and patient information. The development is also anticipated to be fueled by research projects focusing on the development of peripherals for EHRs that are already integrated. Any other healthcare IT system or current EMR/EHR can be extended to include an EMR/EHR with linked patient portals. On the other hand, the standalone segment is also anticipated to boost market growth over the forecast period. These portals are created for a specific, crucial function, such as accessing lab test results or making appointments. In comparison to integrated patient portals, the available database has simpler software architecture and requires fewer infrastructures for development.
In terms of delivery type, the web-based category has been leading the market with a significant market share. The advantages provided by this software, such as quicker implementation times, no additional hardware investment required, automated software upgrades, and inexpensive initial expenditure, can be credited with the segment's expansion. In addition, the growing use of web-based patient portals is due in part to technology advancements, increased efficiency, convenience, and affordability. However, the cloud-based portal is also expected to propel the market due to its rising demand. Interoperability is a feature of cloud-based portals that makes it simpler for computer systems or software to exchange information and combine data from different formats. Cloud-based portals offer a variety of features, including social network integration, email marketing, online appointment scheduling, and health education tools.
Based on end-user type, the providers' division is expected to dominate the market in the future. Providers of healthcare services include physicians, chiropractors, physical therapists, nurses, pharmacies, clinics, hospitals, diagnostic labs, imaging centers, and a wide range of other organizations, such as businesses that code and process claims for payment of diagnostic and therapeutic services. The Office of the National Coordinator for Health IT (ONC) reports that over 90% of hospitals allow consumers access to their medical information, with 72% of those institutions allowing users to view, download, and send their whole medical file. However, the payer segment is also estimated to become the second-fastest growing category throughout the forecast period. Governmental organizations that serve as payers include the Centers for Medicare & Medicaid Services in the United States and the National Health Service in the United Kingdom. Hence, these would help the market to gain more growth opportunities in the future.
Geographically, North America has been leading the patient portal market over the past few years and is also anticipated to hold its dominant position during the forecast period. Most of the key players are located in several nations of North America, which is a plus point for the market and also for various end-user industries. Technological advancement is increasing which is supporting various healthcare sectors. Additionally, the region's patient portal market is currently expanding due to payers and providers adopting patient portals at higher rates. The patient portal industry in this region is also driven by the growing digitization of paperwork. On the other hand, Europe is also estimated to become the second-fastest growing market in the future due to technological advancements, and opportunities created by many companies in several emerging nations across the region. Eastern European nations are predicted to have a growing demand for patient portals, and several of these nations are presently crafting laws governing access to medical records.
According to the study, key players such as Allscripts (U.S), CureMD Healthcare (U.S), Epic Corporations (India), eClinical Works (U.S), General Electrics (U.S), Greenway Medical Technologies (U.S), Intelichart (U.S), McKesson Corp (U.S), Oracle Corp (U.S), NextGen Healthcare (U.S), among others are leading the global patients portal market.
Scope of the Report:
Report Coverage
Details
Market Size in 2021

US$ 2.4 Billion

Market Volume Projection by 2032

US$ 19.8 Billion

Forecast Period 2022 to 2032 CAGR
20.4%
Base Year:

2021

Historical Data

2019, 2020 and 2021

Forecast Period

2022 to 2032

Segments covered

By Type: Integrated, Standalone & Others

By Delivery Type: Cloud-Based, Web-Based & Others

By End-User Type: Providers, Payers, Pharmacies & Others

Geographies covered

North America, Europe, Asia-Pacific, LAMEA

Companies covered
Allscripts (U.S), CureMD Healthcare (U.S), Epic Corporations (India), eClinical Works (U.S), General Electrics (U.S), Greenway Medical Technologies (U.S), Intelichart (U.S), McKesson Corp (U.S), Oracle Corp (U.S), NextGen Healthcare (U.S), among others.
The Global Patient Portal Market Has Been Segmented Into:
The Global Patient Portal Market – by Type:
Integrated
Standalone
Others
The Global Patient Portal Market – by Delivery Type:
Cloud-Based
Web-Based
Others
The Global Patient Portal Market – by End-User Type:
Providers
Payers
Pharmacies
Others
The Global Patient Portal Market – by Regions:
North America
Europe

U.K.
France
Germany
Italy
Rest of Europe

Asia Pacific

India
China
Japan
Australia
Rest of Asia Pacific

LAMEA
Middle East
Latin America
Africa

South Africa
Egypt
Others
Note: This table of contents is a content of a published report. As per client requirement, cross-sectional analysis across all industries or specific geography or 'country-based' analysis can be provided as a part of paid customization. Please place your queries on sales@sheeranalyticsandinsights.com or query@sheeranalyticsandinsights.com