The Global Pigment Dispersion Market was valued at $45.2 Billion in 2020. Growing at a high CAGR of more than 3.4% between 2021 and 2031, it is estimated to reach $65.8 Billion by 2031. However, the current pandemic of COVID-19 might make a slight difference in the growth rate in the present year. The increasing number of the packaging industry is anticipated to propel product demand over the forecast period. Polypropylene (PP), Polystyrene (PS), and Polyethylene Terephthalate (PET) are the preferred polymers in the single-service food packaging segment. Increasing the use of paper & paperboard materials, plastic, and different colorants to make attractive packaging is a significant factor in driving the market growth. Generally, Organic pigments are the substitute for some toxic inorganic pigments. Now, moving forward, the robust demand for the Global Pigment Dispersion Market in the pigment dispersion department is further estimated to create new necessities and augment the market of growth over the forecast period of 2021-2031.
Global Pigment Dispersion Segment Is Estimated to Witness Remarkable Growth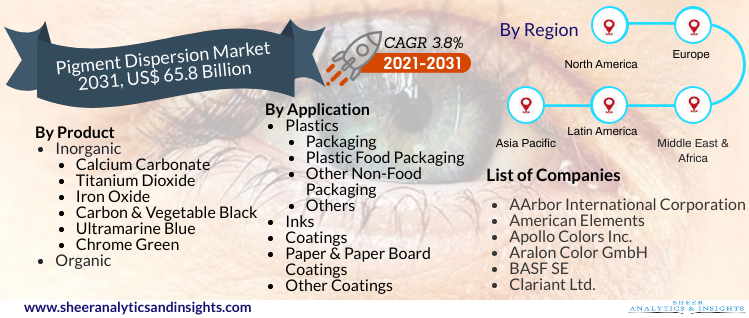 Source: SAI Research
The pigment dispersion market is segmented as product and application. Based on product, the global pigment dispersion market has been bifurcated as Inorganic, Calcium Carbonate, Titanium Dioxide, Iron Oxide, Carbon & Vegetable Black, Ultramarine Blue, Chrome Green, and Organic. Based on application, the global pigment dispersion market has been divided into Plastics, Packaging, Plastic Food Packaging, Other Non-Food Packaging, Others, Inks, Coatings, Paper & Paper Board Coatings, Other Coatings, Others, Rubber, Silicone, LSR, HTV, RTV, EPDM, Polyurethane, Others, Epoxy, Adhesives, Sealants, and Phthalate-free PVC Masterbatch.
By Region, Asia Pacific is Holding the Major Market Share
The Pigment Dispersion Market has been geographically segmented into North America, Asia Pacific, Latin America, Middle East, and Africa region. In addition to this, Asia Pacific has a significant share among those regions. The regional market comprises developing nations such as China, India, and Japan, whose development rate is faster than most of the developing countries in the world. The availability of advanced technology, experienced and skilled employees, and increasing demand for Pigment Dispersion in industrial use are the prime factors for the market growth over the region. Apart from that, North America and Europe are expected to increase the growth rate in the upcoming forecast period of 2021 to 2031.
Major Players in the Global Pigment Dispersion Market
The report covers a detailed outlook about the company, and it includes the company or industry profiles and market share of key players operating in the global market. Key players in the report include AArbor International Corporation, American Elements, Apollo Colors Inc., Aralon Color GmbH, BASF SE, Clariant Ltd., Decorative Color & Chemical, Inc., Ferro Corporation, Flint Group, Heubach GmbH, Kama Pigments, Organic Dyes and Pigments, Reitech Corporation, Sun Chemical, and Trust Chem Co., Ltd. among others.
The Global Pigment Dispersion Market Has Been Segmented into:
Global Pigment Dispersion Market: By Product
Inorganic

Calcium Carbonate
Titanium Dioxide
Iron Oxide
Carbon & Vegetable Black
Ultramarine Blue
Chrome Green

Organic
Global Pigment Dispersion Market: By Application
Plastics

Packaging
Plastic Food Packaging
Other Non-Food Packaging
Others

Inks
Coatings
Paper & Paper Board Coatings
Other Coatings
Others

Rubber
Silicone
LSR
HTV
RTV
EPDM
Polyurethane
Others
Epoxy
Adhesives
Sealants
Phthalate-free PVC Masterbatch
Global Pigment Dispersion Market: By Region
North America

USA
Canada
Mexico
Rest of North America

Europe

UK
Germany
France
Spain
Italy
Russia
Rest of Europe

Asia Pacific

India
China
Japan
South Korea
Rest of Asia Pacific

Latin America, Middle East & Africa

Brazil
South Africa
UAE
Rest of LAMEA
Note: This table of contents is a content of a published report. As per client requirement, cross-sectional analysis across all industries or specific geography or 'country-based' analysis can be provided as a part of paid customization. Please place your queries on sales@sheeranalyticsandinsights.com or query@sheeranalyticsandinsights.com