The Global Piling Machine Market was valued at $5.9 Billion in 2020. Growing at a high CAGR of more than 4.25% between 2021 and 2031, it is estimated to reach $9.4 Billion by 2031. However, the current pandemic of COVID-19 might make a slight difference in the growth rate in the present year. A piling machine is a construction device used to drive piles into the ground to provide foundational support for buildings, bridges, skyscrapers, or other structures. Every construction project has its unique features and challenges depending on the type of terrain and base soil, and there are several types of piling equipment and tools that are to be used.
However, increasing product adoption in manufacturing facilities, commercial structures, residential premises, drilling platforms, power transmission plants, wind farms, mining bases, and solar power plants will promote global piling machine market growth. Moreover, rising infrastructural development spending will raise the piling machine market revenue share, especially in developing economies. Increasing investments for construction or infrastructure development are expected to accelerate the demand for piling machines during the forecast period. Now, moving forward, the robust demand for the Global Piling Machine Market in the infrastructure department is further estimated to create new necessities and augment the market of growth over the forecast period of 2021-2031.
Global Piling Machine Segment Is Estimated to Witness Remarkable Growth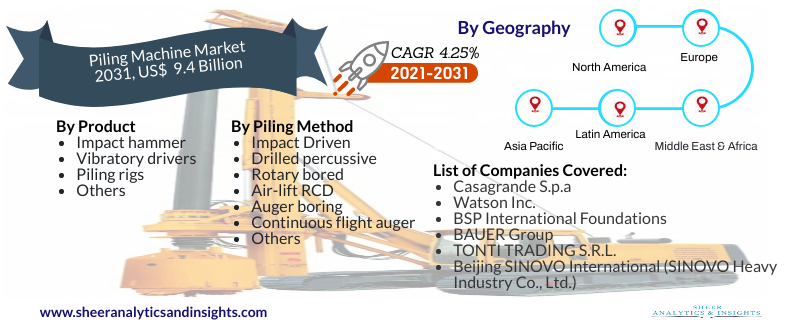 Source: SAI Research
The Piling Machine market is segmented as product and pilling method. Based on Product, the global Piling Machine market has been bifurcated as Impact hammer, Vibratory drivers, Piling rigs, and others. Based on Piling Method, the global Piling Machine market has been divided into Impact Driven, Drilled percussive, Rotary bored, Air-lift RCD, Auger boring, Continuous flight auger, and others.
By Region, Asia Pacific is Holding the Major Market Share
The Piling Machine Market has been geographically segmented into North America, Asia Pacific, Latin America, Middle East, and Africa region. In addition to this, Asia Pacific has a significant share among those regions. The regional market comprises developing nations such as China, India, and Japan, whose development rate is faster than most of the developing countries in the world. The availability of advanced technology, experienced and skilled employees and increasing demand Infrastructure are the prime factors for the market growth over the region. Apart from that, favorable rules and regulations, massive investment in the construction sector and other potential factors are drive market growth. Apart from that, North America and the Rest of the regions are expected to increase the growth rate in the upcoming forecast period of 2021 to 2031.
Major Players in the Global Piling Machine Market
The report covers a detailed outlook about the company, and it includes the company or industry profiles and market share of key players operating in the global market. Key players in the report include Casagrande S.P.A., Watson Inc., BSP International Foundations, BAUER Group, TONTI TRADING S.R.L., Beijing SINOVO International (SINOVO Heavy Industry Co., Ltd), Soilmec S.p.A., International Construction Equipment, Liebherr, Junttan Oy, DELMAG GmbH & Co. KG, Changsha Tianwei Engineering Machinery Manufacturing Co., Ltd., MAIT S.p.A., Tescar, and Atlas Copco among others.
The Global Piling Machine Market Has Been Segmented into:
Global Piling Machine Market: By Product
Impact hammer
Vibratory drivers
Piling rigs
Others
Global Piling Machine Market: By Piling Method
Impact Driven
Drilled percussive
Rotary bored
Air-lift RCD
Auger boring
Continuous flight auger
Others
Global Piling Machine Market: By Region
North America

USA
Canada
Mexico
Rest of North America

Europe

UK
Germany
France
Spain
Italy
Russia
Rest of Europe

Asia Pacific

India
China
Japan
South Korea
Rest of Asia Pacific

Latin America, Middle East & Africa

Brazil
South Africa
UAE
Rest of LAMEA
Note: This table of contents is a content of a published report. As per client requirement, cross-sectional analysis across all industries or specific geography or 'country-based' analysis can be provided as a part of paid customization. Please place your queries on sales@sheeranalyticsandinsights.com or query@sheeranalyticsandinsights.com