The global pine-derived chemicals market was valued at $5.12 billion in 2021 and it is expected to reach $8.4 billion at a CAGR of 4.50% between 2022 and 2032. Pine-derived chemicals are extracted from living pine trees. These are natural and eco-friendly too. Their usage helps in reducing emissions of carbon dioxide gas as opposed to those from conventional resources. At present days, the adoption of pine chemicals is increasing over the past few decades due to the heavy demand in chemical industries. Therefore, the rising demand for eco-friendly pine-derived chemicals is expected to drive the market during the forecast period.
By region, North America holds the largest growth of the global pine derived chemicals market.
Indeed, pine trees are not available in every corner of the globe. It can be found in several regions such as North America, some of the European regions, Latin America, and the Asia-Pacific region. Government regulations act in several countries imposed some restrictions which banned cutting of such trees in various places. Therefore, the growth of pine derived chemicals market is decreasing in such regions due to governmental rules. However, the usage of pine-derived chemicals almost touched every aspect of our lives. For instance, it is widely used in the manufacturing industries of perfumes, cosmetics, printing, oil, and food product industries. It is also used for producing flavors in soft drinks, medicines, and other things too. Along with these, the pine-derived chemical is used in the automobile industry for producing tires. Therefore, these main factors are driving the pine-derived chemical market across the globe.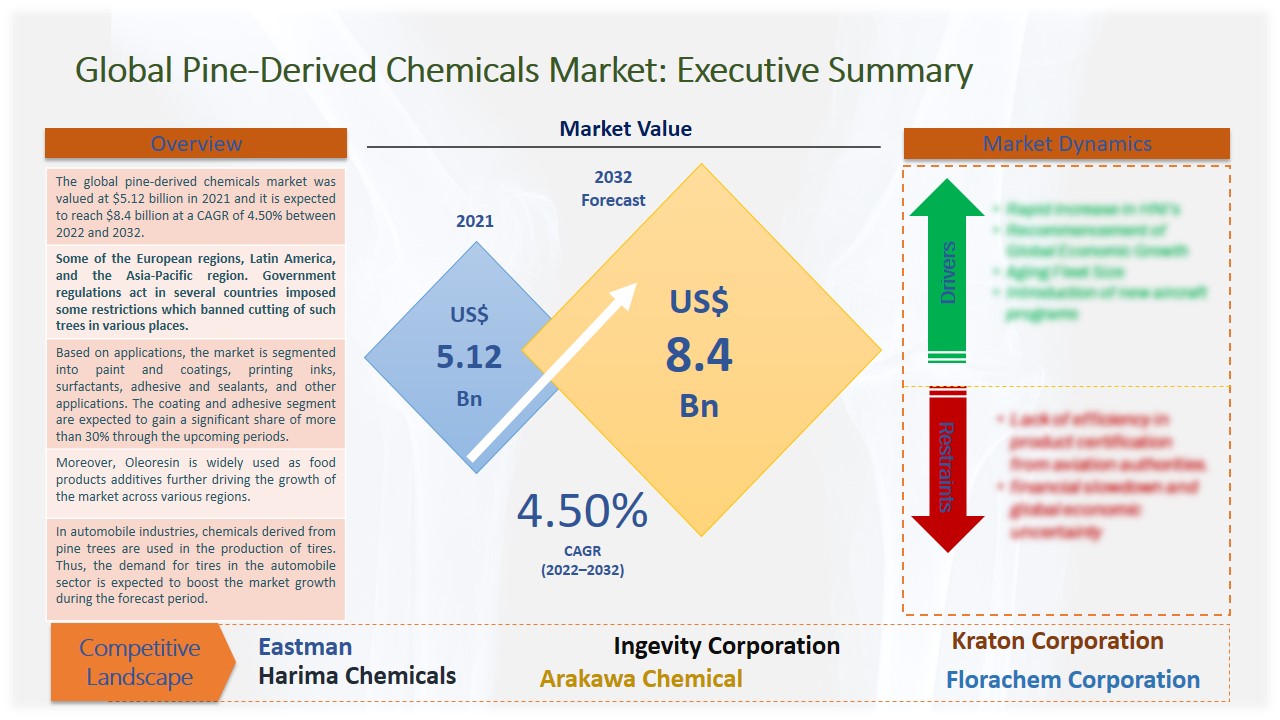 Source: SAI Research
Based on applications, the market is segmented into paint and coatings, printing inks, surfactants, adhesive and sealants, and other applications. The coating and adhesive segment are expected to gain a significant share of more than 30% through the upcoming periods. Moreover, other chemicals such as tall oil rosin and tall oil fatty acids are derived from living pine trees which are used for producing coating and adhesive solutions safely and sustainably. Furthermore, these are used in manufacturing industries of cleaning products, paper making, printing, and publishing industries. In modern days, several manufacturing companies are using these chemicals more safely. They are using chemicals which are being derived from pine chemicals obtained in liquid-reducible formulations. After North America, Europe emerged as the second-largest market across the globe.
The rise in the industrial demand for turpentine chemicals is one of the major factors driving the market. Moreover, Oleoresin is widely used as food products additives further driving the growth of the market across various regions. Comprehensive use of pine-derived chemicals is used in producing medicines and pharmaceuticals are one of the major key drivers for commercial application areas in the global pine-derived chemical market. Additionally, the increasing popularity of synthetic pine oil has driven the growth of pine derived chemical market across the globe. In automobile industries, chemicals derived from pine trees are used in the production of tires. Thus, the demand for tires in the automobile sector is expected to boost the market growth during the forecast period.
Key players such as Eastman Chemical Company (U.S), Ingevity Corporation (U.S), Kraton Corporation (U.S), Harima Chemicals Group (Japan), Arakawa Chemical Industries Limited (Japan), Mentha and Allied Production Private Limited (India), George-Pacific Chemicals (U.S), Florachem Corporation (U.S) and other companies are leading the pine-derived chemical market across the globe. The market is mainly dominated by large-sized players and the presence of larger key players has made the market very competitive.
Scope of the Report:
Report Coverage

Details

Base Year:

2021

Market Size in 2021:

US$ 5.12 Billion

Historical Data for:

2019, 2020 and 2021

Forecast Period:

2022 to 2032

Forecast Period 2022 to 2032 CAGR:

4.50%

2032 Value Projection:

US$ 8.4 Billion

Segments covered:

By Type: Tall Oil Rosin, Tall Oil Fatty Acid (TOFA), Gum Rosin, Sterols, Pitch & Others.

By Source: Living Pine Trees, Dead Pine Logs and Stumps & Others.

By Procedure: Tapping Process, Kraft Process.

By Applications: Paint and Coatings, Printing Inks, Surfactants, Adhesives and Sealants & Other

Geographies covered:

North America: U.S., Canada, Mexico

Europe: Germany, France, Italy, U.K., Russia, Rest of Europe Countries

Asia-Pacific: India, China, Japan, South Korea, North Korea, Rest of Asian Countries

LAMEA: Brazil, Saudi Arabia, Rest of LAMEA

Companies covered:

Eastman Chemical Company (U.S), Ingevity Corporation (U.S), Kraton Corporation (U.S), Harima Chemicals Group (Japan), Arakawa Chemical Industries Limited (Japan), Mentha and Allied Production Private Limited (India), George-Pacific Chemicals (U.S), Florachem Corporation (U.S) and other
The Pine-Derived Chemicals Market Has Been Segmented Into:
The Pine-Derived Chemicals Market – by Type:
Tall Oil Rosin
Tall Oil Fatty Acid (TOFA)
Gum Rosin
Sterols
Pitch
And Other Types
The Pine-Derived Chemicals Market – by Source:
Living Pine Trees
Dead Pine Logs and Stumps
Other Sources
The Pine-Derived Chemicals Market – by Procedure :
Tapping Process
Kraft Process
The Pine-Derived Chemicals Market – by Applications:
Paint and Coatings
Printing Inks
Surfactants
Adhesives and Sealants
Other Applications
The Pine-Derived Chemicals Market – by Regions:
North America
Europe
Germany
France
Italy
U.K.
Russia
Rest of Europe Countries
Asia-Pacific
India
China
Japan
South Korea
North Korea
Rest of Asian Countries
LAMEA
Brazil
Saudi Arabia
Rest of LAMEA
Note: This table of contents is a content of a published report. As per client requirement, cross-sectional analysis across all industries or specific geography or 'country-based' analysis can be provided as a part of paid customization. Please place your queries on sales@sheeranalyticsandinsights.com or query@sheeranalyticsandinsights.com