The global piston pumps market was valued at $10.2 billion in 2021 and it is expected to reach $14.5 billion at a CAGR of 3.1% between 2022 and 2032. There are several types of piston pumps. These are available across the global market. Various end-user industries are adopting piston pumps to get multiple benefits. Key players are focusing on establishing mergers. Moreover, they are also trying to acquire other manufacturing companies as well. These factors are estimated to fuel the growth of the market during the forecast period.
By region, North America has led the global piston pumps market over the past few years with significant share.
Piston usually moves back and forth inside the hydraulic pump's cylinders. These pumps are usually used to move viscous fluids such as slurries, paint, and chocolate. The usage of piston pumps makes them suitable for pressure washing, abrasive blasting, bonding, chemical dosing, potting, and paint spraying. Hence, these major factors are expected to drive the growth of global piston pumps throughout the forecast period. Demand for piston pumps are increasing in several end-user industries such as oil and gas, food and beverages, hydraulic industry, automobile and electronic industries, among others. Piston pumps are also utilized in industries such as processing equipment industrial work, water and oil hydraulics. These rising demand is propelling the growth of the piston pumps market.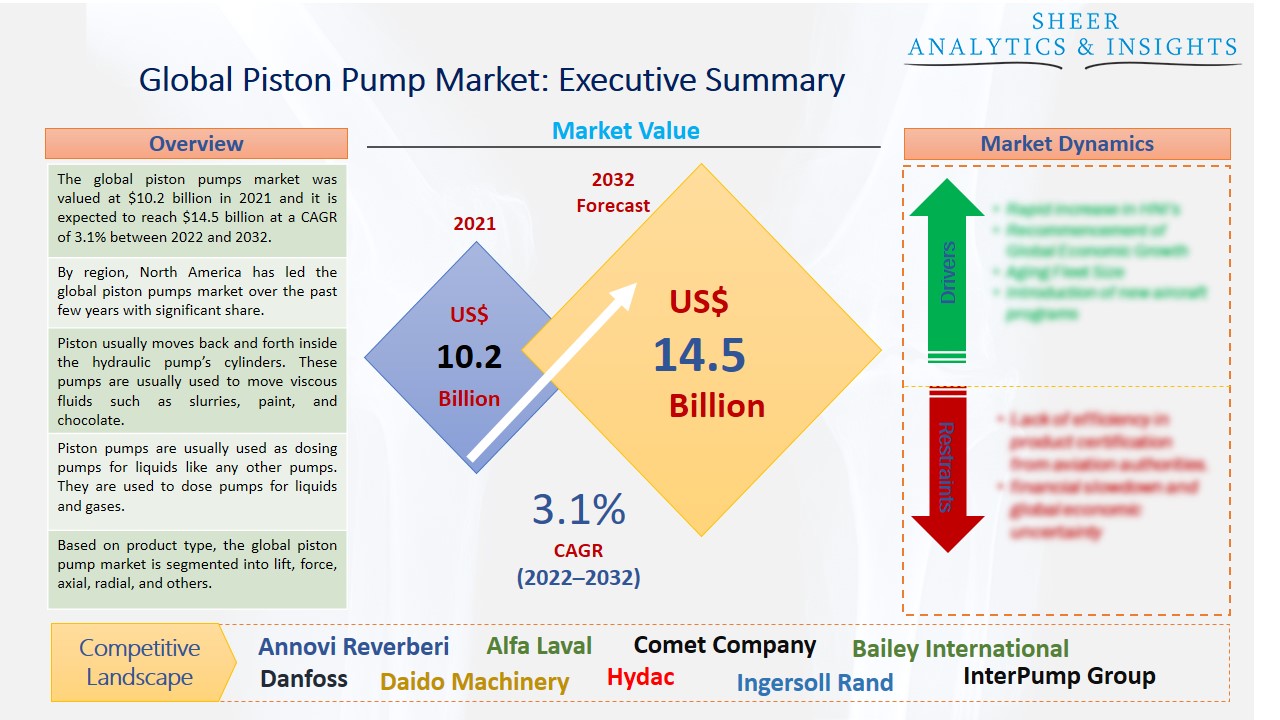 Source: SAI Research
There are several key players which are using new business strategies such as merger and acquisitions. This would help them gain more growth opportunities as well as hold a strong position in the competitive market. Advanced technologies are another major factor which is driving the market. Manufacturing companies are adopting modern technologies to produce and launch innovative piston pumps products. This would help multiple end-user industries with new features and more advanced functionalities. For example, in 2022, PumpMan has acquired ransom pump and supply which would serve commercial, industrial, municipal, agriculture, and multi-unit residential pump system in the U.S country. In 2021, Danfoss and Eaton Hydraulics altogether agreed to make merger, which would provide various solutions related to piston pumps and its innovative production and supply. These merger and acquisitions are estimated to drive the growth of the piston pumps market during the upcoming years across the globe.
Piston pumps are usually used as dosing pumps for liquids like any other pumps. They are used to dose pumps for liquids and gases. These are also suitable for the economical dosing of non-critical liquids. Standard piston pump models have a piston and feature a technically simple design. These are robust and frequently work for several decades without having to be replaced. Moreover, piston pumps are universally applicable and these are good for performing particular tasks. In addition, these pumps are popular for their self-priming capability and high efficiency. In addition, piston pumps are very much capable of operating for long uninterrupted periods with high fuel efficiency and low maintenance. Its pulsating vacuum stops WellPoint clogging and achieves priming from greater depths. These primary advantages are helping multiple industries across the globe. Such major factors are expected to drive the growth of the piston pumps market during the forecast period from 2022 to 2032.
Based on product type, the global piston pump market is segmented into lift, force, axial, radial, and others. Lift and force pumps segment hold the largest share of the market and is anticipated to lead it during the forecast period due to its increasing usage in various end-user industries across the globe. Both types of pumps are usually operated either by hand or by an engine. The lift pump operates with an upstroke of the piston drawing water into the lower part of the cylinder from the inlet valve. Force pumps can operate over a wide range of pressures. The high-pressure operation can be achieved without adversely affecting the flow rate. It can also be dealt with multiple media containing solid particles. On the other hand, radial piston pump is another segment which would also accelerate the market due to its high efficiency, high pressure up to 1000 bar or 14000 psi. This type of pump has low noise level which is another benefit for some industries.
In terms of material, the global piston pump market is segmented into cast iron, plastic, stainless steel, and others. The steel and stainless steel segment is accounted for the largest share of the market during the forecast period. These stainless steel alloys protect against chemical and rust corrosion. These have higher tensile strengths than plastics, which corresponds to higher pressure ratings. Other materials used in pump construction include aluminum. Rotary piston pumps are the most popular design among others. It uses a rotating shaft of the wheel to drive the piston. This pump is usually used in industries such as vacuum degassing, evacuation, metal drying, aerospace, and vacuum impregnation, among others. Due to this increasing demand the segment is also estimated to boost the market in the future.
By the end-user industry, the market is categorized into hydraulic systems, and industrial processing equipment, oil and gas, food and beverage, and others. Among these, the hydraulic piston pump category is accounted for the largest share of the market due to its increasing usage for wide range of pressure, and its force which can be managed without moving flow rate. Therefore, the hydraulic piston segment is projected to lead the market growth during the forecast period. Besides this, oil and gas industry is also adopting the piston pumps due to its usage as multiphase pumping application, that also worked as a water and oil separator.
Geographically, the global piston pump market is categorized into North America, Europe, Asia-Pacific, Latin America, and Africa. Among these, North America holds the largest share of the market and is anticipated to hold its dominant position during the forecast period. Due to rapid industrialization and rising manufacturing sectors, the regions are projected to gain more significant growth opportunities. Most of the key players are situated in this region and they are getting support from their governments with investments. These investments are associated with R&D activities. In North American countries, manufacturing industries are anticipated to increase during the upcoming years with their government efforts. On the other hand, market of Asia-Pacific region is also expected to increase due to increasing usage of piston pumps for multiple industrial purposes. Hence, this would help the region to gain more growth opportunities in the future.
According to the study, key players such as Annovi Reverberi (Italy), Alfa Laval (Sweden), Comet Company (U.K), Bailey International (U.S), Danfoss (Denmark), Daido Machinery Corporation (Japan), Hydac (Germany), Ingersoll Rand (U.S), InterPump Group (Italy), Daikin (Japan), FlowServe (U.S), Kawasaki Heavy Industries (Japan), Rober Bosch Stiftung GmbH (Germany), Moog Inc (U.S), Nikkiso Co Ltd (Japan), Parker Hannifin (U.S), PSM-Hydraulics (Russia), Sulzer (Switzerland), TechnipFMC (U.S), WeiChai Power (China), among others are leading the global piston pumps market.
Scope of the Report:
Report Coverage
Details
Market Size in 2021

US$ 10.2 Billion

Market Volume Projection by 2032

US$ 14.5 Billion

Forecast Period 2022 to 2032 CAGR
3.1%
Base Year:

2021

Historical Data

2019, 2020 and 2021

Forecast Period

2022 to 2032

Segments covered

By Product Type: Liftm, Force, Axial, Radical & Others

By Material Type: Cast Iron, Plastic, Stainless Steel & Others

By End-User Industry: Hydraulic Systems, Industrial Processing Equipment, Oil and Gas, Food and Beverage & Others

Geographies covered

North America, Europe, Asia-Pacific, Latin America, Middle East & Africa

Companies covered
Annovi Reverberi (Italy), Alfa Laval (Sweden), Comet Company (U.K), Bailey International (U.S), Danfoss (Denmark), Daido Machinery Corporation (Japan), Hydac (Germany), Ingersoll Rand (U.S), InterPump Group (Italy), Daikin (Japan), FlowServe (U.S), Kawasaki Heavy Industries (Japan), Rober Bosch Stiftung GmbH (Germany), Moog Inc (U.S), Nikkiso Co Ltd (Japan), Parker Hannifin (U.S), PSM-Hydraulics (Russia), Sulzer (Switzerland), TechnipFMC (U.S), WeiChai Power (China) & Others
The Global Piston Pumps Market Has Been Segmented Into:
The Global Piston Pumps Market – by Product Type:
Lift
Force
Axial
Radical
Others
The Global Piston Pumps Market – by Material Type:
Cast Iron
Plastic
Stainless Steel
Others
The Global Piston Pumps Market – by End-User Industry:
Hydraulic Systems
Industrial Processing Equipment
Oil and Gas
Food and Beverage
Others
The Global Piston Pumps Market – by Regions:
North America
Europe

U.K.
France
Germany
Italy
Rest of Europe

Asia Pacific

India
China
Japan
Australia
Rest of Asia Pacific

LAMEA
Middle East
Latin America
Africa

South Africa
Egypt
Others
Note: This table of contents is a content of a published report. As per client requirement, cross-sectional analysis across all industries or specific geography or 'country-based' analysis can be provided as a part of paid customization. Please place your queries on sales@sheeranalyticsandinsights.com or query@sheeranalyticsandinsights.com