The global plasticizers market was valued at $14.9 billion in 2021 and it is expected to reach $26.1 billion at a CAGR of 5.1% between 2022 and 2032. Demand for plasticizers is growing in several end-user applications such as flooring and walling, electronic wires, packaging, and more. This rising demand is expected to drive the growth of the market during the forecast period.
By region, Asia-Pacific has led the global plasticizers market with significant growth over the past few years.
A plasticizer is a kind of substance. This is used to make some materials softer and more flexible. Later, it increases the product's plasticity while decreasing its viscosity. Most plasticizers are chemical structures, polar or non-polar. For instance, phthalates, phosphates, carboxylic acid esters, and polymeric polyesters, among others are very popular. There are mainly three types of plasticizers which are phthalates, benzoates, and adipates. Various industries adopt plasticizers based on their benefits and they choose the right plasticizers from their chemical classes. Due to these major factors, the plasticizer market is projected to witness growth opportunities over the upcoming periods across the globe.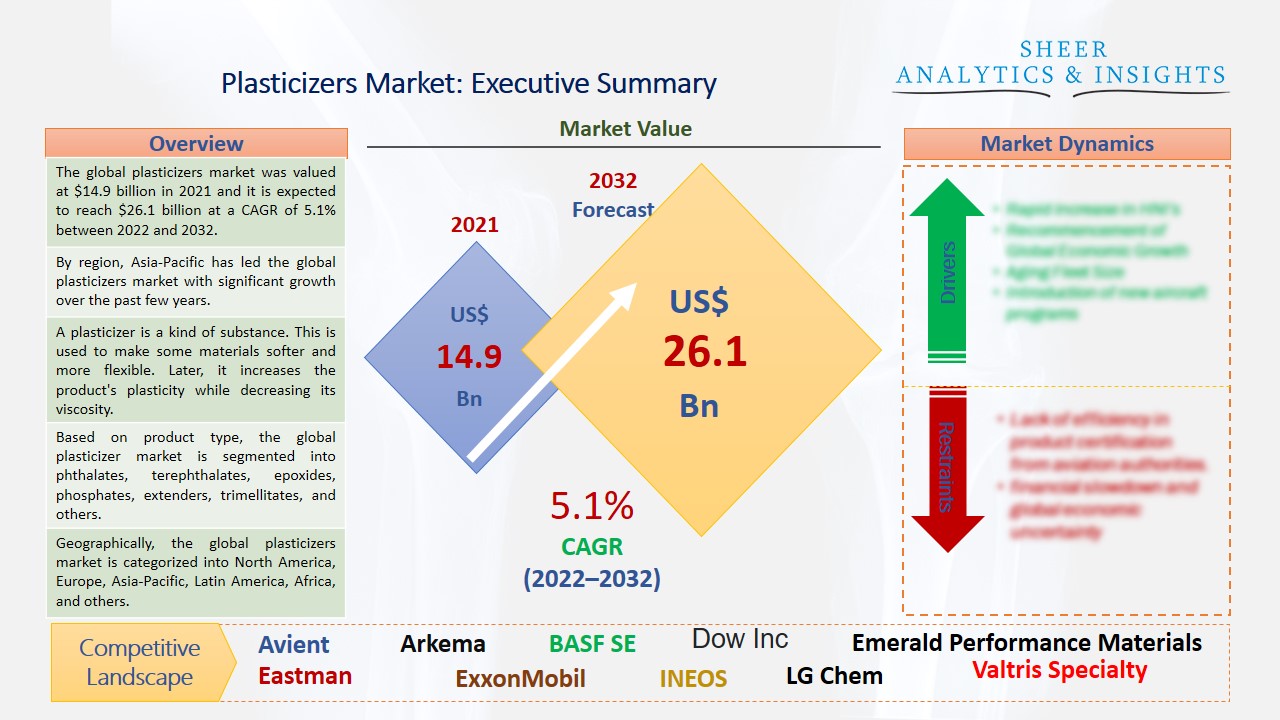 Source: SAI Research
Download Free PDF Sample Request
Plasticizers are widely used for their nature to make compaction easy without the use of vibrators. In addition, it improves flow ability and good adhesion to the surface. By using this, products could be concrete with high density. It could also reduce the moisture content in concrete while prevents from cracking. These benefits are estimated to increase the growth opportunities for the market. There is another kind of plasticizer which is called superplasticizers. This is more likely known as a high range of water or liquid reducers. These are mainly used to produce high-strength concrete. However, the demand for flexible polyvinyl chloride is rising across a large number of end-user industries, and this demand would accelerate growth of the plasticizers market in several countries and work as a large contribution to the global market.
Governments from multiple nations are imposing strict regulations on utilizing plasticizer materials. Due to this, several key players from those nations are limiting the growth of the plasticizers market. However, phthalate plasticizers are mostly used in many industries due to their low-cost price. According to governmental rules, some key players are focusing on adopting non-phthalates which is friendlier to human and less harmful to the environment. However, this kind of plasticizer is high in cost which is an expensive raw material for some of the key players who cannot afford it.
Moreover, some key players from various developed nations are trying to implement business strategies that would be beneficial for them to stay in the competitive market. Mergers and acquisitions are one of the primary strategies through which key players are producing innovative products and targeting to hold a strong position in the competitive market.
Based on product type, the global plasticizer market is segmented into phthalates, terephthalates, epoxides, phosphates, extenders, trimellitates, and others. The phthalates segment holds the largest share of the market and is anticipated to drive market growth during the forecast period due to its increasing demand in most industries. These are used for their low-temperature performance, flexibility, heat, resistance, and electrical resistivity. In addition, there are two types of plasticizers such as non-phthalates and phthalates. Among these, the non-phthalates plasticizers segment is accounted for the largest share of the market.
In terms of application, the market is segmented into film and sheet covering, wire and cable, coated fabrics, consumer goods, flooring, and wall, among others. The film and sheet category accounted for the largest share of the market and is anticipated to accelerate the market with significant growth. In the packaging industry, film and sheets are widely used in making packaging material. Many manufacturing companies from various countries are adopting film and sheet applications for this purpose. Moreover, the food and beverage industry is also adopting film and sheet applications, and due to this rising demand, the segment is expected to propel market growth in the future. In several countries, health and hygiene are primary factors for their government, which is helping this segment to grow. However, the wires and cables category has dominated the plasticizers market and is anticipated to hold its dominant position in the future, due to the growing trend of electronic devices and gadgets.
Geographically, the global plasticizers market is categorized into North America, Europe, Asia-Pacific, Latin America, Africa, and others. Among these, the Asia-Pacific region holds the largest share of the market and is anticipated to hold its dominant position during the forecast period. Most of the key players are located in this region; therefore, this is a plus point for Asia-Pacific. Countries such as India, China, South Korea, Japan, Australia, and others hold a large industry of plasticizers which is growing extensively. Furthermore, rapid industrialization of the toy maker, package maker, and growth of the automotive industry is expected to boost the market growth during the forecast period. Moreover, several manufacturing industries are adopting plasticizers for flooring and wall, coverings, wire and cable, consumer goods, and others. On the other hand, North America is estimated to become the second-largest market across the globe. In this region, the U.S holds a large number of industrial growths due to the rising demand for plasticizers. The electronic and textile sectors are also driving the growth of the market due to the increasing usage of plasticizers. Both U.S and Canada provide an excellent service for the plasticizers market in North America.
According to the study, key players such as Avient Corporation (U.S), Arkema (France), BASF SE (Germany), DL Holdings (South Korea), Dow Inc (U.S), Emerald Performance Materials (U.S), Eastman Chemical Company (U.S), ExxonMobil (U.S), INEOS Limited (U.K), LG Corp (South Korea), Nan Ya Plastics (Taiwan), OQ (Oman), Roquette Frères (France), RAG-Stiftung (Germany), Solvay S.A (Belgium), UPC Technology Corp. (Taiwan), Valtris Specialty Chemicals Inc (U.S), among others are leading the global plasticizers market.
Scope of the Report:
Report Coverage
Details
Market Size in 2021

US$ 14.9 Billion

Market Volume Projection by 2032

US$ 26.1 Billion

Forecast Period 2022 to 2032 CAGR
5.1%
Base Year:

2021

Historical Data

2019, 2020 and 2021

Forecast Period

2022 to 2032

Segments covered

By Product Type: Phthalates, Terephthalates, Epoxides, Phosphates, Extenders, Trimellitates & Others

By Application Type: Film and Sheet Coverings, Wires and Cables, Coated Fabrics, Consumer Goods, Flooring and Wall & Others

Geographies covered

North America, Europe , Asia-Pacific , LAMEA

Companies covered
Avient Corporation (U.S), Arkema (France), BASF SE (Germany), DL Holdings (South Korea), Dow Inc (U.S), Emerald Performance Materials (U.S), Eastman Chemical Company (U.S), ExxonMobil (U.S), INEOS Limited (U.K), LG Corp (South Korea), among others
The Global Plasticizers Market Has Been Segmented Into:
The Global Plasticizers Market – by Product Type:
Phthalates
Terephthalates
Epoxides
Phosphates
Extenders
Trimellitates
Others
The Global Plasticizers Market – by Application Type:
Film and Sheet Coverings
Wires and Cables
Coated Fabrics
Consumer Goods
Flooring and Wall
Others
The Global Plasticizers Market – by Regions:
North America
Europe
Germany
France
Italy
U.K.
Russia
Rest of Europe Countries
Asia-Pacific
India
China
Japan
South Korea
North Korea
Rest of Asian Countries
LAMEA
Brazil
Saudi Arabia
Rest of LAMEA
Note: This table of contents is a content of a published report. As per client requirement, cross-sectional analysis across all industries or specific geography or 'country-based' analysis can be provided as a part of paid customization. Please place your queries on sales@sheeranalyticsandinsights.com or query@sheeranalyticsandinsights.com