The Global Polyol Sweeteners Market was $3.9 Bn in 2020, and it is expected to reach $9.8 Bn by 2030. It is eventually growing at a commendable high compound annual growth rate CAGR of 9.7% between 2020-2030. The Polyols are a group of low digestible carbohydrates. However, they have a similar structure as sugar, and they have unique functional benefits. The growing consumption of bio-based products over the globe is boosting the polyol market growth. Moreover, it is used as a humectant, bulking agent, binder, and chemical reactant in the textile, tobacco, and paper industries. Increasing consumer demand for healthier and low-calorie food products is expected to drive market growth during the forecast period. Now, moving forward, the robust demand for the Global Polyol Sweeteners Market in the food beverages department is further estimated to create new necessities and augment the market of growth over the forecast period of 2020-2030.
Market Insights
Increasing usage of alternative sweeteners due to increased health concerns towards diabetes is helping the market to grow. Also, in past few years, diet conscious population has increased and this change in lifestyle is expected to help the market to grow at commendable rate. North America is the major user of all these sweeteners in 2019. By the end of forecast period Asia Pacific is expected to be dominating the market.Global Polyol Sweeteners Segment Is Estimated to Witness Remarkable Growth
Global Polyol Sweeteners Market Segment Is Estimated To Witness Remarkable Growth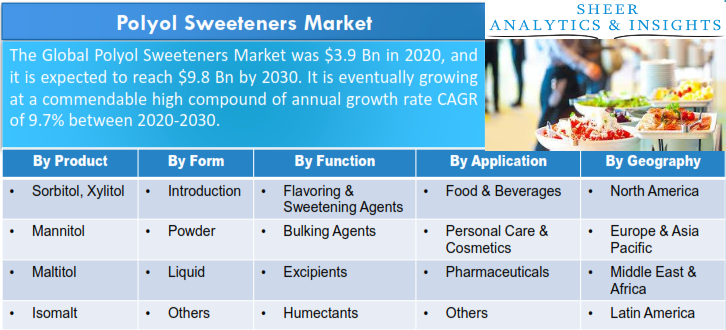 Source: SAI Research
The Polyol Sweeteners market is segmented as product type, form, function, and application. By Product Type, the global Polyol Sweeteners market has been bifurcated as Sorbitol, Xylitol, Mannitol, Maltitol, Isomalt, and Others. By Form, the global Polyol Sweeteners market is divided into Powder and Liquid. By Function, the global Polyol Sweeteners market has segmented as Flavoring & Sweetening Agents, Bulking Agents, Excipients, Humectants, and Others. By Application, the global Polyol Sweeteners market has been bifurcated as Food & Beverages, Personal Care & Cosmetics, Pharmaceuticals, and Others.
By Region, Europe is Holding the Major Market Share
The Polyol Sweeteners Market has been geographically segmented into North America, Asia Pacific, Latin America, Middle East, and Africa region. In addition to this, Europe has a significant share among those regions. Increasing demand for sugar substitutes is propelling the market growth in this region. Apart from that, favorable rules and regulations and growing investment in the food and beverage sectors are boosting the market growth. Increasing demand for natural ingredients and rapidly expanding the personal care industry in France, Italy, and Germany are boosting the market growth. Apart from that, North America, Asia Pacific, and the Rest of the regions are expected to increase the growth rate in the upcoming forecast period of 2020 to 2030.
Major Players in the Global Polyol Sweeteners Market
The report covers a detailed outlook about the company, and it includes the company or industry profiles and market share of key players operating in the global market. Key players in the report include Tereos, HYET Sweet, Jungbunzlauer Suisse AG, DFI Corp., Sukhjit Starch & Chemicals Ltd., Zhejiang Huakang Pharmaceutical Co., Ltd., Shandong Futaste Co., Dancheng Caixin Sugar Industry Co. Ltd., Shijiazhuang Huaxu Pharmaceutical Co., Ltd., DuPont, zuChem, Zibo Shunda Biotech Co., Ltd., Hylen Co., Ltd., Beneo, and Foodchem International Corp. among others.
The Global Polyol Sweeteners Market Has Been Segmented into:
Global Polyol Sweeteners Market: By Product Type
Sorbitol
Xylitol
Mannitol
Maltitol
Isomalt
Others
Global Polyol Sweeteners Market: By Form
Global Polyol Sweeteners Market: By Function
Flavoring & Sweetening Agents
Bulking Agents
Excipients
Humectants
Others
Global Polyol Sweeteners Market: By Application
Food & Beverages
Personal Care & Cosmetics
Pharmaceuticals
Others
Global Polyol Sweeteners Market: By Region
North America

USA
Canada
Mexico
Rest of North America

Europe

UK
Germany
France
Spain
Italy
Russia
Rest of Europe

Asia Pacific

India
China
Japan
South Korea
Rest of Asia Pacific

Latin America, Middle East & Africa

Brazil
South Africa
UAE
Rest of LAMEA
Note: This table of contents is a content of a published report. As per client requirement, cross-sectional analysis across all industries or specific geography or 'country-based' analysis can be provided as a part of paid customization. Please place your queries on sales@sheeranalyticsandinsights.com or query@sheeranalyticsandinsights.com