The global preclinical imaging market was valued at $0.87 billion in 2021 and it is expected to reach $1.67 billion at a CAGR of 5.9% between 2022 and 2032. The market is expanding primarily as a result of an increase in investments and financing for R&D as well as the rapid pace of technological improvements that have led to the creation of hybrid imaging systems.
By region, Asia-Pacific held largest share of the global preclinical imaging market over the past few years.
Preclinical imaging is essential for drug discovery, phenotyping, and gaining a fundamental understanding of disease mechanisms. It is difficult to adapt imaging techniques from humans to small animals. The visualization of living animals for research purposes, such as medication development, is known as preclinical imaging. To observe changes in animals responding to physiological or environmental changes at the organ, tissue, cell, or molecular level, imaging methods have long been essential to researchers. The ultimate objectives of preclinical research are to define all toxicities associated with a drug to predict adverse events in humans and to precisely simulate in animals the desired biological activity of a drug to predict treatment outcomes in patients. Several benefits are expected to drive the market in the future. High-resolution in vivo imaging technologies have opened up new possibilities for researching the disease in real-time, quantitatively, at the molecular level, as well as for routinely and non-invasively tracking disease progression or therapeutic response. These rising factors are expected to accelerate market growth in the upcoming years.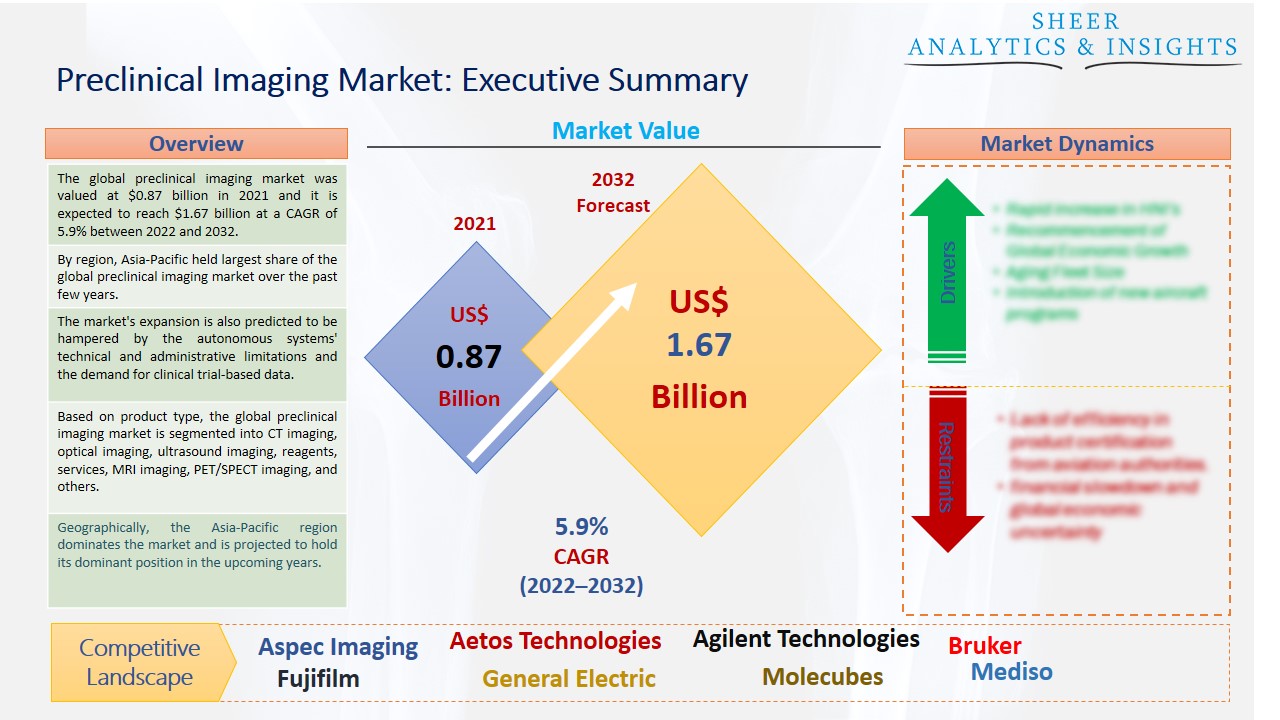 Source: SAI Research
Additionally, as there are more Clinical Research Organizations (CROs) and pharmaceutical firms, in-vivo imaging systems are being used more frequently in preclinical research, which is predicted to further fuel the market's expansion for preclinical imaging. As an illustration, the USF Health Morsani College of Medicine will install new 7T-3T MR/PET and PET-CT systems by MR solutions in July 2020 to create their first thorough preclinical imaging suite. On the other side, the primary barriers to the market's expansion are the limitations on animal testing imposed by laws that are enforced by groups that defend animal rights. As a result, alternative approaches including in-vitro testing, micro-dosing, computer-based models, virtual drug testing, and the creation of computerized databases for testing are being used by more and more people. Furthermore, the development of technologically sophisticated technologies, prospects for expansion in emerging markets, and increasing demand for noninvasive small-animal imaging techniques are the primary drivers of the global preclinical imaging market. Hence, these would create growth opportunities for the preclinical imaging market across the globe.
The market's expansion is also predicted to be hampered by the autonomous systems' technical and administrative limitations and the demand for clinical trial-based data. The overall expansion of the sector will also be constrained by restrictions on animal experimentation imposed by animal rights groups. In-vivo imaging systems are being adopted by an increasing number of Clinical Research Organizations (CROs) and pharmaceutical companies for use in preclinical research, which is also anticipated to hasten the growth of the preclinical imaging market. The market growth is anticipated to be somewhat constrained by high installation costs, high operating expenses, procedural restrictions on animal testing with autonomous systems, and the need for clinical trial-based data. However, some restraints such as high costs of products and stringent regulations are anticipated to hamper the market in several under-developing nations.
Based on product type, the global preclinical imaging market is segmented into CT imaging, optical imaging, ultrasound imaging, reagents, services, MRI imaging, PET/SPECT imaging, and others. The optical imaging segment holds the largest share of the market and is anticipated to boost the market growth in the upcoming years. This is due to their widespread use in studies to identify novel drugs and image small animals. During the projected period, the multi-modal imaging devices segment is expected to register a considerable growth rate. In addition, optical imaging uses non-ionizing radiation, such as visible, ultraviolet, and infrared light, to considerably limit the amount of hazardous radiation that patients are exposed to. On the other hand, the reagents segment is also estimated to hold a larger share of the market in the future due to its increasing demand. Thus, unlike imaging devices, these goods are frequently purchased. The range of uses for these gadgets is expanding as a result of the continuous pace of technical development.
In terms of application type, the market is categorized into research and development, and drug discovery. The research and development category has accelerated the market growth over the past few years. Various governments and organizations have been focusing on investing more in the preclinical imaging market with the help of R&D activities. Businesses engage in research and development when they want to produce new items or find ways to enhance their current offerings. Larger businesses might have their in-house research and development group that will evaluate and improve items or procedures before use in the marketplace.
By the end-user, the hospital segment holds the maximum share of the market and is expected to propel the market growth during the forecast period due to the increasing number of cases of several diseases among a large number of patients. During the projected period, the market is anticipated to rise strongly due to government funding for research and development, incentives for R&D, and the necessity for medication development. In addition, the growing demand for preclinical products from industries like the life sciences, cosmetics, and others is anticipated to propel market expansion for worldwide preclinical imaging throughout the forecast period. These major factors would drive the hospital segment in the future.
Geographically, the Asia-Pacific region dominates the market and is projected to hold its dominant position in the upcoming years. Preclinical research studies are attracted to the region due to factors like inexpensive research costs, lax regulatory requirements, and increased government financing for the growth of the research and development sector in different countries. Government initiatives for preclinical imaging and financing for research and development are anticipated to drive market expansion in this area, which is anticipated to outpace growth in other regions and nations. However, the preclinical imaging market is also dominated by North America, followed by Europe. The regions of North America and Western Europe are anticipated to have rapid expansion as a result of increased research and development, and the number of research infrastructures established in these regions is anticipated to fuel revenue growth.
According to the study, key players such as Aspec Imaging (Israel), Aetos Technologies (U.S), Agilent Technologies (U.S), Bruker (U.S), Fujifilm (Japan), General Electric (U.S), Molecubes (Belgium), Mediso (Hungary), MR Solutions (U.K), Milavs BV (Netherlands), PerkinElmer (U.S), Siemens (Germany), Sumitomo Mitsui Financial Group (Japan), Topcon (Japan), Tri-foil Imaging (U.S), among others are leading the global preclinical imaging market.
Scope of the Report:
Report Coverage
Details
Market Size in 2021

US$ 0.87 Billion

Market Volume Projection by 2032

US$ 1.67 Billion

Forecast Period 2022 to 2032 CAGR
5.9%
Base Year:

2021

Historical Data

2019, 2020 and 2021

Forecast Period

2022 to 2032

Segments covered

By Product Type: CT Imaging, Optical Imaging, Ultrasound Imaging, Reagents, Services, MRI Imaging, PET/SPECT Imaging & Others

By Application Type: Research and Development & Drug Discovery

By End-Use Type: Biotech Companies, Research Institutes & Pharmaceutical Companies

Geographies covered

North America, Europe, Asia-Pacific, LAMEA

Companies covered
Aspec Imaging (Israel), Aetos Technologies (U.S), Agilent Technologies (U.S), Bruker (U.S), Fujifilm (Japan), General Electric (U.S), Molecubes (Belgium), Mediso (Hungary), MR Solutions (U.K), Milavs BV (Netherlands), PerkinElmer (U.S), Siemens (Germany), Sumitomo Mitsui Financial Group (Japan), Topcon (Japan), Tri-foil Imaging (U.S & Others
The Global Preclinical Imaging Market Has Been Segmented Into:
The Global Preclinical Imaging Market – by Product Type:
CT Imaging
Optical Imaging
Ultrasound Imaging
Reagents
Services
MRI Imaging
PET/SPECT Imaging
Others
The Global Preclinical Imaging Market – by Application Type:
Research and Development
Drug Discovery
The Global Preclinical Imaging Market – by End-Use Type:
Biotech Companies
Research Institutes
Pharmaceutical Companies
The Global Preclinical Imaging Market Has Been Segmented Into:
North America
Europe

U.K.
France
Germany
Italy
Rest of Europe

Asia Pacific

India
China
Japan
Australia
Rest of Asia Pacific

LAMEA
Middle East
Latin America
Africa

South Africa
Egypt
Others
Note: This table of contents is a content of a published report. As per client requirement, cross-sectional analysis across all industries or specific geography or 'country-based' analysis can be provided as a part of paid customization. Please place your queries on sales@sheeranalyticsandinsights.com or query@sheeranalyticsandinsights.com