The Global Sales Intelligence Market was $2.54 Bn in 2020, and it is expected to reach $12.34 Bn by 2030. It is eventually growing at a commendable high compound of annual growth rate CAGR of 17.1% between 2020-2030. AI or artificial intelligence has demonstrated a potential impact on the sales company over the past decades. For instance, AI-enabled solution like the chatbots has improved the services and customer interaction in the business to the consumer domain. Increasing data volumes, low-interest rates, strict regulations are encouraging organizations to reconsider their traditional business strategies. Moreover, the increasing penetration of real-time leaderboard to build competitive intelligence drives the growth of the sales intelligence market during the forecast period. Now, moving forward, the robust demand for the Global Sales Intelligence Market in the AI department is further estimated to create new necessities and augment the market of growth over the forecast period of 2020-2030.
Global Sales Intelligence Segment Is Estimated to Witness Remarkable Growth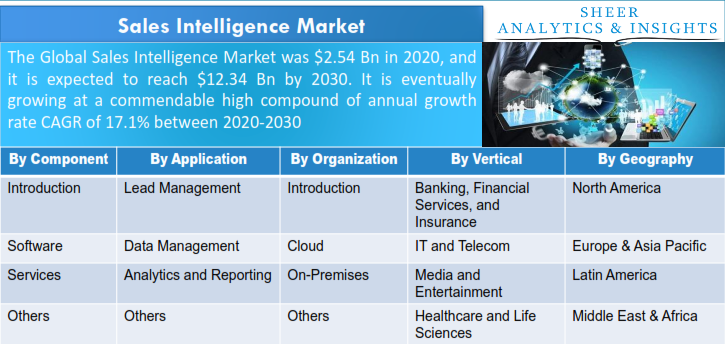 Source: SAI Research
The global Sales Intelligence market is segmented into component, application, service, organization size, and vertical. By Component, the global Sales Intelligence market is divided as Software and Services. By Application, the Sales Intelligence market has been bifurcated as Introduction, Lead Management, Data Management, Analytics and Reporting, and Others. By Service, the global Sales Intelligence market has been segmented as Overview, Consulting, Integration and Deployment, Training, and Maintenance and Support. By Organization Size Sales Intelligence market is divided into Overview, Cloud, and On-Premises. By Vertical, the global Sales Intelligence market is bifurcated as Overview, Banking, Financial Services, and Insurance, Consumer Goods and Retail, IT and Telecom, Media and Entertainment, Healthcare and Life Sciences, Manufacturing, and Others.
By Region, North America is Holding the Major Market Share
The global Sales Intelligence Market has been geographically segmented into North America, Asia Pacific, Latin America, Middle East, and Africa. In addition to this, North America is expected to exhibit considerable growth during the forecast period. The increasing number of AI start-ups, huge investment, and the massive demand for the application are boosting the sales intelligence market growth during the forecast period. Apart from that, Asia Pacific has also been steadily increasing the market share in worldwide for the massive demand for Sales Intelligence.
Major Players in the Global Sales Intelligence Market
The report covers a detailed outlook of the company, and it includes the market share and company or industry profiles of key players operating in the global market. Key players in the report include Clearbit, Demandbase, Inc., dnb.co.in., DueDil Ltd, EverString Technology, FullContact, Gryphon Networks, Infogroup.com, Insideview, LeadGenius, LinkedIn Corporation, List Partners LLC, Oracle, Relationship Capital Partners Inc. and RelPro, Inc., and RingLead, Inc. among others.
The Global Sales Intelligence Market Has Been Segmented into:
Global Sales Intelligence Market: By Component
Global Sales Intelligence Market: By Application
Introduction
Lead Management
Data Management
Analytics and Reporting
Others
Global Sales Intelligence Market: By Service
Overview
Consulting
Integration and Deployment
Training, Maintenance, and Support
Global Sales Intelligence Market: By Organization Size
Overview
Cloud
On-Premises
Global Sales Intelligence Market: By Vertical
Overview
Banking, Financial Services, and Insurance
Consumer Goods and Retail
IT and Telecom
Media and Entertainment
Healthcare and Life Sciences
Manufacturing
Others
Global Sales Intelligence Market: By Region
North America

USA
Canada
Mexico
Rest of North America

Europe

UK
Germany
France
Spain
Italy
Russia
Rest of Europe

Asia Pacific

India
China
Japan
South Korea
Rest of Asia Pacific

Latin America, Middle East & Africa

Brazil
South Africa
UAE
Rest of LAMEA
Note: This table of contents is a content of a published report. As per client requirement, cross-sectional analysis across all industries or specific geography or 'country-based' analysis can be provided as a part of paid customization. Please place your queries on sales@sheeranalyticsandinsights.com or query@sheeranalyticsandinsights.com