The Global Service Robotics Market was $16.2 Bn in 2020, and it is expected to reach $69.1 Bn by 2031. It is eventually growing at a commendable high compound annual growth rate CAGR of 13.6% between 2021-2031. But due to the current COVID-19 pandemic, there might be a slight difference in the growth rate in the present year. The growth of this market is mainly because of the need to combat the increased costs of labor in many developed nations along with the increased need for assisted living are the main reason that will help to accelerate the growth of this market during the forecasted period. as these will help to perform those tasks that are risky or difficult. Besides this, everyday tasks can also be handled very easily with accuracy with the help of these computer-controlled devices.
Global Service Robotics Market Is Estimated To Witness Remarkable Growth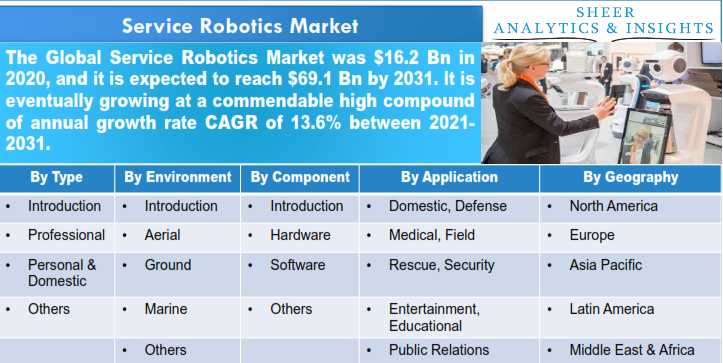 Source: SAI Research
The Global Service Robotics Market has been segmented into Type, Component, Environment, Application, Region. By Type – Professional, Personal & Domestic. By Environment – Aerial, Ground, Marine. By Component – Hardware, Software. By Application – Domestic, Medical, Field, Defense, Rescue and Security, Entertainment, Educational, Personal, Public Relations, Inspection and Maintenance, Logistics, Marine. The hardware component dominates the market because of its innovative designs that are needed on the hardware side.
By Region, Europe Is Holding The Major Market Share
The Global Service Robotics Market has been geographically segmented into North America, Asia Pacific, South America, Middle East, and Africa region. in addition to this Europe Global Service Robotics Market is holding the largest market share at present and is estimated to witness high compound annual growth rate in the upcoming forecasted period. this is mainly because of the high demand for personal and professional robots. Besides this Europe has the largest presence of manufacturers because of the increased demand from various sectors.
Major Players In Global Service Robotics Market
Some of the key players in the Global Service Robotics Market include iRobot, SoftBank Robotics Group, Intuitive Surgical, DeLaval, Daifuku, CYBERDYNE, DJI, Kongsberg Maritime, Northrop Grumman, Neato Robotics, Parrot SA, KUKA AG, Aethon Inc.
The Global Service Robotics Market Has Been Segmented Into:
Global Service Robotics Market, By Type
Professional
Personal & Domestic
Global Service Robotics Market, By Environment
Aerial

Commercial Drones
Consumer Drones

Ground

Automated Guided Vehicles (AGVs)
Cleaning Robots
Agricultural Robots
Surgical Robots
Entertainment and Leisure Robots
Inspection Robots
Humanoid Robots
Powered Exoskeletons
Telepresence Robots
Others

Marine

Remotely Operated Vehicles (ROVs)
Unmanned Surface Vehicles (USVs)
Autonomous Underwater Vehicles (AUVs)
Global Service Robotics Market, By Component
Hardware

Airframes
Sensors
Caneras
Autuators
Power Supply
Control Systems
Navigation Systems
Propulsion Systems
Others

Software
Global Service Robotics Market, By Application
Domestic

Floor Cleaning
Lawn Mowing
Pool Cleaning
Others

Medical

Surgery Assistance
Handicap Assistance
Others

Field
Harvest Management

Field Farming
Dairy & Livestock Management
Others

Defense, Rescue, Security

Demining
Fire and Bomb Fighting
Border Security & Surveillance
Others

Entertainment, Educational, Personal

Entertainment
Education
Companionship and Elderly Assistance

Public Relations
Inspection and Maintenance

Pipe/Pipeline Inspection
Power Plant Inspection
Inspection of Energized Transmission Lines
Others

Logistics

Warehouse Automation
Last-mile Delivery

Construction and Demolition
Marine

Oceanography
Environmental Protection and Monitoring
Archeological Exploration
Others
Global Service Robotics Market, By Geography
North America

USA
Canada
Mexico
Rest of North America

Europe

UK
Germany
France
Spain
Italy
Russia
Rest of Europe

Asia Pacific

India
China
Japan
South Korea
Rest of Asia Pacific

Latin America, Middle East & Africa

Brazil
South Africa
UAE
Rest of LAMEA
Note: This table of contents is a content of a published report. As per client requirement, cross-sectional analysis across all industries or specific geography or 'country-based' analysis can be provided as a part of paid customization. Please place your queries on sales@sheeranalyticsandinsights.com or query@sheeranalyticsandinsights.com