The global Session Initiation Protocol (SIP) trunking services market was valued at $15.4 billion in 2021 and it is expected to reach $51.2 billion at a CAGR of 11.20% between 2022 and 2032. SIP trunking is a voice-over-internet protocol technology, which provides streaming media services based on the session initiation protocol. SIP trunking is a technology that creates, modifies, and terminates sessions with one or more parties in an IP network, where a two-way call or a multi-party conference calls.
By region, North America holds the largest share in the SIP trunking services market across the globe.
SIP trunking services are a virtual version of an analog phone line. However, many SIP trunking providers offer plans which provide unlimited inbound and outbound, local, and long-distance calls. Moreover, SIP trunking services are a method of sending voice and other unified communications services over the internet. It works with an IP-enabled private branch exchange, which replaces traditional telephone lines. From calls and texts to emails, instant messages, and conferencing, SIP trunking services play an essential role in a building block in linking an organization's multiple methods of communications into one unified solution. One of the largest factors is call quality, which has helped remote workers who could successfully work with their peers and clients throughout the globe. Therefore, such trends are translating into value-grab opportunities for companies in the SIP trunking services market. Hence, these rising factors are estimated to boost the global SIP trunking services market during the forecast period. The awareness about quality SIP trunking services providers that offer inbound and outbound landline or mobile calling options, which would help the global SIP trunking services market in near future.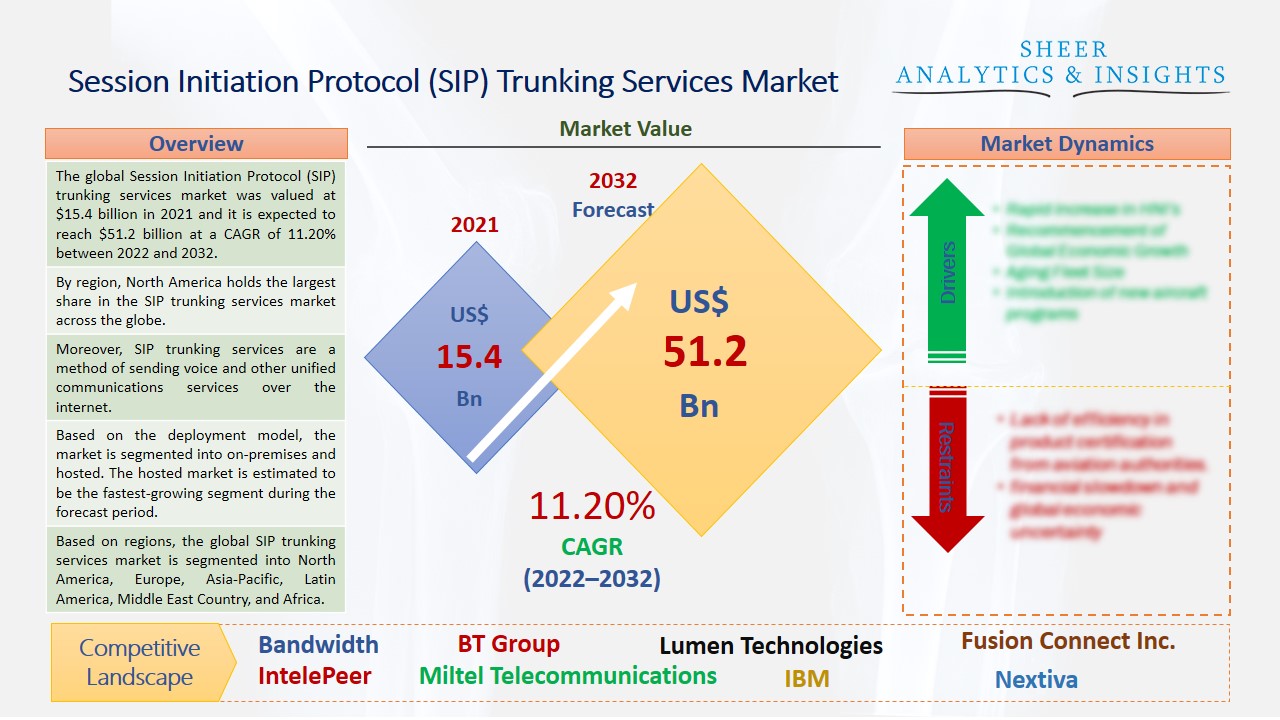 Source: SAI Research
Based on the deployment model, the market is segmented into on-premises and hosted. The hosted market is estimated to be the fastest-growing segment during the forecast period. Based on end-users, the global SIP trunking services market is categorized into BFSI, education, retail, healthcare services, transportation and logistics, travel and hospitality, and others. Among these, the BFSI, transportation, and logistics segment is estimated to gain significant growth during the forecast period due to the increasing usage of PBX features including automated attendant, automatic call distribution, voicemail, and call transfers. Based on organization types, the SIP trunking services market is categorized into small, medium, and large enterprises. Due to the increasing demand and adoption of cloud-based SIP trunking services increased with work from practices by the majority of the corporate institutions. Many organizations are focusing on operating SIP trunking service providers, which have seen a rapid surge in customer acquisition across the globe. Government of various developed countries and private investors are focusing on investing in innovative and seamless communication solutions, which is offering seamless business communications.
Based on regions, the global SIP trunking services market is segmented into North America, Europe, Asia-Pacific, Latin America, Middle East Country, and Africa. Among these, North America is dominating the global SIP trunking services market and the region is expected to hold its leading positing throughout the upcoming years due to the presence of the highest number of consumers as well as manufacturing bases in developed countries such as the U.S, and Canada, Mexico, among others. In North America, the U.S is dominating the market due to the high adoption of advanced technology and the presence of major service providers across the region. Besides this, Europe is also expected to become the fastest-growing market in near future. In this region, Germany is dominating the market due to the rising demand for cloud-based SIP and VoIP that can be brought and maintained virtually without any hassle. In the Asia-Pacific region, China holds the maximum share of the SIP trunking services market. Due to the increased rate of product development and distribution of APIs communication platforms, the country has faced immense growth in the last two years, and this country is estimated to hold its dominating position during the forecast period.
In 2021, a Canada-based Company named Sangoma Technologies Corporation and StarBlue Inc together provided cloud-native containers service and solutions to a large number of industries across the North American region. Star2Star Communications is a U.S-based company that has provided communication services by offering telephone voice and data communications. It has been rapidly delivering and innovating solutions for the betterment of business communications. U.S-based company AT&T allows businesses to share trunks in multiple locations, making it an ideal SIP trunking solution. The company is further offering several benefits such as controlling costs improving flexibility, reducing complexity, business continuity, and disaster recovery, which would support a large number of end-users in the global market. GTT Communications Inc announced the launch of its Cloud Connected PSTN service for Cisco Webex Calling. Furthermore, the company is providing access to Cloud Webex Calling Service with SIP Trunking from GTT and is delivered with end-to-end assurance. Hence, these new launches with better service and solutions are expected to drive market growth during the forecast period from 2022 to 2032.
According to the study, key players such as AT&T (U.S), Bandwidth (U.S), BT Group (U.K), Lumen Technologies (U.S), Ceska Zbrojovka Partners SE (Czech Republic), Fusion Connect Inc (U.S), GTT Communications (U.S), IntelePeer (U.S), Miltel Telecommunications (Canada), IBM Corporation (U.S), IDT Corporation (U.S), Nextiva (U.S), Nippon Telegraph and Telephone (Japan), Orange S.A (France), RingCentral (U.S), Rogers Communications (Canada), Tata Sons (India), Telstra Telecommunications (Australia), Twilio (U.S), Verizon Communications (U.S), Vodafone Group (U.K), Vonage Telecommunications (U.S), Voyant Communications (U.S), Intrado Telecommunications (U.S), Windstream Holdings II LLC (U.S), Zayo Group (U.S), 8x8 Inc (U.S), among others.
Scope of the Report:
Report Coverage

Details

Market Size in 2021

US$ 15.4 Billion

Market Volume Projection by 2032

US$ 51.2 Billion

Forecast Period 2022 to 2032 CAGR
11.20%
Base Year:

2021

Historical Data

2019, 2020 and 2021

Forecast Period

2022 to 2032

Segments covered

By Deployment Mode: On-Premises, Hosted

By End-User: BFSI, Education, Retail, Healthcare Sectors, Transportation and Logistics, Travel and Hospitality, & Others

By Organizations Type: Small Enterprise, Medium Enterprise, Large Enterprise

Geographies covered

North America, Europe , Asia-Pacific , LAMEA

Companies covered
AT&T (US), 8x8 (US), Bandwidth (US), BT Group (UK), CenturyLink (US), Colt (UK), Fusion (US), GTT Communications (US), IntelePeer (US), Mitel (Canada), Net2Phone (US), Nextiva (US), Orange (France), Rogers Communications (Canada), Sprint (US), Tata Communications (India), Telstra (Australia), Twilio (US), Verizon (US), Vodafone (UK), Vonage (US), Voyant Communications (US), West Corporation (US), and Windstream (US) & Others
The Global SIP Trunking Services Market Has Been Segmented Into:
The Global SIP Trunking Services Market – By Deployment Mode:
The Global SIP Trunking Services Market – By End-User:
BFSI
Education
Retail
Healthcare Sectors
Transportation and Logistics
Travel and Hospitality
And Others
The Global SIP Trunking Services Market –By Organizations Type:
Small Enterprise
Medium Enterprise
Large Enterprise
The Global SIP Trunking Services Market – By Regions:
North America
Europe
Germany
France
Italy
U.K.
Russia
Rest of Europe Countries
Asia-Pacific
India
China
Japan
South Korea
North Korea
Rest of Asian Countries
LAMEA
Brazil
Saudi Arabia
Rest of LAMEA
Note: This table of contents is a content of a published report. As per client requirement, cross-sectional analysis across all industries or specific geography or 'country-based' analysis can be provided as a part of paid customization. Please place your queries on sales@sheeranalyticsandinsights.com or query@sheeranalyticsandinsights.com