The Global Sleep Tech Devices Market was valued at $11.9 billion in 2021 and it is expected to reach $49.3 billion at a CAGR of 13.50% between 2022 and 2032. Sleep tech devices are designed to monitor someone's sleep. This device can be used for people especially who have sleeping disorders such as insomnia, sleeping apnea, and narcolepsy.
North America is expected to dominate the sleep tech devices market during the forecast period.
The adoption of wearable sleep tech devices is increasing in sleep tech devices market. Therefore, this segment is expected to drive the market during the forecast period. People who are suffering from insomnia, sleeping apnea, restless leg syndrome, parasomnias, and mental health issues are highly using a variety of sleep issue diagnoses, monitoring, and other treatment devices at home. Furthermore, the usage of sleep tech devices is rising at sleep labs, hospitals, clinics, and other places where the particular number of patients looking for a diagnosis for their sleep disorders. For people who are aged below 50 years, their usage and sales remain the highest among other populations.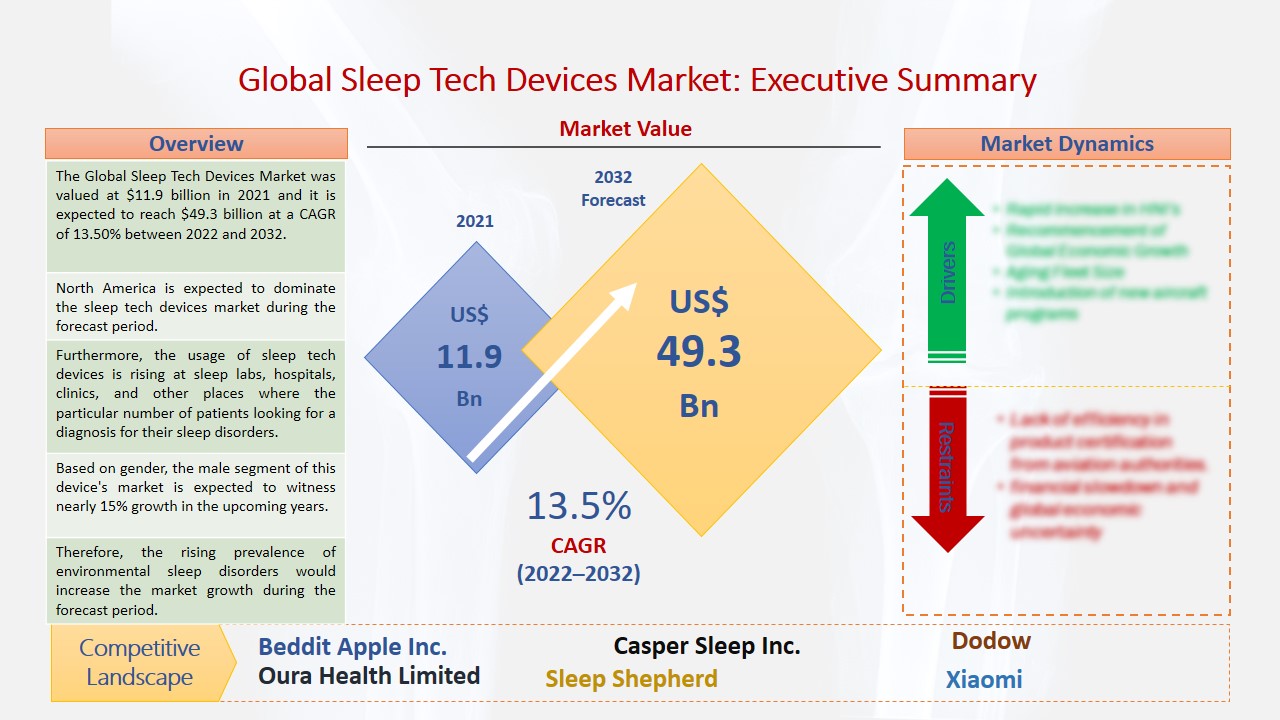 Source: SAI Research
Consumption of junk or unhealthy foods and lack of exercise have disturbed the normal lifestyle of people and reduced the metabolism power too. Therefore, this has increased the prevalence of sleeping problems among various age groups people. Hence, the adoption and demand for sleep tech devices are increasing in the market. Moreover, it enhances the sleep activity in an individual who is suffering from sleep-related disorders. Based on the type, the market is segmented into wearable and non-wearable divisions. The wearable segment has held nearly 75% of the revenue share in 2018 and it is also expected to witness similar growth during the forecast period.
Based on gender, the male segment of this device's market is expected to witness nearly 15% growth in the upcoming years. Moreover, the prevalence of apnea sleep disorders is higher in the male segment compared to women. Also, a male who is suffering from various other issues such as mental trauma, and accidents, have suffered from anxiety, and stress disorders that have further disturbed their sleeping patterns. All these factors are expected to boost the sleep tech devices market during the forecast period from 2022 to 2032. In several places vehicles and industrial activities causes environmental noises which might create issues in sleep and surges the demand for sleep tech devices. Therefore, the rising prevalence of environmental sleep disorders would increase the market growth during the forecast period.
Key players in the sleep tech devices market such as Beddit Apple Inc (Finland), Casper Sleep Inc (U.S), Dodow (France), Eight Sleep (U.S), Emfit Limited (Finland), FitBit Inc (U.S), Oura Health Limited (Finland), Sleep Shepherd LLC (U.S), Withings (France), Xiaomi (China), ResMed (U.S), Braebon Medical Corporation (Canada), Sleepace (China) and others leading the global market. These major players are implementing strategic initiatives such as acquisitions, mergers, and product launches to stay ahead in the competitive market across the globe.
Scope of the Report:
Report Coverage

Details

Base Year:

2021

Market Size in 2021:

USD 11.9 Billion

Historical Data for:

2019, 2020 and 2021

Forecast Period:

2022 to 2032

Forecast Period 2022 to 2032 CAGR:

13.50%

2032 Value Projection:

USD 49.3 Billion

Segments covered:

By Product Type: Wearable Non-Wearable.

By Sleeping Disorders: Insomnia, Sleep Apnea, and Narcolepsy.

By Distributional Channel: Direct-to-Consumers, Specialty Clinics, Hospitals & Other

Geographies covered:

North America - U.S, Canada, Mexico

Europe - Germany, France, Italy, U.K, Russia, Rest of Europe Countries

Asia-Pacific -India, China, Japan, South Korea, North Korea, Rest of Asian Countries

LAMEA - Brazil, Saudi Arabia, Rest of LAMEA

Companies covered:

Beddit Apple Inc (Finland), Casper Sleep Inc (U.S), Dodow (France), Eight Sleep (U.S), Emfit Limited (Finland), FitBit Inc (U.S), Oura Health Limited (Finland), Sleep Shepherd LLC (U.S), Withings (France), Xiaomi (China), ResMed (U.S), Braebon Medical Corporation (Canada), Sleepace (China) and others
The Global Sleep Tech Devices Market Has Been Segmented Into:
The Global Sleep Tech Devices Market – By Product Type:
The Global Sleep Tech Devices Market – By Sleeping Disorders:
Insomnia
Sleep Apnea
Narcolepsy
The Global Sleep Tech Devices Market – By Distributional Channel:
Direct-to-Consumers
Specialty Clinics
Hospitals
And Others
The Global Sleep Tech Devices Market – By Region Type:
North America
Europe
Germany
France
Italy
U.K.
Russia
Rest of Europe Countries
Asia-Pacific
India
China
Japan
South Korea
North Korea
Rest of Asian Countries
LAMEA
Brazil
Saudi Arabia
Rest of LAMEA
Note: This table of contents is a content of a published report. As per client requirement, cross-sectional analysis across all industries or specific geography or 'country-based' analysis can be provided as a part of paid customization. Please place your queries on sales@sheeranalyticsandinsights.com or query@sheeranalyticsandinsights.com