The global smart healthcare products market was valued at $160.4 billion in 2021 and it is expected to reach $450.1 billion at a CAGR of 9.3% between 2022 and 2032. The demand for intelligent healthcare systems is projected to increase as a result of increasing mHealth adoption, governmental efforts to digitize healthcare, and the incidence of chronic diseases. The healthcare sector has changed as a result of digitalization. In recent years, there has been a significant rise in the acceptance of mHealth, largely due to the increased use of smartphones and digitization.
By region, North America is leading the smart healthcare products with significant share across the globe.
Smart wearable, smart medicines, smart syringes, smart RFID cabinets, and many more smart healthcare devices that enhance the user's lifestyle are easily accessible on the market. These tools assist in remote patient health monitoring and lower the user's treatment costs. In addition, the term "smart healthcare" refers to a system of health services that actively manages and intelligently responds to the needs of the medical ecosystem. Smart healthcare uses technology like wearable devices, IoT, and mobile internet to dynamically access information, and connect people, materials, and institutions related to healthcare. For instance, such as blood glucose meters, blood pressure monitors, and fever thermometers are examples of home medical equipment. Sunscreen, moisturizers, electric razors, electric toothbrushes, and bathroom scales are examples of personal care products. Moreover, several benefits of adopting smart health care products are anticipated to drive market growth. For instance, Smart medical devices can frequently provide essential information that enables a user to make an informed health decision in real-time, in addition to helping to quickly identify any change in the user's health. Additionally, smart sensors evaluate environmental factors, lifestyle decisions, and health conditions before advising preventative measures that will lower the likelihood of developing acute ailments and diseases.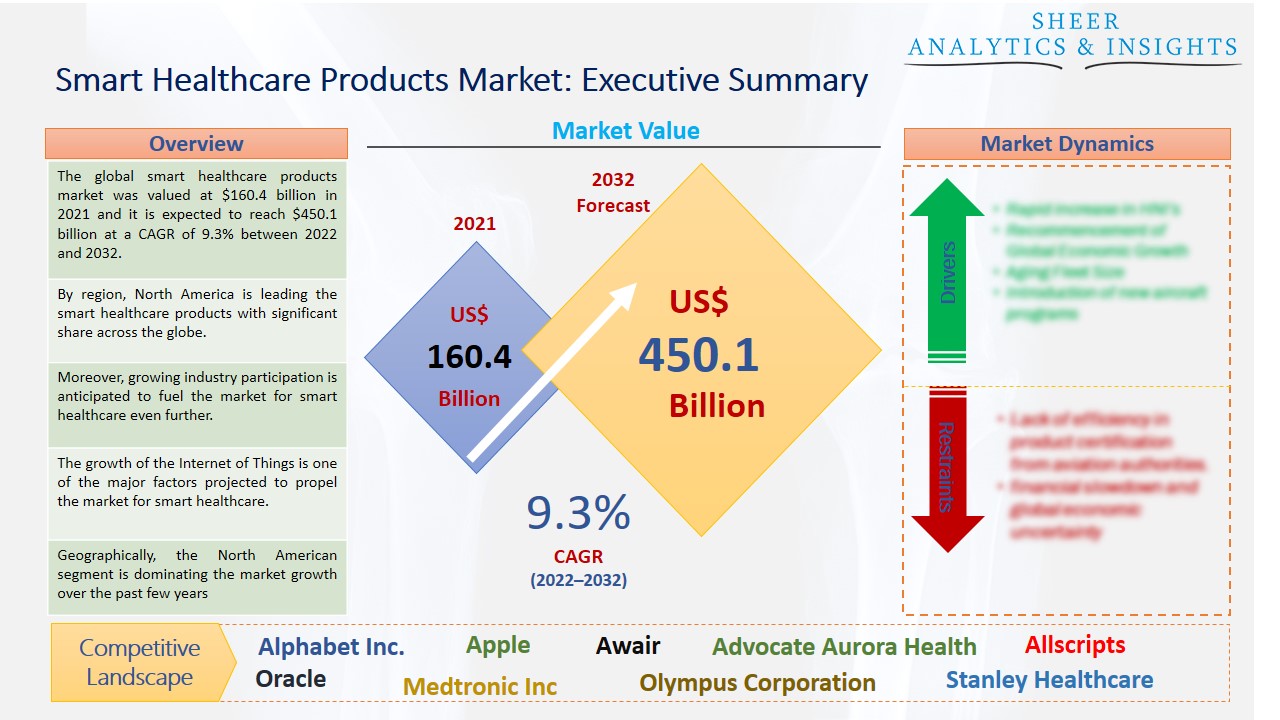 Source: SAI Research
A growth in mHealth technologies and internet of things-based monitoring systems has been prompted by the growing demand for individualized healthcare and sophisticated smart home healthcare, which further improves patient and healthcare provider communication. The growth of the senior population, an increase in the usage of cloud computing in healthcare, and rising disposable income are important additional variables driving the sector. Moreover, growing industry participation is anticipated to fuel the market for smart healthcare even further. Additionally, smart healthcare solutions improve the efficiency of diagnostic and therapeutic tools and patient care while also improving quality of life. Smart healthcare solutions use sensor technologies, integrated communication, and data analytics. To identify and treat diseases, the use of smart healthcare items involves monitoring people's health. Better clinical services and patient management are made possible by electronic health records. These primary factors would accelerate the market growth during the forecast period.
The growth of the Internet of Things is one of the major factors projected to propel the market for smart healthcare. Similar to this, it is projected that the aging of the population, quick changes in lifestyle, and increased government measures to digitalize healthcare infrastructure would all contribute to market growth. The prevalence of chronic diseases, rising mHealth use, governmental efforts to digitize healthcare, and rising demand for intelligent healthcare systems all point to rising demand. Therefore, these would create more growth opportunities for the smart healthcare products market globally in the future.
However, the high cost of smart healthcare equipment and high investment costs are anticipated to stifle market expansion, while a lack of trained and competent personnel could limit the market growth. On the other hand, some limitations limit the growth of this market internationally, including lack of awareness, the high cost of smart healthcare products, and the requirement for training to use these devices.
Based on product type, the global healthcare products market is segmented into smart pills, smart syringes, telemedicine, electronic health records, RFID kanban systems, mHealth Sector, and RFID cabinets. mHealth sector accounted for the largest share of the market. The dominance is linked to widespread smartphone use, increased internet usage, and mHealth app uptake. Additionally, the launch of wearable technology like Apple, Fitbit, and MI is having a beneficial impact on the market. Applications for mobile health have shown to significantly cut costs for both patients and healthcare providers. Prescriptions taken on time, care for health through wellness apps, etc., maintain the patient's health under control and decrease the need for follow-up appointments. On the other hand, the RFID kanban system segment is also anticipated to accelerate market growth during the forecast period. RFID tracking information enables instant alert alerts and can speed up the bed assignment procedure. RFID can also increase the effectiveness with which healthcare professionals can treat patients.
In terms of end-user, the hospital's category has led the market and is also estimated to dominate the market with more growth opportunities over the forecast period. Due to the rising population and increasing cases of several diseases, technological advancements are accelerating market growth. People are becoming conscious about their health and are adopting new smart healthcare products which would create more growth opportunities for the market. However, the home care settings category is also expected to become the fastest segment in the upcoming years, due to its rising demand among a large number of geriatric populations.
Geographically, the North American segment is dominating the market growth over the past few years, and is projected to hold its dominant position in the future. The North American region is expected to experience significant growth throughout the forecast period as a result of technological advancements, the growing adoption of smart devices in the healthcare industry across many nations, the growth of many new small and medium-sized businesses, and ongoing market consolidation efforts by leading players. On the other hand, the Asia-Pacific market is also estimated as the second largest market with more growth opportunities. The market for smart healthcare goods is expanding as a result of improved healthcare IT infrastructure and rising investments in smart healthcare in nations like Japan, Australia, and India.
According to the study, key players such as Alphabet Inc (U.S), Apple (U.S), Awair (U.S), Advocate Aurora Health (U.S), Air Strip Healthcare (U.S), Allscripts (U.S), BD (U.S), Dexcom (U.S), Eight Sleep (U.S), eClinical Works (U.S), Medtronic Inc (U.S), Oracle Corporation (U.S), Olympus Corporation (Japan), Sonova (Switzerland), Stanley Healthcare (U.S), Terumbo Corporation (Japan), VitalConnect (U.S), among others are leading the smart healthcare products market.
Scope of the Report:
Report Coverage
Details
Market Size in 2021

US$ 160.4 Billion

Market Volume Projection by 2032

US$ 450.1 Billion

Forecast Period 2022 to 2032 CAGR
9.3%
Base Year:

2021

Historical Data

2019, 2020 and 2021

Forecast Period

2022 to 2032

Segments covered

By Products Type: Smart Pills, Smart Syringes, Telemedicine, Electronic Health Records, RFID Kanban Systems, RFID Smart Cabinets, mHealth Sector & Others

By End-User Type: Home Care Settings Hospitals & Others

Geographies covered

North America, Europe, Asia-Pacific, LAMEA

Companies covered
Alphabet Inc (U.S), Apple (U.S), Awair (U.S), Advocate Aurora Health (U.S), Air Strip Healthcare (U.S), Allscripts (U.S), BD (U.S), Dexcom (U.S), Eight Sleep (U.S), eClinical Works (U.S), Medtronic Inc (U.S), Oracle Corporation (U.S), Olympus Corporation (Japan), Sonova (Switzerland), Stanley Healthcare (U.S), Terumbo Corporation (Japan), VitalConnect (U.S) & Others
The Global Smart Healthcare Products Market Has Been Segmented Into:
The Global Smart Healthcare Products Market – by Products Type:
Smart Pills
Smart Syringes
Telemedicine
Electronic Health Records
RFID Kanban Systems
RFID Smart Cabinets
mHealth Sector
Others
The Global Smart Healthcare Products Market – by End-User Type:
Home Care Settings
Hospitals
And Others
The Global Smart Healthcare Products Market – by Regions:
North America
Europe

U.K.
France
Germany
Italy
Rest of Europe

Asia Pacific

India
China
Japan
Australia
Rest of Asia Pacific

LAMEA
Middle East
Latin America
Africa

South Africa
Egypt
Others
Note: This table of contents is a content of a published report. As per client requirement, cross-sectional analysis across all industries or specific geography or 'country-based' analysis can be provided as a part of paid customization. Please place your queries on sales@sheeranalyticsandinsights.com or query@sheeranalyticsandinsights.com