The global smart toys market was valued at $13.5 billion in 2021 and it is expected to reach $89.9 billion at a CAGR of 17.8% between 2022 and 2032. The growth of the middle class and the increasing use of smartphones are two key drivers of the market throughout the forecast period. Furthermore, shoppers are being encouraged to use technology-driven toys by the rising awareness of smart toys through tablets, smartphones, and social media platforms.
By region, North American region is expected to dominate the smart toys market across the globe.
The world of children's toys in contemporary civilizations is transformed beyond simple touchscreen and multimedia technologies as the Internet-of-Things (IoT) connect the world and computers feature more and better machine intelligence (artificial intelligence, or AI). The future of play and education for kids will be represented by AI-powered and internet-connected toys. Smart toys hold great potential, particularly for educational toys, but they could also endanger kids if they are not made correctly. Without careful design and attention to children's rights, smart toys can either be a child's closest friend or a sinister spying device. Most smart toy manufacturers target children between the ages of 2 and 12 with their goods. Young children can engage in physical play with some toys, such as dolls and action figures. Children can practice social skills like conducting a conversation and taking turns with toys like Robosapien or Webkinz. For instance, this Smart Teddy Bear is equipped with touch and app controls and is made to teach kids how to manage their meals, go potty, and eat well.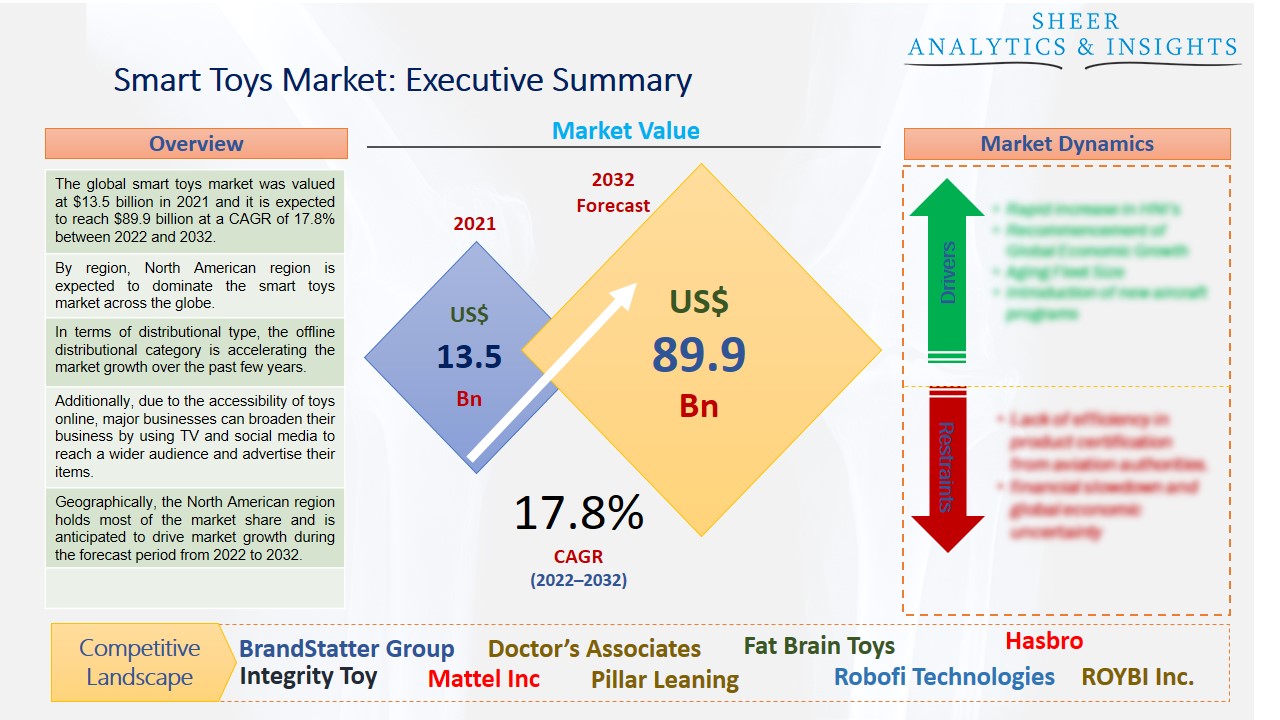 Source: SAI Research
To obtain a competitive edge over other firms, the growth of the market for smart toys is linked with speedy toy delivery and making the product available on both online and offline platforms. Systems for effective supply chain management can enable this. A boost in awareness of smart toys has also been attributed to an increase in the number of Internet users, as well as the popularity of smartphones and tablets. Moreover, in the recent past, the number of working women has increased, which has resulted in comparatively less time for parenting. This trend has encouraged manufacturers to release innovative products to draw in customers, which has significantly increased demand for smart toys and is one of the key factors driving the market growth rate for these products. The market for smart toys is expected to develop between 2021 and 2028 as a result of middle-class disposable income among middle-income groups experiencing a significant rise.
The development of novel and interactive toys using advancing technology is also having a significant impact on the expansion of the target market. The demand for smart toys is anticipated to be significantly influenced by the increasing popularity of technology and the internet around the world, which encourages kids to play with them. This will help the market for smart toys expand during the time covered by the projection.
Based on product type, the interactive game division accounted for the largest share of this market and is also anticipated to drive market growth during the forecast period. Playing interactive games is a great method to discover new ways to learn and explore creative knowledge. Players are tasked with solving riddles in a virtual environment using interactive games. These games can be used to help young children understand letters and the alphabet in preschool. On the other side, the robot segment is also expected to become the second-largest segment during the forecast period. The reason for the segment's continuous growth is that these toys serve as stand-ins and provide children with the opportunity to study. They serve as effective instructional tools because they might offer socially conditioned interactions. Children frequently mistake robots for people. Moreover, these robots can be controlled remotely, or they can be used with a smartphone or tablet.
In terms of distributional type, the offline distributional category is accelerating the market growth over the past few years. The competition among online and offline shops has intensified as a result of the shifting landscape for distribution channels. Customers who choose smart gadgets want rich brand experiences. Additionally, since smart toys contain delicate wirings and parts that can be harmed during delivery through an internet channel, buying them offline allows the consumer to verify if the product is functioning properly or not. Additionally, due to the accessibility of toys online, major businesses can broaden their business by using TV and social media to reach a wider audience and advertise their items.
Geographically, the North American region holds most of the market share and is anticipated to drive market growth during the forecast period from 2022 to 2032. The demand for smart toys in the region is being driven by the increasing usage of smart home technology. The market in the Asia Pacific region is anticipated to develop the quickest during the projection period. However, the Europe region is also estimated to become the second-largest growing market in the future due to rising demand for various kinds of smart toys among a large number of customers and end-user industries including the educational institute for children.
According to the study, key players such as BrandStatter Group (Germany), Doctor's Associates (U.S), Fat Brain Toys (U.S), Hasbro (U.S), Integrity Toys (U.S), Mattel Inc (U.S), Pillar Leaning (China), Robofi Technologies (India), ROYBI Inc (China), Sega Toys (Japan), Santio (Japan), Twin Science (U.K), Tomy (Japan), VTech (China), among others are leading the global smart toys market.
Scope of the Report:
Report Coverage
Details
Market Size in 2021

US$ 13.5 Billion

Market Volume Projection by 2032

US$ 89.9 Billion

Forecast Period 2022 to 2032 CAGR
17.8%
Base Year:

2021

Historical Data

2019, 2020 and 2021

Forecast Period

2022 to 2032

Segments covered

By Product Types: Interactive Games, Robots, Educational Robots & Others

By Distributional Type: Offline & Online

Geographies covered

North America, Europe, Asia-Pacific, LAMEA

Companies covered
BrandStatter Group (Germany), Doctor's Associates (U.S), Fat Brain Toys (U.S), Hasbro (U.S), Integrity Toys (U.S), Mattel Inc (U.S), Pillar Leaning (China), Robofi Technologies (India), ROYBI Inc (China), Sega Toys (Japan), Santio (Japan), Twin Science (U.K), Tomy (Japan), VTech (China), among others
The Global Smart Toys Market Has Been Segmented Into:
The Global Smart Toys Market – by Product Types:
Interactive Games
Robots
Educational Robots
Others
The Global Smart Toys Market – by Distributional Type:
The Global Smart Toys Market – by Regions:
North America
Europe

U.K.
France
Germany
Italy
Rest of Europe

Asia Pacific

India
China
Japan
Australia
Rest of Asia Pacific

LAMEA
Middle East
Latin America
Africa

South Africa
Egypt
Others
Note: This table of contents is a content of a published report. As per client requirement, cross-sectional analysis across all industries or specific geography or 'country-based' analysis can be provided as a part of paid customization. Please place your queries on sales@sheeranalyticsandinsights.com or query@sheeranalyticsandinsights.com