The global software as a service in healthcare market was valued at $16.1 billion in 2021 and it is expected to reach $98.1 billion at a CAGR of 17.3% between 2022 and 2032. The current healthcare sector is welcoming technology advancements to improve the effectiveness and caliber of patient treatment. Leading healthcare organizations and businesses are embracing and accepting technically sophisticated and creative applications that are a useful addition to the existing medical contributions.
By region, North America has dominated the software as a service in healthcare market globally over the past few years.
To improve hospital care, healthcare facilities are implementing healthcare software systems. The additional workload for healthcare workers has decreased because of healthcare software as a service. To benefit from software technology in healthcare, IT businesses are including software solutions in their offers. The worldwide healthcare software as a service market may see encouraging growth as a result of these advances. Additionally, Healthcare service providers have benefited from technological improvements in computational technology, which have made data processing and history maintenance simple and accessible with just a click. The world has seen a significant decrease in the spread of the deadly disease because of technological advancements like AI, IoT, and cloud computing, enabling quick disaster recovery as well as improved patient treatment, real-time diagnosis, and care.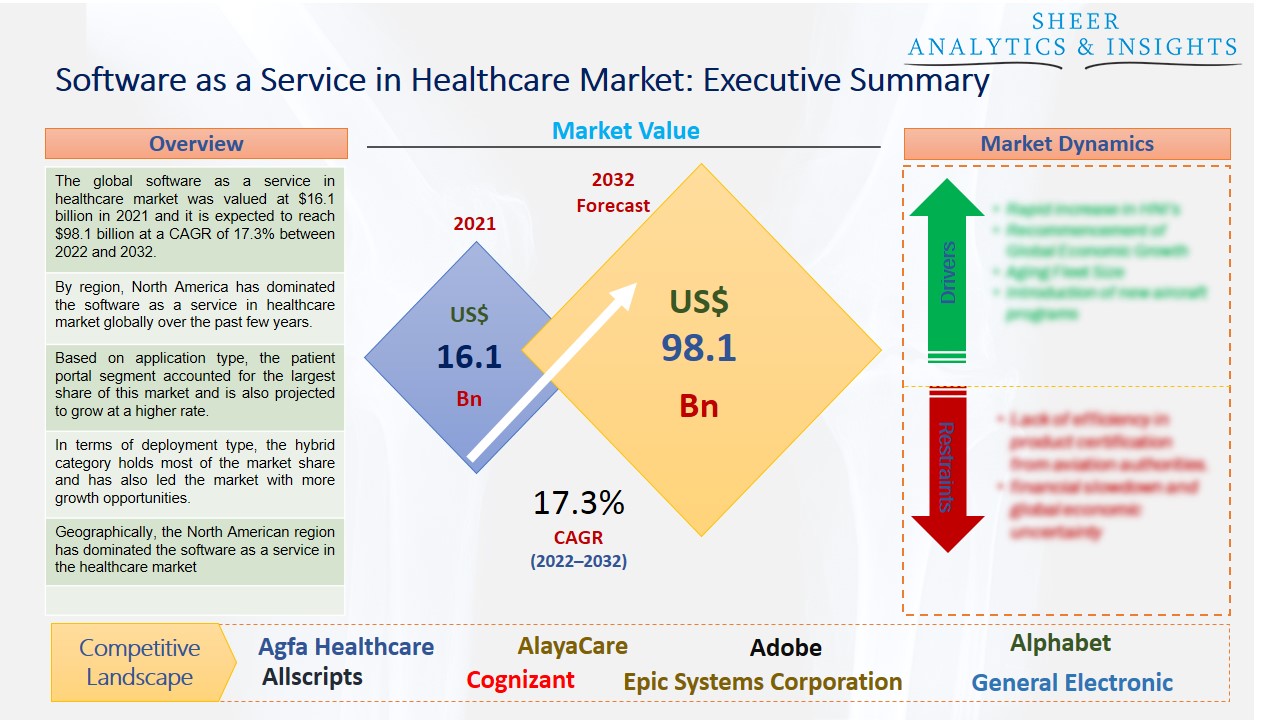 Source: SAI Research
Download Free PDF Sample Request
Healthcare organizations all across the world are very concerned about data security. There are worries regarding cloud-based data breaches as a result of digital and cloud-hosted patient health records. A security mechanism that can monitor the data and traffic to and from the cloud must be in place. As businesses transition from knowing Infrastructure as a Service on a single cloud to understanding how PaaS and SaaS can function together, people may notice that such problems are becoming more prevalent. Additionally, enterprises' top concerns were enhancing healthcare operations, updating data platforms, integrating dissimilar systems, and reducing IT costs. Therefore, it is predicted that growing plans to develop and upgrade modern digital facilities will propel market expansion.
Moreover, healthcare facilities are planning to install SaaS in the future, and many of them have already done so. These installations have several advantages, including improved workflow, cost savings, increased management, ease of integration, guarantee, disaster recovery, customized infrastructure, scalability, and customer support for numerous SaaS applications in database servers, mobile services, and many others. Furthermore, Microsoft Corporation, Salesforce Inc., SAP SE, Oracle Corporation, Google LLC, International Business Machines Corporation, ServiceNow, Neusoft Corporation, Adobe Inc., Cisco Systems Inc., Dell Inc., Carestream Health, Cerner Corporation, Philips Healthcare, 3M Health are major players in the healthcare software as a service market.
Based on application type, the patient portal segment accounted for the largest share of this market and is also projected to grow at a higher rate. The increasing use of patient portal software and the abundance of patient portals and software are factors in the segment's high revenue share. The adoption of patient portals is also anticipated to be fueled by the rising demand for digital tools like a portal for patient involvement. Moreover, by making chores like appointment scheduling, medication refill requests, and online bill payments easier for the user, patient portal software or solutions give secure access to medical records and services.
In terms of deployment type, the hybrid category holds most of the market share and has also led the market with more growth opportunities. Since hybrid SaaS combines public and private clouds, it has been widely adopted by all industries, including healthcare. The hybrid deployment strategy has advantages, such as the capacity to support a remote workforce, increased scalability, enhanced innovation, improved security, and simple risk management—all at lower prices. In addition, the hybrid deployment strategy has advantages such as adaptability to accommodate a remote workforce, greater scalability, enhanced innovation, improved security, and simple risk management at lower costs.
Geographically, the North American region has dominated the software as a service in the healthcare market globally over the last few years and is also projected to hold its dominant position during the forecast period from 2022 to 2032. Most of the key players are established in several emerging nations across the North American region which is a plus point for the market. Additionally, some major companies are focusing on expanding their business growth by implementing new strategies such as mergers and acquisitions. This would also propel the market growth in the future. In addition to North America, the European market is predicted to expand quickly as more people use home healthcare services to address a variety of conditions. On the other hand, the Asia-Pacific region is anticipated to overtake the United States as the second-largest market in the future as a result of the rise in patients receiving therapy in home healthcare settings and the rise in same-day surgery cases.
According to the study, key players such as Agfa Healthcare (India), AlayaCare (Canada), Adobe (U.S), Alphabet (U.S), Allscripts (U.S), Cognizant (U.S), CISCO (U.S), Epic Systems Corporation (U.S), General Electronic (U.S), Jag Products (Australia), Media Information Technology (China), Microsoft (U.S), Mckesson Corporation (U.S), Meditech (U.S), NextGen Healthcare (U.S), Oracle Corporation (U.S), SAP (Germany), ServiceNow (U.S), SalesForce (U.S), UnitedHealth Group (U.S), WorkDay Inc (U.S), among others are leading the global software as a service in healthcare market.
Scope of the Report:
Report Coverage
Details
Market Size in 2021

US$ 16.1 Billion

Market Volume Projection by 2032

US$ 98.1 Billion

Forecast Period 2022 to 2032 CAGR
17.3%
Base Year:

2021

Historical Data

2019, 2020 and 2021

Forecast Period

2022 to 2032

Segments covered

By Application Type: Patient Portal, Telemedicine, Mobile, Communication, Medical Billing, EHR Systems, ERP and HR Portal& Others

By Deployment Type: Public, Private, Hybrid & Others

Geographies covered

North America, Europe, Asia-Pacific, LAMEA

Companies covered
Agfa Healthcare (India), AlayaCare (Canada), Adobe (U.S), Alphabet (U.S), Allscripts (U.S), Cognizant (U.S), CISCO (U.S), Epic Systems Corporation (U.S), General Electronic (U.S), Jag Products (Australia), Media Information Technology (China), Microsoft (U.S), Mckesson Corporation (U.S), Meditech (U.S), NextGen Healthcare (U.S), Oracle Corporation (U.S), SAP (Germany), ServiceNow (U.S), SalesForce (U.S), UnitedHealth Group (U.S), WorkDay Inc (U.S), among others
The Global Software as a Service in Healthcare Market Has Been Segmented Into:
The Global Software as a Service in Healthcare Market – by Application Type:
Patient Portal
Telemedicine
Mobile Communication
Medical Billing
EHR Systems
ERP and HR Portal
Others
The Global Software as a Service in Healthcare Market – by Deployment Type:
Public
Private
Hybrid
Others
The Global Software as a Service in Healthcare Market – by Regions:
North America
Europe

U.K.
France
Germany
Italy
Rest of Europe

Asia Pacific

India
China
Japan
Australia
Rest of Asia Pacific

LAMEA
Middle East
Latin America
Africa

South Africa
Egypt
Others
Note: This table of contents is a content of a published report. As per client requirement, cross-sectional analysis across all industries or specific geography or 'country-based' analysis can be provided as a part of paid customization. Please place your queries on sales@sheeranalyticsandinsights.com or query@sheeranalyticsandinsights.com