The global standing desk market was valued at $6.7 billion in 2021 and it is expected to reach $16.7 billion at a CAGR of 9.2% between 2022 and 2032. Due to rising demand for several types of standing desks across multiple offices and among a large number of customers, the market is estimated to gain growth opportunities during the forecast period.
By region, North America has led the global standing desk market over the past few years.
The standing desk is also known as a stand-up desk. It allows people to stand up comfortably and do their work at the same time. Several standing desks are available at present days. For example, the height-adjustable standing desk is very popular among new generation people. Many users like this desk as they could change the height of the desk according to their preferences and alternate between sitting and standing. Some recent studies have shown that working at a standing desk might reduce 88 calories an hour a person. Moreover, standing desks could reduce the health issues such as neck or back pain. These major factors are expected to drive the growth of the global standing desk market during the forecast period.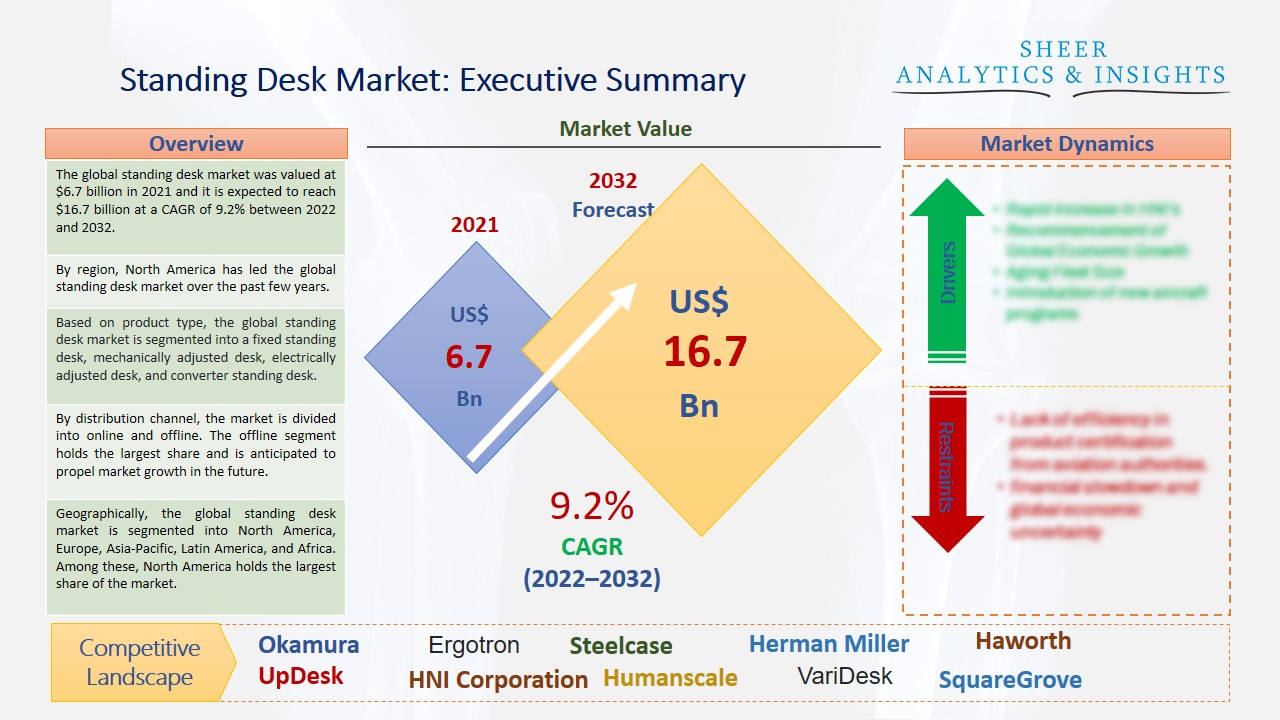 Source: SAI Research
Download Free PDF Sample Request
Many key players across the globe are focusing on expanding their market growth by implementing new business strategies to hold a strong position in the competitive market. Merger and acquisitions strategy is one of them. Some parent companies are acquiring subsidiary companies to make innovative standing desk products, which would benefit a lot of customers according to their working preferences. Government sectors are also adopting standing desks for their employees. This would also accelerate market growth in the future. Furthermore, major countries from emerging regions are creating growth opportunities for the market with new technological developments and other strategies. Countries such as India, China, Japan, the U.S, Canada, Mexico, the U.K, Germany, France, Russia, Switzerland, and others are altogether leading the market with significant growth.
Two and a half years back, COVID-19 negatively impacted the market due to complete lockdowns. This situation has prevented the manufacturing companies to produce new standing desk productions and supply them to other end-user industries and applications. However, some recent research has shown that working at a standing desk for better health benefits is just a myth. Customers cannot get rid of health issues such as back or neck pain by using any kind of standing desk. This news is spreading among a lot of customers in some countries, which is also hampering the market growth. The high cost of products is another restraint that is hindering the market in some under-developing countries due to a lack of awareness and understanding about the benefit of using standing desks. However, some small and medium-sized companies are trying to increase their investments with R&D activities to better serve their clients. This would help the market to gain more significant growth in the future.
Based on product type, the global standing desk market is segmented into a fixed standing desk, mechanically adjusted desk, electrically adjusted desk, and converter standing desk. The fixed-standing desk segment holds the largest share of the market and is anticipated to accelerate market growth during the forecast period. Moreover, due to several benefits, this segment accounted for the largest share of the market during the upcoming years. For example, fixed standing desk increases the user's energy, improves mood, harnesses joint and muscle movement, improves mental focus, and reduces caffeine intake. Additionally, it also increases the productivity of a person who works on it. On the other hand, the converter standing desk is also estimated to propel market growth due to its rising demand and various benefits. Using a converter standing desk might lower blood sugar levels and the risk of heart disease.
In terms of end-user, the market is categorized into household and commercial. The household category accounted for the largest share of the market. A large number of consumers purchase standing desks for their family members, especially for their grown kids. The main benefits of using this desk are that it helps in reducing the likelihood of a user developing serious health problems such as neck or back pain. A commercial category is also estimated to become the second-largest end-user segment in the future. Many IT offices are adopting standing desks for both their employees and employers. Many people who work at the office think that using a standing desk while working would actually result in extra calorie burn. Hence, they use this desk more often which would drive the market growth.
By distribution channel, the market is divided into online and offline. The offline segment holds the largest share and is anticipated to propel market growth in the future. Most people like to go outside shopping and buy a lot of things. Hence, many manufacturing players associated with standing desks supply their products to the offline market. This would catch the attention of the customer who visits their nearby shopping mall or offline retail services. Some customers have their specific or favorite standing desk brands due to their several offers and other benefits. However, during the COVID-19 pandemic, the online distribution segment held most of the market growth. In addition, people who are busy all the time with their work and do not have time to visit for offline shopping might purchase their standing desk through an online market.
Geographically, the global standing desk market is segmented into North America, Europe, Asia-Pacific, Latin America, and Africa. Among these, North America holds the largest share of the market. Most of the key players are situated in this region which is an advantage for its market. Additionally, a large number of consumers are adopting standing desks which would also boost the market growth. Due to the increasing population and rising demand for standing desks for both household and commercial purposes in developed countries such as the U.S, Canada, and Mexico, the market is estimated to witness growth opportunities during the upcoming years. On the other hand, the Asia-Pacific market is also estimated to become the second-fastest market over the forecast period.
According to the study, key players such as AFC Industries (U.S), Deskmakers (U.S), Fantasy Furniture (India), Global Furniture Group (Canada), HNI Corporation (U.S), HumanScale (U.S), Haworth International (U.S), Kinnarps Holding AB (Sweden), Kokuyo (Japan), Loctek Ergonomic (China), Okamura Corporation (Japan), Qidong Vision Mounts Manufacturing (China), Steelcase (India), SquareGrove (U.S), Teknion Corporation (Canada), UpDesk (U.S), VariDesk (U.S), among others are leading the global standing desk market.
Scope of the Report:
Report Coverage
Details
Market Size in 2021

US$ 6.7 Billion

Market Volume Projection by 2032

US$ 16.7 Billion

Forecast Period 2022 to 2032 CAGR
9.2%
Base Year:

2021

Historical Data

2019, 2020 and 2021

Forecast Period

2022 to 2032

Segments covered

By Product Type: Fixed Standing Desk, Mechanically Adjusted Desk, Electrically Adjusted Desk, Converter Standing Desk

By End-User Type: Household, Commercial

By Distribution Channel Type: Online, Offline

Geographies covered

North America, Europe , Asia-Pacific , LAMEA

Companies covered
AFC Industries (U.S), Deskmakers (U.S), Fantasy Furniture (India), Global Furniture Group (Canada), HNI Corporation (U.S), HumanScale (U.S), Haworth International (U.S), Kinnarps Holding AB (Sweden), Kokuyo (Japan), Loctek Ergonomic (China), among others
The Global Standing Desk Market Has Been Segmented Into:
The Global Standing Desk Market – by Product Type:
Fixed Standing Desk
Mechanically Adjusted Desk
Electrically Adjusted Desk
Converter Standing Desk
The Global Standing Desk Market – by End-User Type:
The Global Standing Desk Market – by Distribution Channel Type:
The Global Standing Desk Market – by Regions:
North America
Europe
Germany
France
Italy
U.K.
Russia
Rest of Europe Countries
Asia-Pacific
India
China
Japan
South Korea
North Korea
Rest of Asian Countries
LAMEA
Brazil
Saudi Arabia
Rest of LAMEA
Note: This table of contents is a content of a published report. As per client requirement, cross-sectional analysis across all industries or specific geography or 'country-based' analysis can be provided as a part of paid customization. Please place your queries on sales@sheeranalyticsandinsights.com or query@sheeranalyticsandinsights.com