The global telecom API market was valued at $212.3 billion in 2021 and it is expected to reach $889.3 billion at a CAGR of 13.6% between 2022 and 2032. A telecom API is a kind of standard framework for programming, which is used to authenticate web-based applications. Furthermore, it can incorporate better quality SMS, MMS, and voice abilities into mobile applications and services via telecom API with high improvement speed facilities. Thus the rising adoption of telecom API has driven the market growth over the last few years.
By region, North America is leading the telecom API market with a largest share across the globe.
Telecom API can be used by applications to navigate through web-enabled services, and it refers to pre-defined software functions, instructions, and protocols. There are several major factors such as 5G technology, the large user base for telecom services, machine-to-machine communications, and high-quality user interface, among others, which have driven the market growth over the last few years. Various telecom services are focusing on investing more in APIs for the improvement of their services with reduced costs for end-user experiences. Hence, the demand for telecom APIs has been gaining new opportunities from various nations to expand their business. Additionally, the main focus on identity management is also estimated to drive the growth of the market during the forecast period. Some manufacturing companies are developing their APIs according to the recent requirement of various end-users in the market. New technological advancements regarding AI and IoT services are helping the market to gain more business opportunities.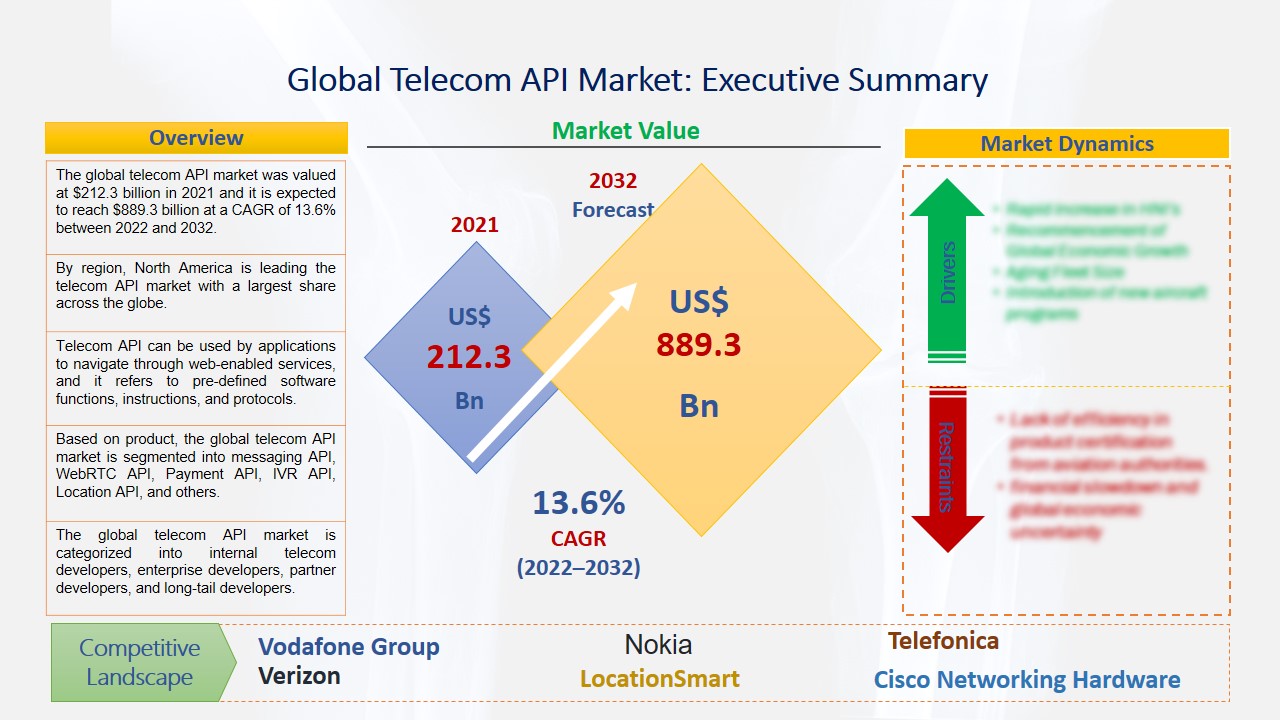 Source: SAI Research
Based on product, the global telecom API market is segmented into messaging API, WebRTC API, Payment API, IVR API, Location API, and others. The messaging API segment is estimated to grow with a significant market share during the forecast period due to the rising demand for SMS, MMS, and RCS services. Based on end-users, the global telecom API market is categorized into internal telecom developers, enterprise developers, partner developers, and long-tail developers. Among these, the enterprise developer category is accounted for the largest market share shortly due to the increasing adoption of large-scale enterprises and organizations, promotional activities, new company policies, and others.
Geographically, the market is categorized into North America, Europe, Asia-Pacific, Latin America, Africa, and the Middle East Countries. Among these, North America is dominating the market having with largest market share. The region is also estimated to dominate in near future due to the presence of various small, medium, and large enterprises and organizations. Additionally, the increasing adoption of 4G and 5G is helping the market to gain significant growth opportunities in this region. Communication services such as video and voice calls and voice integration services are developing with advanced technologies, which are supporting the market growth. Asia-Pacific region is also anticipated to achieve a significant share and the region is expected to be the fastest-growing market during the forecast period from 2022 to 2032.
According to the study, key players such as Vodafone Group Telecommunications Company (U.K), Twilio Company (U.S), Nokia Telecommunications Company (Finland), AT&T Telecommunications Company (U.S), Telefonica Telecommunications Company (Spain), Alphabet Inc Multinational Conglomerate Company (U.S), Orange S.A Telecommunication Company (France), Verizon Communications Telecommunications Company (U.S), Xura Company (U.S), Boku Inc Company (U.S), LocationSmart Company (U.S), Cisco Networking Hardware Company (U.S), Aspect Software Call Center Company (U.S), Vonage Telecommunications Company (U.S), Etisalat Communications Company (UAE), Thuraya Telecommunications Company (UAE), AI Yah Satellite Communications Company (UAE), Virgin Mobile UAE (UAE), Deutsche Telekom Telecommunications Company (Germany), SoftBank Group Multinational Conglomerate Company (Japan), America Movil Tele Communication Company (Mexico), SASAC Company (China), SK Corporation Conglomerate Company (South Korea), NTT DoCoMo Mobile Phone Operator Company (Japan), Bharti Enterprises Multinational Conglomerate Company (India), among others are leading the global telecom API market.
Scope of the Report:
Report Coverage
Details
Market Size in 2021

US$ 212.3 Billion

Market Volume Projection by 2032

US$ 889.3 Billion

Forecast Period 2022 to 2032 CAGR

13.6%

Base Year:

2021

Historical Data

2019, 2020 and 2021

Forecast Period

2022 to 2032

Segments covered

By Product Type: Messaging API, WebRTC API, Payment API, IVR API, Location API, And Others

By End-Users: Internal Telecom Developers, Enterprise Developers, Partner Developers, Long Tail Developers

Geographies covered

North America, Europe , Asia-Pacific , LAMEA

Companies covered
Vodafone Group Telecommunications Company (U.K), Twilio Company (U.S), Nokia Telecommunications Company (Finland), AT&T Telecommunications Company (U.S), Telefonica Telecommunications Company (Spain), Alphabet Inc Multinational Conglomerate Company (U.S), Orange S.A Telecommunication Company (France), Verizon Communications Telecommunications Company (U.S), Xura Company (U.S), Boku Inc Company (U.S), LocationSmart Company (U.S), Cisco Networking Hardware Company (U.S), Aspect Software Call Center Company (U.S), Vonage Telecommunications Company (U.S), Etisalat Communications Company (UAE), Thuraya Telecommunications Company (UAE), AI Yah Satellite Communications Company (UAE), Virgin Mobile UAE (UAE), among others
The Global Telecom API Market Has Been Segmented Into:
The Global Telecom API Market – By Product Type:
Messaging API
WebRTC API
Payment API
IVR API
Location API
And Others
The Global Telecom API Market – By End-Users:
Internal Telecom Developers
Enterprise Developers
Partner Developers
Long Tail Developers
The Global Telecom API Market – By Regions:
North America
Europe:
Germany
U.K.
France
Italy
Netherlands
Spain
Rest of the Europe Countries
Asia-Pacific:
India
China
Japan
South Korea
Rest of the Asian Countries
LAMEA:
Latin America
Middle East
Africa
Note: This table of contents is a content of a published report. As per client requirement, cross-sectional analysis across all industries or specific geography or 'country-based' analysis can be provided as a part of paid customization. Please place your queries on sales@sheeranalyticsandinsights.com or query@sheeranalyticsandinsights.com