The global telecom API platform market was valued at $200.1 billion in 2021 and it is expected to reach $950.1 billion at a CAGR of 14.70% between 2022 and 2032. The telecom API is a set of commands, objects, functions, and protocols, which is used by software designers, and help them to form or interact with an external application or system. Moreover, it works as an interface between software programs and different facilities.
By region, North America is expected to have largest market share in the global telecom API market during the forecast period.
There are several key factors such as increasing usage of smartphones and mobile applications, rising adoption of M2M devices among end-users, enhancing telecom API user experience, and monetization of telecom operator services are expected to boost the market growth during the forecast period. Additionally, combining an application with telecom services need developers to understand and use telecom protocols such as SS7 and SIP. Furthermore, for the last several years, many major companies have used telecom APIs to exchange IT systems. However, the more important thing is how these are used. At present days, billion-dollar companies are focusing on achieving high valuation by producing an ecosystem mainly by telecom APIs. Hence, these ecosystems are used to connect worldwide end-users and sellers of different products or services, so they could assist in attaining high customer experience and satisfaction. Therefore, the increasing demand and adoption of APIs are estimated to propel the growth of the market during the forecast period.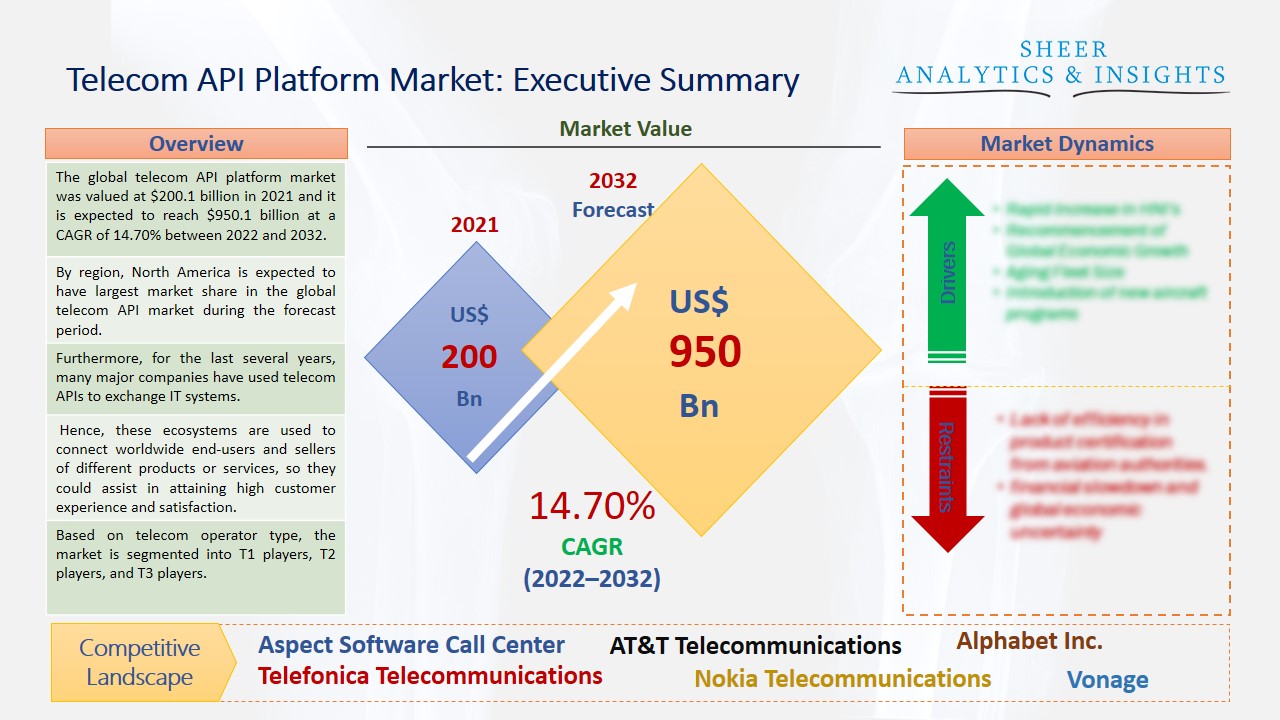 Source: SAI Research
Based on telecom operator type, the market is segmented into T1 players, T2 players, and T3 players. Based on end-users, the market is segmented into partner, enterprise, long tail, and internal. Among these, the enterprise segment is accounted to hold the largest share in the market. The increasing adoption of telecom APIs in the various enterprise sectors is expected to drive market growth during the forecast period. Based on the application segment, the global telecom API platform market is segmented into SMS, MMS, RCS API, Payment API, webRTC API, M2M, IoT API, and content delivery API, among others. The rising adoption of M2M and IoT API is estimated to drive the segment in upcoming years. Along with this, MMS and SMS are also expected to boost the market due to the increasing usage of mobile phones and smart devices.
Based on regions, the global telecom API platform market is categorized into North America, Europe, Asia-Pacific, Latin America, Middle East Country, and Africa. Among these, the North American region is dominating the telecom API platform across the globe due to the increasing usage of smartphones and smart applications, which has resulted in the adoption of API-related technologies in various well-known nations. Along with these, a few key players are focusing on producing innovative API products and introducing them to sustain in the competitive market, which would fuel the telecom API platform market across the globe. Hence, major players will be able to hold a strong position in the global market by expanding their market growth in the upcoming years. Asia-Pacific is also expected to be the fastest-growing market during the forecast period due to the various set of APIs startups, which would combine to create new services and solutions for end-users across this region.
Key players such as Ribbon Communications and AT&T Telecommunications Company have launched a new API marketplace with the help of telecom API and communications applications. Hence, this has helped the enterprise end-users and customers to leverage telecom assets for embedded applications. Moreover, the Telco Industry has established a comprehensive API management platform that is specially created and designed for Telco. These have user-friendly self-service capabilities such as hSenid CPaaS, and simple REST-based APIs. Some other platform key companies such as Amazon, Uber, Booking.Com, Google, Netflix, and Airbnb, among others have achieved billion-dollar valuations overnight by simply providing an interface between customers and sellers. North American-based company named Twilio Company provides an API-based messaging platform for developers. This has helped the other companies, which can use the tools and services to design their messaging applications and with individual features. APIs make things happen very fast and they can provide useable solutions and services to real problems. Hence, these major factors are expected to drive the growth of the global telecom API platform market throughout the forecast period from 2022 to 2032.
Moreover, Vonage partnered with WhatsApp to extend access to various chatbots to help worldwide users. It is very useful to use in cases of emergencies. Besides this, a significant number of mobile network operators are already leveraging Telecom APIs to support Robocall Detection and Unwanted Call Management to become a connection between IoT network authentication and authorizations. Therefore, APIs are seen as a solution to expose different types of data and services. It also allows disparate systems to effectively communicate. Hence, these are estimated to boost the growth of the telecom API platform market across the globe.
According to the study, key players such as Aspect Software Call Center (U.S), Nokia Telecommunications (Finland), AT&T Telecommunications(U.S), Alphabet Inc. Multinational Conglomerate (U.S), Boku Inc. (U.S), Location Smart (U.S), Orange S.A Telecom (France), Twilio (U.S), Telefonica Telecommunications (Spain), Vonage Telecommunication Company (U.S), Cisco Networking Hardware Company (U.S), Verizon Communications (U.S), Vodafone Group Telecommunications (U.K), Xura (U.S), Ericsson Telecommunications (Sweden), Oracle Corporation Computer Software (U.S), Hewlett Packard Enterprise Software (U.S), Sopra Steria Software Developer (France), Huawei Invest and Holding Co Limited (China), ZTE Manufacturing (China), Aepona Limited (U.K) Infobip (U.K), Anthology Inc. Software (U.S), Avaya Holdings (U.S), Open Text Software (Canada), Microsoft Corporation Technology (U.S), IBM Technology (U.S), among others.
Scope of the Report:
Report Coverage

Details

Market Size in 2021
US$ 200.1 Billion
Market Volume Projection by 2032
US$ 950.1 Billion
Forecast Period 2022 to 2032 CAGR
14.70%
Base Year:
2021
Historical Data
2019, 2020 and 2021
Forecast Period
2022 to 2032
Segments covered

By Telecom Operator Type: T1 Players, T2 Players, T3 Players

By End-Users: Partner, Enterprise, Long Tail, Internal

By Application Type: SMS, MMS, RCS API, Payment API, WebRTC API, M2M and IoT API, Content Delivery API & Others

Geographies covered

North America, Europe , Asia-Pacific , LAMEA

Companies covered

Aspect Software (Massachusetts, U.S.)
Alcatel-Lucent (Boulogne-Billancourt, France)
AT&T, Inc. (Texas, U.S.)
Apigee Corporation (California, U.S.)
Fortumo (Tartu, Estonia)
LocationSmart (California, U.S.)
Orange S.A. (Paris, France)
Twilio, Inc. (California, U.S.)
Telefonica (Madrid, Spain)
Nexmo, Inc. (California, U.S.)
Tropo, Inc. (California, U.S.)
Verizon Communications, Inc. (New York, U.S.)
Vodafone Group PLC (London, U.K.)
Xura, Inc. (Massachusetts, U.S.)
Others
The Global Telecom API Platform Market Has Been Segmented Into:
The Global Telecom API Platform Market – By Telecom Operator Type:
T1 Players
T2 Players
T3 Players
The Global Telecom API Platform Market – By End-Users:
Partner
Enterprise
Long Tail
Internal
The Global Telecom API Platform Market –By Application Type:
SMS
MMS
RCS API
Payment API
WebRTC API
M2M and IoT API
Content Delivery API
And Others
The Global Telecom API Platform Market – By Regions:
North America
Europe
Germany
France
Italy
U.K.
Russia
Rest of Europe Countries
Asia-Pacific
India
China
Japan
South Korea
North Korea
Rest of Asian Countries
LAMEA
Brazil
Saudi Arabia
Rest of LAMEA
Note: This table of contents is a content of a published report. As per client requirement, cross-sectional analysis across all industries or specific geography or 'country-based' analysis can be provided as a part of paid customization. Please place your queries on sales@sheeranalyticsandinsights.com or query@sheeranalyticsandinsights.com