The global tourism vehicle rental market was valued at $61.3 billion in 2021 and it is expected to reach $180.3 billion at a CAGR of 10.0% between 2022 and 2032. Among the key factors and trends driving the tourism vehicle rental market's expansion are comfort, mobility, and affordable travel. The market is comprehensively evaluated in the study on the global tourism vehicle rental market.
By region, North America region dominates the global tourism vehicle rental market with significant market share.
The service of temporarily hiring or renting a vehicle for undertaking travel and tourism activities is referred to as tourism vehicle hire. The service is typically offered for a few hours, days, or weeks on both online and offline venues. The service of temporarily hiring or renting a vehicle for undertaking travel and tourism activities is referred to as tourism vehicle hire. The service is typically offered for a few hours, days, or weeks on both online and offline venues. Moreover, several benefits of tourism vehicle rental are anticipated to accelerate market growth during the forecast period. For instance, customers might avoid worrying about maintenance costs and depreciation losses by renting a car. It is ideal for them to merely rent a car if they don't actually need one every day and only use it sometimes to avoid paying for insurance, maintenance, and repairs. Moreover, having a rental car provides customers more flexibility to explore, especially when visiting distant and awe-inspiring locations with undiscovered jewels like mountain restaurants, hilltop views, and magnificent waterfalls. However, there are set routes to follow, and sightseeing with strangers on a bus or other form of public transportation will only provide customers with a restricted view of the sights and locations. These advantages are expected to gain more growth opportunities during the forecast period.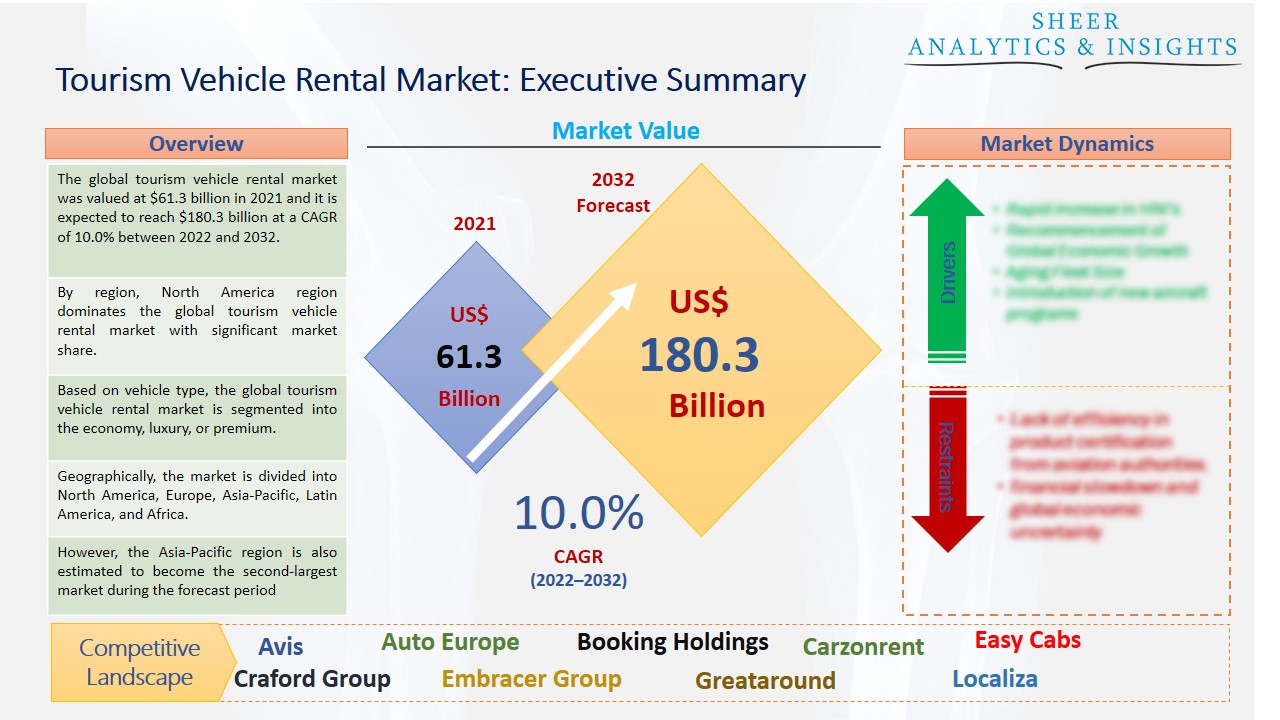 Source: SAI Research
An essential factor driving the global market for tourism vehicle rentals is the rising demand for rented cars and trucks due to the tourism industry's rapid expansion. The inclination of consumers for self-driven rental cars is expanding. It increases comfort, freedom of destination choice, accessibility, and low cost of travel. Other significant drivers are the growing consumer purchasing power, government support for building the tourism infrastructure, and rising customer awareness of the need to reduce emissions. Furthermore, one of the main elements fostering a favorable view for the market is the significant growth of the travel and tourism sector in multiple emerging nations. Rental cars for tourists boost mobility while reducing risks and expenses related to car ownership. Additionally, another factor in the market's expansion is the availability of regularly sterilized self-driven rental cars for safe transportation. The industry is expected to increase as a result of several other factors, such as the introduction of supportive government policies to promote tourism activities in monuments, museums, and parks, as well as rising consumer spending power.
At present days, technologies are becoming advanced every year. This is a plus point for the automotive industries as well as for software developer companies. Artificial intelligence, machine learning, and others are supporting in production of innovative products related to new automobiles. However, the market for tourism vehicle rental is facing some challenges over the past few years. For instance, the cost of renting a car is, in reality, more expensive than the cost of using a public transit system. Therefore, there are many more options available if you wish to travel on a budget by conserving money, such as using public transportation, taxis, bikes, or services like vehicle sharing, carpooling, or hitching. In addition, the terms and conditions of the majority of car rental firms are extremely strict; customers must return the vehicle in an acceptable condition with no damages. Damages or infractions of traffic laws will result in penalties and fines.
Based on vehicle type, the global tourism vehicle rental market is segmented into the economy, luxury, or premium. The economy segment held a larger share of the market over the past few years and is projected to accelerate the market growth over the upcoming years. When someone books a rental car through a special promotion, they reserve the vehicle at an economy rate, but when they check-in and pick up the vehicle, they would receive an economy, full-size, or larger vehicle. Economy cars typically have two doors, seats for up to four people, and room for a medium suitcase and a few smaller things. Compact automobiles are 4-door vehicles with adequate room in the trunk for at least 1 large suitcase, 1 medium suitcase, as well as a few smaller bags. They should also be comfortable for up to 5 adults.
In terms of end-user type, the market is categorized into self-driven and rental agencies. Rental agencies hold the largest share of the market and are anticipated to propel the market growth during the forecast period due to their rising demand across multiple developed countries. A large number of customers use rental agencies for reaching their offices at a distance. Few people also hire a car for traveling purposes. Hence, these are increasing demand is anticipated to boost market growth in the future. However, in this modern era, a self-driven category is also expected to accelerate the market in the future due to its increasing demand among people who knows driving and want to go somewhere by self-driving. It saves time; people could discover more while traveling. In addition, it is cheaper too.
Geographically, the market is divided into North America, Europe, Asia-Pacific, Latin America, and Africa. Among these, North America holds the largest share of the market. Most of the key players are located in this region which is an advantage for their wide number of customers as well as for the other end-user industries. It is anticipated to expand quickly as a result of the growing use of online automobile booking platforms and the expansion of travel destinations brought on by rising consumer spending. However, the Asia-Pacific region is also estimated to become the second-largest market during the forecast period due to rising demand for car rental services across several developing countries such as India, China, Japan, and Australia, among other nations. People's propensity for road excursions and the rising value of comfort and safety are the main drivers of growth.
According to the study, key players such as Avis (Michigan), Auto Europe (U.S), Booking Holdings Inc (U.S), Carzonrent (India), Easy Cabs (India), Craford Group (U.S), Drivers Ltd (U.K), Embracer Group (Austria), Greataround (U.S), Localiza (Brazil), Europe Luxury Services (Spain), Eco-Rent-a-car (India), Fraikin SAS (France), Hertz Global Holdings (U.S), OLA Cabs (India), Prosche SE (Germany), Rentloox (Spain), Redfin (U.S), Sofina (Belgium), Zoomcar (India), among others are leading the global tourism vehicle rental market.
Scope of the Report:
Report Coverage
Details
Market Size in 2021

US$ 61.3 Billion

Market Volume Projection by 2032

US$ 180.3 Billion

Forecast Period 2022 to 2032 CAGR
10.0%
Base Year:

2021

Historical Data

2019, 2020 and 2021

Forecast Period

2022 to 2032

Segments covered

By Vehicle Type: Economy, Luxury/Premium

By End-User Type: Self-Driven, Rental Agencies

Geographies covered

North America, Europe, Asia-Pacific, LAMEA

Companies covered
Avis (Michigan), Auto Europe (U.S), Booking Holdings Inc (U.S), Carzonrent (India), Easy Cabs (India), Craford Group (U.S), Drivers Ltd (U.K), Embracer Group (Austria), Greataround (U.S), Localiza (Brazil), Europe Luxury Services (Spain), Eco-Rent-a-car (India), Fraikin SAS (France), Hertz Global Holdings (U.S), OLA Cabs (India), Prosche SE (Germany), Rentloox (Spain), Redfin (U.S), Sofina (Belgium), Zoomcar (India) & Others
The Global Tourism Vehicle Rental Market Has Been Segmented Into:
The Global Tourism Vehicle Rental Market – by Vehicle Type:
The Global Tourism Vehicle Rental Market – by End-User Type:
Self-Driven
Rental Agencies
The Global Tourism Vehicle Rental Market – by Regions:
North America
Europe

U.K.
France
Germany
Italy
Rest of Europe

Asia Pacific

India
China
Japan
Australia
Rest of Asia Pacific

LAMEA
Middle East
Latin America
Africa

South Africa
Egypt
Others
Note: This table of contents is a content of a published report. As per client requirement, cross-sectional analysis across all industries or specific geography or 'country-based' analysis can be provided as a part of paid customization. Please place your queries on sales@sheeranalyticsandinsights.com or query@sheeranalyticsandinsights.com