The Global USB Type-C Passive Component Market was $2.1 Bn in 2019, and it is expected to reach $9.1 Bn by 2027. It is eventually growing at a commendable high compound of annual growth rate CAGR of 20.3% between 2020-2027. However, the market has been affected due to COD. This has happened due to halt in production as well as closedown of retail shops during this period. As USB Type-C depends on end user devices, therefore its market got impacted during this year. The USB Type-C Passive Component Market is primarily driven by enhanced performance of USB-C over the traditional USB types. USB Type-C is highly convenient to use and facilitates faster device charging. With a wide range of compatible devices supporting the USB-C type, it is expected to replace the conventional USB type in the future. This is projected to propel the market growth during the forecast period.
Global Smartphones & Tablets Segment Is Estimated to Witness Remarkable Growth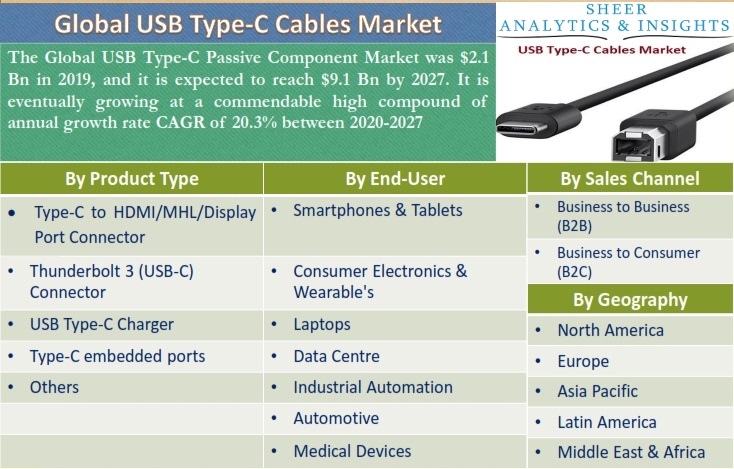 Source: SAI Research
The global USB Type-C Passive Component Market has been segmented into application, and regions. By application, the global Type C Market is divided into Smartphones & Tablets, Consumer Electronics & Wearables, Laptops, Data Centre, Industrial Automation, Automotive, Medical Devices and Others. The smartphones & tablets application segment is anticipated to show remarkable growth during the forecast period owing to the consistently growing smartphone market worldwide. Smartphones are the initial adopters of USB-C due to the increasing trend of slimmer phones worldwide. This eliminates the need for a conventional 3.5 mm jack which encourages manufacturers to develop slimmer smartphones and tablets.
By Region, Asia Pacific is Holding the Major Market Share
The global USB Type-C Passive Component Market has been geographically segmented into North America, Asia Pacific, Latin America, Middle East, and Africa region. In addition to this, Asia Pacific USB Type-C Passive Component Market is holding the largest market share currently and is estimated to show the fastest compound annual growth rate in the upcoming forecast period due to factors such as high production and consumption of smartphones in the region. Moreover, the Asia Pacific countries such as China and India are a leading manufacturer of smartphones, tablets, and laptops, high production of devices. the high production of products supporting USB Type-C Passive Component is expected to bolster the market growth in the region. North America is also a major market player of the USB Type-C market due to the presence of leading players in the region. Additionally, high disposable income and technology development in the region is projected to trigger the market growth during the forecast timeline. The Europe and LAMEA region are also anticipated to register considerable growth over the forecast period from 2020 to 2025.
Major Players in Global USB Type-C Passive Component Market
Some of the key players in the global USB Type-C Passive Component Market include ON Semiconductor Corporation, STMicroelectronics NV, Infineon Technologies AG, Belkin International, Inc., Analog Devices, Inc., Diodes, Inc., Texas Instruments, Inc., NXP Semiconductors N.V., Microchip Technology, Inc., TE Connectivity Ltd.
The Global USB Type-C Passive Component Market Has Been Segmented into:
Global USB Type-C Passive Component Market:
By Product Type
Type-C to HDMI/MHL/Display Port Connector
Thunderbolt 3 (USB-C) Connector
USB Type-C Charger
Type-C embedded ports
Global USB Type-C Passive Component Market: By End-User
Smartphones & Tablets
Consumer Electronics & Wearable's
Laptops
Data Centre
Industrial Automation
Automotive
Medical Devices
Other
Global USB Type-C Passive Component Market: By Sales Channel
Business to Business (B2B)
Business to Consumer (B2C)
Global USB Type-C Passive Component Market: By Region
North America

USA
Canada
Mexico
Rest of North America

Europe

UK
Germany
France
Spain
Italy
Russia
Rest of Europe

Asia Pacific

India
China
Japan
South Korea
Rest of Asia Pacific

Latin America, Middle East & Africa

Brazil
South Africa
UAE
Rest of LAMEA
Note: This table of contents is a content of a published report. As per client requirement, cross-sectional analysis across all industries or specific geography or 'country-based' analysis can be provided as a part of paid customization. Please place your queries on sales@sheeranalyticsandinsights.com or query@sheeranalyticsandinsights.com