The global voice biometrics market was valued at $1.7 billion in 2021 and it is expected to reach $7.8 billion at a CAGR of 14.0% between 2022 and 2032. Knowledge-based authentication is becoming less and less effective at distinguishing legitimate users from scammers due to the widespread usage of stolen data by professional fraudsters. This reason is estimated to drive the global market of voice biometrics.
By region, North America has led the global voice biometrics market over the past few years.
The voice of the person whose identity needs to be stored in the system is inputted for voice biometric recognition to work. For authentication, a print of this input is retained. Additionally, the software could divide the speech statement into several frequencies which are used to create the input print. In addition, Voice biometrics can be utilized for deployment across a wide variety of use cases, from the contact center to mobile applications and messenger apps, to home automation devices. Voice biometrics can operate in the telephone channel or a microphone channel. The system's accuracy could range from 90 to 99%, which is a wide range. For many reasons, voice biometric accuracy falls within this range as well. Nevertheless, speech biometrics is a very useful technology even with its flaws. Therefore, these major factors are accelerating the growth of the global voice biometrics market over the last few years.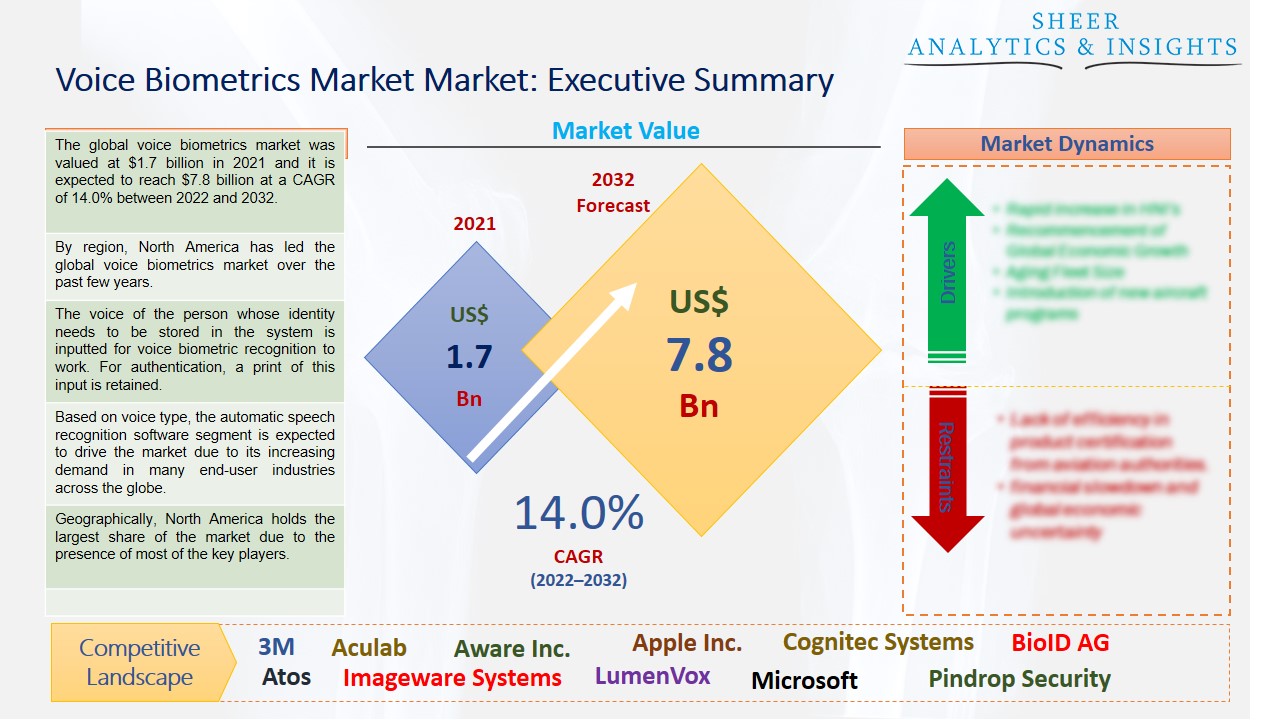 Source: SAI Research
Download Free PDF Sample Request
Technological advancement is another factor that is supporting various manufacturing industries and software developers to produce innovative voice authentication tools or gadgets to benefit their wide number of customers. For instance, artificial intelligence, machine learning, and big data service, among others are some modern technologies that are increasing in usage. These are propelling the market growth. Moreover, several benefits of voice biometrics are propelling the market growth over the past few years. Voice biometrics allows quick, easy, and highly secure access to a diverse range of applications, including chatbots, IoT devices, mobile and internet apps, contact centers, and physical entry. These advantages are expected to gain more growth opportunities for the market in the future.
In 2020, the voice biometrics market experienced a brief pause as a result of the worldwide COVID-19 pandemic lockdown. The COVID-19 epidemic had a detrimental effect on almost every business, which made the situation worse. Global manufacturing, supply chains, logistics, and the continuity of business operations were all adversely affected by the lockdown. Hence, the voice biometrics market was also experiencing a slowdown due to the epidemic situation. A few significant reasons are limiting the market's expansion. These problems are related to the high cost of speech biometrics systems and the privacy of public data and information. People in some underdeveloped countries are unable to use voice biometrics since they are expensive and have limited resources. The market is being hampered by these factors.
Based on voice type, the automatic speech recognition software segment is expected to drive the market due to its increasing demand in many end-user industries across the globe. For instance, Users could quickly produce documents and control gadgets with the aid of this technology. Automatic speech recognition makes it possible to produce documents more quickly since it typically does it at a rate that is far faster than a person could type. Additionally, to access this rich content, audio speech recognition technologies are essential. They can also expedite the transcription process. They can even run quicker than in real time for audio that has been pre-recorded. They can therefore be used to transcribe an hour of audio in no more than 30 minutes. However, the speech-to-text system is also expected to drive the market due to its rising demand in industries such as BFSI, IT and Telecom, medical sectors, media and entertainment, and more. Through the use of linguistic anthropology, speech-to-text software can recognize spoken language and convert it into text. It is also referred to as computer speech recognition or speech recognition.
In terms of application, authentication and customer verification category accounted for the largest share of the market. Customer authentication has the important advantage of enabling firms to adhere to legal requirements. Additionally, customer verification procedures aid in lowering fraud risks and the expenses associated with fraud brought on by inaccurate customer information. On the other hand, the payments section is also anticipated to drive the market growth of voice biometrics in the upcoming years. Voice biometrics can currently be utilized in two-factor systems for any form of payment as one of the authentication processes. It can be integrated with a biometric factor like a person's face, fingerprint, or retina as well as a knowledge-based authentication approach like a password or key. People are helped by this technique during their payment terms.
By the component type, the market is categorized into software and hardware. The software segment has been accelerating the market growth over the past few years with significant growth. Speech recognition algorithms are used in voice recognition software to translate spoken words into text. People with impairments, in-car systems, the military, as well as enterprises that need to convert audio and video files into text or use dictation, can all use it. These benefits are expected to propel the software segment in the future.
Geographically, North America holds the largest share of the market due to the presence of most of the key players. Hence, this is a plus point for the market. Due to the tremendous development in the use of mobile & cloud technologies and unparalleled technological improvements in computing capacities, voice recognition technology is employed in a variety of industries. Due to its application in the creation of health-related data records, the healthcare sector is anticipated to significantly contribute to the expansion of speech recognition technology in the United States, Canada, and Mexico. Some of the more conventional methods still in use may be replaced by voice recognition technology. Therefore, this would boost the market growth in North America in the upcoming years.
According to the study, key players such as 3M (U.S), AT&T (U.S), Aculab (U.K), Aware Inc (U.S), Apple Inc (U.S), Atos (France), BioID AG (Germany), Cognitec Systems (Germany), Imageware Systems (U.S), LumenVox (U.S), Microsoft Corporation (U.S), NICE (Israel), Pindrop Security (U.S), SberBank (Russia), SayPay Technologies (U.S), Uniphore (India), VoiceTrust Holdings (Germany), Verint Systems (U.S), VoiceVault (U.S), Voice Biometrics Group (U.S), among others are leading the global voice biometrics market.
Scope of the Report:
Report Coverage
Details
Market Size in 2021

US$ 1.7 Billion

Market Volume Projection by 2032

US$ 7.8 Billion

Forecast Period 2022 to 2032 CAGR
14.0%
Base Year:

2021

Historical Data

2019, 2020 and 2021

Forecast Period

2022 to 2032

Segments covered

By Voice Type: Automatic Speech Recognition Software, Speech-to-text System & Others

By Application Type: Authentication and Customer Verification, Fraud Detection, Risk and Emergency Management, Payments, Access Security & Others

By Component Type: Software, Hardware

Geographies covered

North America, Europe, Asia-Pacific, Latin America, Middle East & Africa

Companies covered
3M (U.S), AT&T (U.S), Aculab (U.K), Aware Inc (U.S), Apple Inc (U.S), Atos (France), BioID AG (Germany), Cognitec Systems (Germany), Imageware Systems (U.S), LumenVox (U.S), Microsoft Corporation (U.S), among others
The Global Voice Biometrics Market Has Been Segmented Into:
The Global Voice Biometrics Market – by Voice Type:
Automatic Speech Recognition Software
Speech-to-text System
Others
The Global Voice Biometrics Market – by Application Type:
Authentication and Customer Verification
Fraud Detection
Risk and Emergency Management
Payments
Access Security
Others
The Global Voice Biometrics Market – by Component Type:
The Global Voice Biometrics Market – by Regions:
North America

USA
Canada
Mexico
Rest of North America

Europe

UK
Germany
France
Spain
Italy
Russia
Rest of Europe

Asia Pacific

India
China
Japan
South Korea
Rest of Asia Pacific

Latin America, Middle East & Africa

Brazil
South Africa
UAE
Rest of LAMEA
Note: This table of contents is a content of a published report. As per client requirement, cross-sectional analysis across all industries or specific geography or 'country-based' analysis can be provided as a part of paid customization. Please place your queries on sales@sheeranalyticsandinsights.com or query@sheeranalyticsandinsights.com