The Global Wearable Electronics Market was $13.2 Bn in 2020, and it is expected to reach $46.8 Bn by 2031. It is eventually growing at a commendable high compound annual growth rate CAGR of 12.0% between 2021-2031. The wearable electronics refers to the integrated computing product or device that helps the user wearing it to enhance day to day activities. The technology helps the user to avail of advanced features and the latest models. The wearable electronics such as a wristwatch, calculator, and other products. The increasing demand for electronic devices is propelling the market growth during the forecast period. Now, moving forward, the robust demand for Global Wearable Electronics Market in the wearable electronics department is further estimated to create new necessities and augment the market of growth over the forecast period of 2021-2031.
Market Insight
Initiatives of younger and middle age people towards betterment of health and regular monitoring of health parameters anytime is expecting to grow market at a positive rate. Consultant - Samsung India
Global Wearable Electronics Segment Is Estimated to Witness Remarkable Growth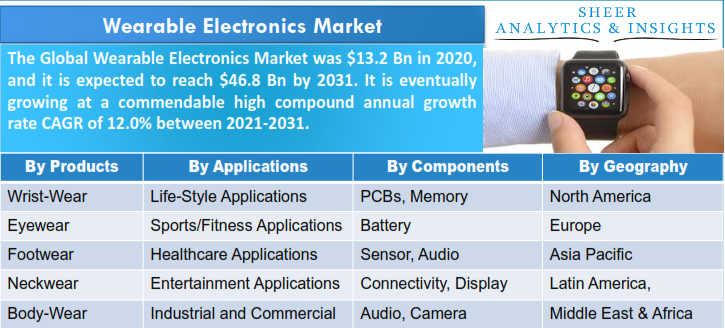 Source: SAI Research
The Wearable Electronics market is segmented as products, applications, and components. By Products, the global wearable electronics market is divided into Introduction, Wrist-Wear, Eyewear, Footwear, Neckwear, Body-Wear, and Other-Wear (Finger, Headwear). By Applications, the wearable electronics market has been bifurcated as Consumer Segment, Life-Style Applications, Sports/Fitness Applications, Healthcare Applications, Entertainment Applications, Industrial and Commercial, Defense, and Others. By Components, the global wearable electronics market is segmented as PCBs, Memory, Battery, Sensor, Connectivity, Audio, Display, Camera, and Others.
By Region, North America is Holding the Major Market Share
The Wearable Electronics Market has been geographically segmented into North America, Asia Pacific, Latin America, Middle East, and Africa region. In addition to this, North America has a significant share among those regions. The rising demand for the latest technology electronics is driving market growth. The advanced technology, availability of the raw material, huge investment, favorable rules, and regulations are propelling the market growth in this region. Apart from that, Asia Pacific and the Rest of the regions are expected to increase the growth rate in the upcoming forecast period of 2021 to 2031.
Major Players in Global Wearable Electronics Market
The report covers a detailed outlook about the company, and it includes the company or industry profiles and market share of key players operating in the global market. Key players in the report include Plastic Logic Ltd., Fitbit, Inc., Apple, Inc., Xiaomi Technology Co., Ltd, Garmin Ltd., Samsung Electronics Co., Ltd., Alphabet, Inc., LG Electronics, Inc., Qualcomm Technologies, Inc., Sony Corporation, Adidas Group, Jawbone, Inc., Misfit, Inc., Guangdong Bbk Electronics Co., Ltd, and Lifesense Group B.V. among others.
The Global Wearable Electronics Market Has Been Segmented into:
Global Wearable Electronics Market: By Products
Introduction
Wrist-Wear
Eyewear
Footwear
Neckwear
Body-Wear
Other-Wear (Finger, Headwear)
Global Wearable Electronics Market: By Applications
Consumer Segment
Life-Style Applications
Sports/Fitness Applications
Healthcare Applications
Entertainment Applications
Industrial and Commercial
Defense
Others
Global Wearable Electronics Market: By Components
PCBs
Memory
Battery
Sensor
Connectivity
Audio
Display
Camera
Others
Global Wearable Electronics Market: By Region
North America

USA
Canada
Mexico
Rest of North America

Europe

UK
Germany
France
Spain
Italy
Russia
Rest of Europe

Asia Pacific

India
China
Japan
South Korea
Rest of Asia Pacific

Latin America, Middle East & Africa

Brazil
South Africa
UAE
Rest of LAMEA
Note: This table of contents is a content of a published report. As per client requirement, cross-sectional analysis across all industries or specific geography or 'country-based' analysis can be provided as a part of paid customization. Please place your queries on sales@sheeranalyticsandinsights.com or query@sheeranalyticsandinsights.com