The global x-by-wire system market was valued at $0.37 billion in 2021 and it is expected to reach $4.54 billion at a CAGR of 24.2% between 2022 and 2032. The change in the automotive industry is largely linked to elements like the growing emphasis on safety, lower emissions, and fuel efficiency. Additionally, the automotive industry has a strong demand for motion control that is extremely precise and accurate. Drive/X-by-Wire systems are one such market that is influenced by these characteristics.
By region, North America holds the largest share of the global x-by-wire system market over the past few years.
A general phrase for replacing mechanical or hydraulic systems, including braking or steering, with electronic ones, is "X-by-Wire." Fly-by-wire technology used in automobiles is known as drive-by-wire, x-by-wire (XBW), or simply by-wire technology. This is just one more instance of cutting-edge aerospace technology being applied to address automotive issues. Problems in this scenario include the requirement for higher accuracy in electronic engine controls and the elimination of continuously driven loads for better fuel efficiency. Advanced collision avoidance systems override the driver's input for the throttle, brakes, and other controls that need XBW. Because of this, a shift from mechanical or hydraulic systems to electronically controlled systems has been ongoing for almost ten years. The availability of a variety of semiconductor ICs that can satisfy the cost targets to offer control is one of the primary reasons that automakers may research and put XBW techniques into practice today.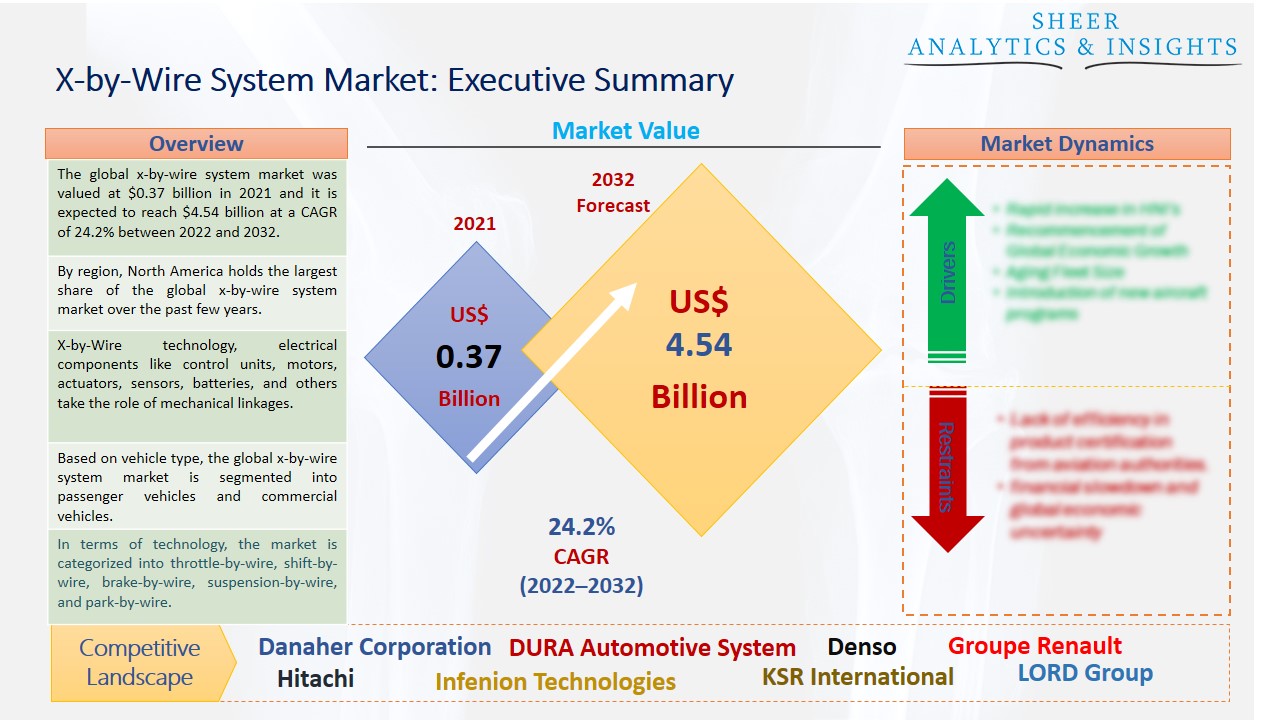 Source: SAI Research
Several benefits of the x-by-wire system are accelerating market growth. For instance, with the use of electrical components including control units, motors, actuators, sensors, batteries, and others, Drive/X-by-Wire technology replaces the mechanical linkages. The use of these devices reduces the vehicle's overall weight, making it lighter. With X-by-Wire technology, electrical components like control units, motors, actuators, sensors, batteries, and others take the role of mechanical linkages. The use of these devices reduces the vehicle's overall weight, making it lighter. Along with increasing fuel efficiency, this weight loss also lowers the vehicle's pollutants. Additionally, the use of sensors, motors, and actuators helps the vehicle respond accurately, precisely, and quickly when the driver requests it, improving the vehicle's performance. These rising factors are estimated to drive market growth and are also creating growth opportunities for the x-by-wire system market.
However, the high cost of end goods connected with X-by-wire technologies' material and production processes is a significant barrier to the adoption of cutting-edge safety products and systems among budget-friendly economic cars. The price is a key differentiator in the currently competitive car business. An important market trend that is anticipated to harm both market growth and the adoption of cutting-edge technologies is the preference for affordable alternatives. The market has been engaged in an ongoing discussion about X-by-wire systems' dependability. End consumers are concerned about electronic control units and sensor failures that could cause auto accidents. Compared to electronic systems, regulatory bodies believe mechanical technologies to be more failsafe. The complexity of X-by-wire systems and ongoing worries about their dependability and durability are expected to slow down the adoption of X-by-wire technology.
Based on vehicle type, the global x-by-wire system market is segmented into passenger vehicles and commercial vehicles. The passenger vehicle segment holds the largest share of the market and is anticipated to propel market growth during the forecast period. The demand for passenger cars is sharply expanding as a result of growing urbanization and population growth. Similar to this, increased purchasing power and the need for comfortable driving will increase X-by-wire use in the years to come. A sizable portion of passenger automobiles come with modern braking systems including brake-by-wire, ABS, and other safety features. On the other hand, the commercial vehicle category is also estimated to have significant growth in the future due to its growing demand among several nations.
In terms of technology, the market is categorized into throttle-by-wire, shift-by-wire, brake-by-wire, suspension-by-wire, and park-by-wire. Throttle-by-wire segment holds the largest share of the market. Additionally, this category would create more growth opportunities for the market. Throttle-by-wire technology, for example, has recently experienced significant adoption and is currently going through a robust growth phase as part of the product life cycle. Throttle-by-wire has grown significantly in popularity among luxury and high-end vehicles in recent years.
Geographically, North America is anticipated to dominate the market growth over the forecast period. In this region, X-by-Wire systems are well-established and have a high penetration rate. Over the projected period, it is expected that the market would develop faster than average due to the increased demand for electric vehicles, particularly high-tech self-driving vehicles. In North America, the market for x-by-wire systems is already well-established and has a high penetration rate. On the other hand, due to rising consumer spending power, their choice for improved safety features, and the necessity for a vehicle with superior fuel efficiency, the adoption of these systems is also expanding significantly in the Asia-Pacific regions. The biggest markets for these by-Wire systems are anticipated to be China, Germany, the United States, and Japan.
According to the study, key players such as Continental AG (Germany), Danaher Corporation (U.S), DURA Automotive System (U.S), Denso (Japan), Groupe Renault (France), Hitachi (Japan), Infenion Technologies (Germnay), KSR International (Canada), LORD Group (India), Panasonic (Japan), Robert Bosch (Germany), SASAC (China), SKF (Sweden), Tata Sons (India), Toyota Group (Japan), among others are leading the global x-by-wire market.
Scope of the Report:
Report Coverage
Details
Market Size in 2021

US$ 0.37 Billion

Market Volume Projection by 2032

US$ 4.54 Billion

Forecast Period 2022 to 2032 CAGR
24.2%
Base Year:

2021

Historical Data

2019, 2020 and 2021

Forecast Period

2022 to 2032

Segments covered

By Vehicle Type: Passenger Vehicle, Commercial Vehicle

By Technology Type: Throttle-by-wire, Shift-by-wire, Brake-by-wire, Suspension-by-wire & Park-by-wire

Geographies covered

North America, Europe, Asia-Pacific, LAMEA

Companies covered
Continental AG (Germany), Danaher Corporation (U.S), DURA Automotive System (U.S), Denso (Japan), Groupe Renault (France), Hitachi (Japan), Infenion Technologies (Germnay), KSR International (Canada), LORD Group (India), Panasonic (Japan), Robert Bosch (Germany), SASAC (China), SKF (Sweden), Tata Sons (India), Toyota Group (Japan) & Others
The Global X-by-Wire System Market Has Been Segmented Into:
The Global X-by-Wire System Market – by Vehicle Type:
Passenger Vehicle
Commercial Vehicle
The Global X-by-Wire System Market – by Technology Type:
Throttle-by-wire
Shift-by-wire
Brake-by-wire
Suspension-by-wire
Park-by-wire
The Global X-by-Wire System Market – by Regions:
North America
Europe

U.K.
France
Germany
Italy
Rest of Europe

Asia Pacific

India
China
Japan
Australia
Rest of Asia Pacific

LAMEA
Middle East
Latin America
Africa

South Africa
Egypt
Others
Note: This table of contents is a content of a published report. As per client requirement, cross-sectional analysis across all industries or specific geography or 'country-based' analysis can be provided as a part of paid customization. Please place your queries on sales@sheeranalyticsandinsights.com or query@sheeranalyticsandinsights.com