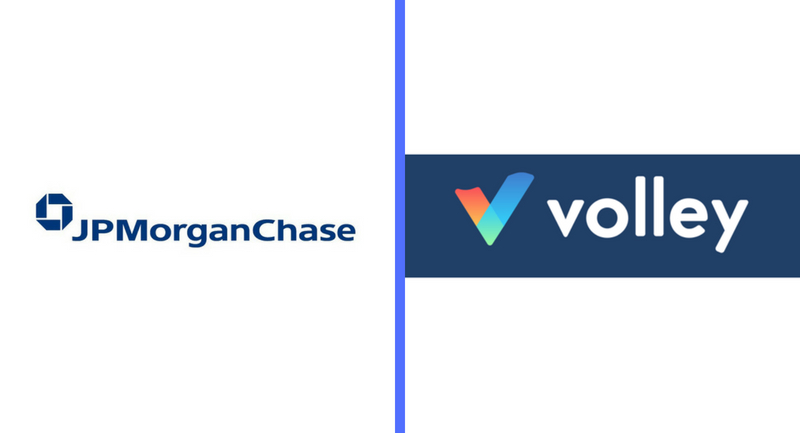 JPMorgan Chase & Co invests in Volley, the artificial intelligence startup
Published : July 2018
JPMorgan Chase & Co was the latest to make an investment in Volley.com. Volley.com is a San Francisco based startup that uses AI (artificial intelligence) technique for helping large enterprises generate training content for the employees. Both the companies have declined to reveal the size of the investment. However, Volley declared that it will use the funding for doubling its team over the next nine months. Investment by JPMorgan Chase & Co. comes at a time when banks are eagerly looking towards employing artificial intelligence for better use of the ever-increasing data that they hold across various business verticals, ranging from compliance to trading.
The startup is currently developing a software that can process data from disparate sources and create quizzes along with other corporate training materials like compliance courses or cybersecurity. The global machine learning services are mainly rising because of the internet revolution. Global internet connectivity and centralized control have generated massive data pool boosting the adoption of the machine learning solutions. The adoption of machine learning has improved the accuracy and speed of the various functions performed by the system.
Several industries such as BFSI, healthcare and life science, telecom, retail, and manufacturing are heavily contributing both directly and indirectly towards the growth of the machine learning services. This technology has already helped many major organizations such as banks save both time and money while creating educational content for the employees, as mentioned by the founder of Volley, Carson Kahn, during an interview.
Currently, Volley is focusing on the development of an app that is mainly for the students, to help them benefit from the use of the machine learning engine. This technology is helping the banks to enhance their customer experience and become more efficient. The list of investors of Volley also includes Zuckerberg Education Ventures, as well as global technology head at Goldman Sachs Group Inc. Don Duet and Paul Walker. Walker, who is also a senior advisor at Volley, in an interview said that the company's technology is helping people augment humankind's ability of learning by identifying their knowledge gaps while creating personalized content.
The AI market is in for some major developments in the coming future. As per the reports published by Sheer Analytics and Insights Pvt. Ltd., the global artificial intelligence chipset market is estimated to reach US$ 39.2 billion by the end of the year 2025. The market would grow at a CAGR of 49% during the forecast period 2018- 2025. The market is growing with the increasing adoption of the artificial chipsets that deals with complex data by providing customers with better solutions. Volley is among the brightest examples available.
To find out more about the market subscribe to our press releases, news and blogs. Stay updated with the current information on the market.
©Sheer Analytics and Insights Pvt. Ltd.